Leblon has one of the coolest gastronomic hubs in the city. It's no surprise that many people choose to visit the region at night to enjoy the best of the local nightlife. If you're looking for options, discover the 5 best bars in Leblon that you need to know!
Considered one of the city's main postcards, Leblon is certainly full of interesting places that can provide moments of great joy and fun. With a typically bohemian atmosphere that exudes good cuisine, it is no coincidence that the neighborhood attracts so many visitors.
After all, the region offers a unique experience for anyone looking to combine beach, culture, tradition and an extraordinary diversity of culinary flavors. In fact, an extremely popular and praised gastronomic hub in the capital of Rio is located in Leblon.
The most famous place is Rua Dias Ferreira, a street that brings together a diversity of renowned establishments of the most varied categories. In the past, a bill even recognized Rua Dias Ferreira as a gastronomic corner in Leblon.
While some bars have their strong point in informality and bar cuisine, others take advantage of the natural beauty of this charming neighborhood to add elegance to their menu.
This is all in line with Leblon's identity, which is sophisticated but has a certain simplicity. So, discover the 5 best bars in Leblon that are among the favorites of residents and visitors, that are part of a charming area of the city and that captivate the most demanding palates.
Best Bars in Leblon
Leblon, a neighborhood in the South Zone known for its lively nightlife. The hundreds of establishments in the neighborhood are perfect options to relax, enjoy incredible cuisine and enjoy the unique atmosphere of this noble region of the Marvelous City.
To help you get to know the region, we will present just some of the hundreds of fantastic options that this wonderful neighborhood in the South Zone can offer. If you like bars, the establishments that have the highest ratings are:
Jobi;
Bracarense;
Brewteco;
Belmonte;
Boteco Boa Praça.
If you are looking for an authentic gastronomic experience in Rio de Janeiro, the best way to immerse yourself in Rio's personality is to include Leblon's traditional bars and pubs on your list of attractions. The businesses mentioned below make up the complete infrastructure of the neighborhood, an aspect that attracts countless families to live in the region.
There is great benefit, including, from establishing housing in Leblon. The neighborhood is full of natural charms, imposing buildings and contemporary architecture that harmonizes with the local urban lifestyle.
Both the gastronomic center located on the edge of Leblon Beach and Rua Dias Ferreira are strategically close to the main residential areas of the neighborhood. In this way, many families who choose to live in this noble region of the South Zone enjoy incredible culinary establishments just a few minutes away.
Jobi Leblon
One of the best and oldest bars in Leblon is, without a doubt, the famous Jobi. The establishment exudes a typical Rio atmosphere, cold drinks and a menu full of traditional bar foods, which are among the locals' favorites. Founded in 1956, the bar is known for being cozy, for its helpful service and for its award-winning draft beer.
Over the years, the establishment has undergone several renovations, but maintained a decor designed to create a perfect atmosphere for Portuguese-Brazilian cuisine, harmoniously uniting Brazilian and Portuguese aspects.
This way, customers can feel at home while enjoying a welcoming environment that is a notable differentiator. Despite this, the essence of the place carries a typically Rio energy. The waiters are friendly and the menu is made with local specialties.
Its menu features options such as:
Appetizer;
Special sandwiches;
Pizzas;
Broths and soups;
Salads;
Feijoadas;
Pastas;
Desserts.
In addition, there are highlights of common pub food in the following categories:
Snacks: cod fritters, meat croquettes, pies, risoles and pastries;
Tidbits: cheese balls, seafood with vinaigrette, breaded squid with tartar sauce, dried meat hide, fried polenta, pork rinds, among others.
However, the real highlights of the house are the delicious delicacies, especially the dried meat with farofa and its cod cakes, which are a real success.
Furthermore, cold draft beer is appreciated, as it has won several awards and is a real delight for drink lovers. The drinks are perfect to be accompanied by incredible local snacks that are a true fusion of influences from Brazilian and Portuguese cultures.
There is a special section on the menu for drinks, with non-alcoholic options, draft beer and beers, spirits, a noble cachaça menu, pure drinks and much more. Its address is one of the most traditional spots for Cariocas, especially after leaving the beach. Just two blocks from the seafront, the establishment is part of a unique gastronomic hub.
Address: Avenida Ataulfo de Paiva, 1166, Leblon, Rio de Janeiro.
Opening hours: Every day, from 11am to 4am.
Bracarense
Bracarense competes with Jobi for the title of the most traditional bar in Leblon and is in the hearts of all Cariocas, especially those from the South Zone. Throughout all its years of operation, this famous establishment is loved by residents and visitors who frequent taverns.
With a name inspired by Braga, a city located in the north of Portugal, the establishment offers the authentic bohemian atmosphere of the capital of Rio. With more than 50 years of history, Bracarense also carries traces of Portuguese culture to present a warm environment to enjoy good cuisine.
Its decades of operation are marked by loyal customers who don't give up trying good food, cold drinks and a pleasant atmosphere with music in the background. The high quality of service and cuisine make the establishment a favorite in Leblon.
In fact, in 2021, Bracarense, with its atmosphere that is inspired by Portuguese culture, became part of the city's Bar Circuit, as Carioca Cultural Heritage, by the Rio Heritage of Humanity Institute (IRPH), an entity linked to the Municipal Secretariat of Urban Planning.
One of the reasons for this recognition is due to the fact that the building is located in an area of preservation of the cultural environment. However, this noble recognition also highlights the high level that the bar occupies in the gastronomic hub of the Marvelous City.
Braca's menu – the nickname affectionately given to the bar – brings together snacks, dishes and drinks that please the most diverse palates. Some of the following options are part of the local menu:
Sandwiches: options with roast beef, steak with cheese, ham and sausage;
Desserts: the most popular are puddings, pastel de nata and quindim;
Dumplings: cassava with shrimp, croquettes, cod, chicken and jiló;
Portions: tapioca cubes, Swiss ribs, dried meat with cassava, fish fillet, ham and much more.
Among the options, the biggest highlights are still a perfectly brewed draft beer and the cassava fritter with shrimp and catupiry, this being the flagship of the small, but charming, establishment. This savory snack was created by Alaíde Carneiro, currently a partner at Chico & Alaíde.
In addition, there are several delicious lunch options that make up the impressive Bracarense menu. The highlights are the dishes made with meat, salads and much more.
Address: Rua José Linhares, 85, Leblon, Rio de Janeiro.
Opening hours: Monday, from 11am to 10pm, Tuesday and Wednesday, from 11am to 11pm, Thursday to Saturday, from 11am to 11:55pm, and on Sundays, from 11am to 9pm.
Brewteco Leblon
One of Rio's traditional bar chains has its main unit in Leblon, Brewteco. The establishment is famous for its craft beer and its accessible and uncomplicated atmosphere that attracts those who prefer to enjoy with friends.
The place has already been on the podium of Veja Rio Comer & Beber, in the category of best beer bar in Rio. No wonder, given that its intimate and modern space offers tasty options of snacks, beers, drinks and good music. The place simply has 15 taps of craft beer from Rio, establishing itself as one of the coolest bars in Leblon.
The menu is varied, consisting of categories such as:
Main dishes;
Sandwiches;
Pastries;
Desserts.
In terms of drinks, the menu offers a wide variety of beer options, gin and tonics, caipinhas and other non-alcoholic drinks, with emphasis on:
Drinks: with gin, vodka, aperol, rum, red bull and liqueur;
Smoothies: passion fruit, peanut, passion fruit with ginger and banana with cinnamon.
Brewteco's location is strategic, as it occupies an address in the city's most famous gastronomic hub, Rua Dias Ferreira. All units located in the South Zone have delivery and the option to host events.
Address: Rua Dias Ferreira, 420, Loja E, Leblon, Rio de Janeiro.
Opening hours: Every day, from 11:30 am to 1 am.
Belmonte Leblon
Belmonte Leblon holds the title of the most famous bar in Rio de Janeiro. Located in the gastronomic heart of the neighborhood, everyone who is passing through or already lives in the city includes the establishment on their list of new experiences.
In fact, the bar has already been chosen in the category of best bar in the city in the 2021 edition of Veja Rio Comer & Beber. Its infrastructure is modern and presents a relaxed atmosphere that matches the bohemian style of Rio. Part of a chain of traditional bars in Rio de Janeiro, the unit located in Leblon is one of the busiest. Your menu has the following options:
Executive dishes;
Feijoada;
Pies;
Soups.
However, the sections that captivate the greatest admiration are the following:
Pastries: shrimp with catupiry, picanha, shrimp, dried meat with catupiry and Minas cheese;
Dumplings: cassava with shrimp or dried meat, feijoada and cod dumplings;
Sandwiches: filet mignon, sliced ham and roast beef;
Snacks: Dry meat with cassava in gorgonzola sauce, appetizer fillet on Italian bread, fish gourjão, coalho chunk cheese, sun-dried meat with cassava and paçoca and much more.
The drink options are varied, including alcoholic and non-alcoholic, for all tastes. Furthermore, there is always cold draft beer, a range of authentic beers and complete meals. Both the atmosphere, the menu and the service are highly praised by regulars.
Address: Rua Dias Ferreira, 521, Leblon, Rio de Janeiro.
Opening hours: Every day, from 11am to 2am.
Boteco Boa Praça Leblon
And finally, another bar option that is among the best in the neighborhood is Boteco Boa Praça Leblon, also located on Rua Dias Ferreira. The name of the establishment comes from the fact that its location is in front of Praça Cazuza, an area that is the perfect spot for those who enjoy the lively nights of this genuine gastronomic hub.
The internal environment was completely set up to exude a noble bohemian universe and elements that remind us of the Rio atmosphere. Customers can choose between occupying the internal space, as well as the pleasant and well-lit square in front.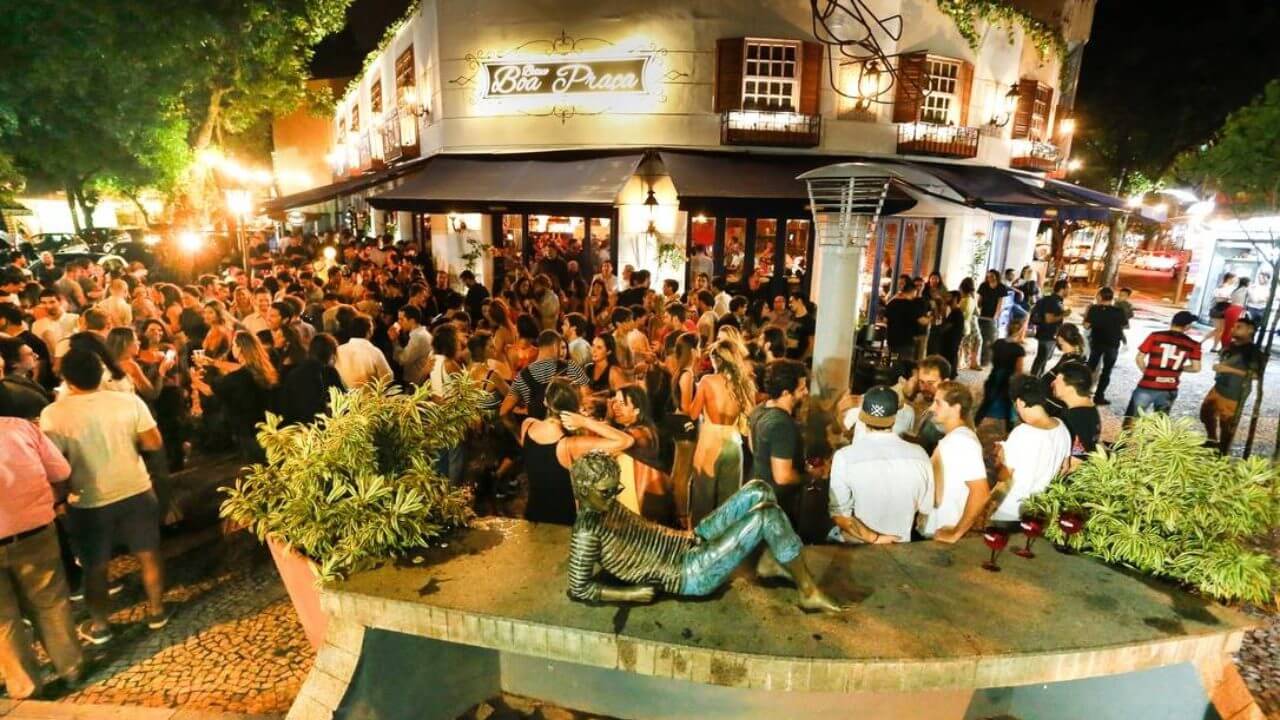 The bar is popular for its variety of drinks, cold draft beer and impresses with a beer list with 15 labels. Furthermore, the menu is full of tasty options of common bar food, with a selection of unique snacks and drinks.
Among the highlights of Boteco Boa Praça are:
Sandwiches: the Pernil Porta de Estádio, made with shaved ham, the Boa Praça Burger, prepared with a meat blend, the Mineirinho, with filet mignon, and the traditional X-salad;
Dishes: Galeto, feijoada, sea bass, Bahian moqueca, flank steak, picanha, chorizo steak and ancho. All options are accompanied;
Desserts: brownie, nutella french toast and churros with dulce de leche;
Pizzas: with mozzarella, Portuguese and pepperoni fillings.
Appetizers: rib dumplings, creamy chicken drumstick, parma croquette, tapioca dice, cod fritters, kafta in filo dough, portions of mini cheeseburger, rustic potatoes, pastries, ceviche, crab pearls, fried calamari with tartar sauce , between others;
Drinks: options of non-alcoholic drinks, draft beer, national and imported beers, caipirinhas, drinks with or without alcohol, gin and tonics, shots, sophisticated list of red, white and rosé wines, champagnes, sparkling wines and a wide variety of spirits.
Furthermore, Boteco Boa Praça is characterized by being comfortable and welcoming, offering its customers great service, good drinks and dishes rich in flavor.
Address: Rua Dias Ferreira, 12, Leblon, Rio de Janeiro.
Opening hours: Tuesday to Thursday, from 5pm to 1am, Friday, from 7am to 2am, Saturday, from 12pm to 2am, and on Sundays, from 1pm to 1am.
Best bars and Gastronomy in Leblon
As you can see, Leblon has many tourist attractions combined with sophisticated cuisine. The 5 best bars in Leblon are capable of serving even the most demanding customers and can make the experience of living in the Marvelous City even more incredible and delicious! But the options don't stop there.
The neighborhood also has other incredible gastronomic options enjoyed by those who love new experiences. In addition to bars, there are restaurants, bistros, kiosks, snack bars, coffee shops and much more, a variety that suits all types of tastes. With a beautiful beach, main avenue and tree-lined roads, Leblon is a place that enchants residents and visitors, who take advantage of being in the region to enjoy haute cuisine.
For example, the kiosks Leblon located on the shore are excellent alternatives for enjoying tasty snacks and drinks by the sea. These establishments are perfect for trying the famous bar food, after a day of leisure on the beaches and without giving up a privileged view of the sea.
Each of the bars presented in this article are located in privileged areas within the upscale Leblon neighborhood. The addresses provide ease of access, both for local residents and tourists. There is true urban mobility in the region and proximity to the Leblon metro.
Did you enjoy discovering the 5 best bars in Leblon? Then freely share this content on your social networks! Take the opportunity to discover what it's like to live in Leblon by visiting our website.
Living in the South Zone, especially in Leblon, means combining a variety of leisure and gastronomic alternatives with your daily life. Luxurious residential areas are located just a few meters from Rua Dias Ferreira and the edge of Praia do Leblon, with a variety of bars, kiosks and restaurants.
Do you dream of establishing a home in Leblon? A good opportunity is to discover the luxury properties for sale in the region. The available units come in different types and sizes, located in imposing condominiums with complete security and leisure.
The Zona Sul neighborhood has the most valued m² in the city, and is also considered the most upscale neighborhood in Rio. Check out the luxury properties for sale in Leblon with INVEXO, a real estate agency specializing in luxury properties in Rio de Janeiro.