The city of Rio de Janeiro hosts some of the most expensive schools in the entire state of Rio de Janeiro. Synonymous with quality education, schools in Rio provide students with the best education for a promising future.
Therefore, its curriculum offers classes in a variety of subjects, ranging from traditional to the most modern. This way, students will leave schools ready to face what lies ahead.
If you are looking for the best educational institutions in Rio de Janeiro, you may have already noticed that there is no shortage of interesting options. To help you in your search, we have put together a list of the most expensive colleges and schools in Rio.
These are schools that have a high pass rate in entrance exams and that are concerned with offering a comprehensive, modern education with extracurricular activities, which aim to open up their students' horizons.
The infrastructures of Rio de Janeiro's educational networks are modern and welcoming, including spacious and interactive classrooms and recreation areas.
Therefore, the list of schools will present the fundamental characteristics to help you choose, such as: good location, quality of teaching, modern infrastructure and the main differences of each school.
And, in addition to having a wide educational network, Rio de Janeiro's upscale neighborhoods are able to further raise the quality of life of their residents by offering a range of luxury residential properties ready to move into.
In the case of Early Childhood Education schools, the institutions located in the city receive recognition for quality teaching, with modern and welcoming infrastructures. Some also choose to use specific methodologies that promote learning and even bilingual programs.
According to research on the 25 most expensive schools in Brazil, carried out by Forbes in 2022, 4 of the most expensive schools in the country are in Rio de Janeiro. Check what they are in the development of the text. Let's get to know some of the best and most expensive schools in Rio de Janeiro?
Eleva School
Eleva is a full-time bilingual school, based on academic excellence and the training of citizens with socio-emotional skills. Furthermore, it is one of the 4 most expensive Rio schools in Brazil, according to a Forbes survey.
The school, which combines tradition with innovation, has modern laboratories, versatile classrooms and libraries. Classes are based on the Active Methodology — that is, a set of strategies that help students become active in their learning.
Thus, in a typical class, students sit in small groups to facilitate discussions and exchange of knowledge. The school also promotes students' biliteracy — that is, children's literacy simultaneously in Portuguese and English.
Creative Technology was added to the curriculum to develop students' skills and knowledge in technology, engineering, product design, computer science and creativity.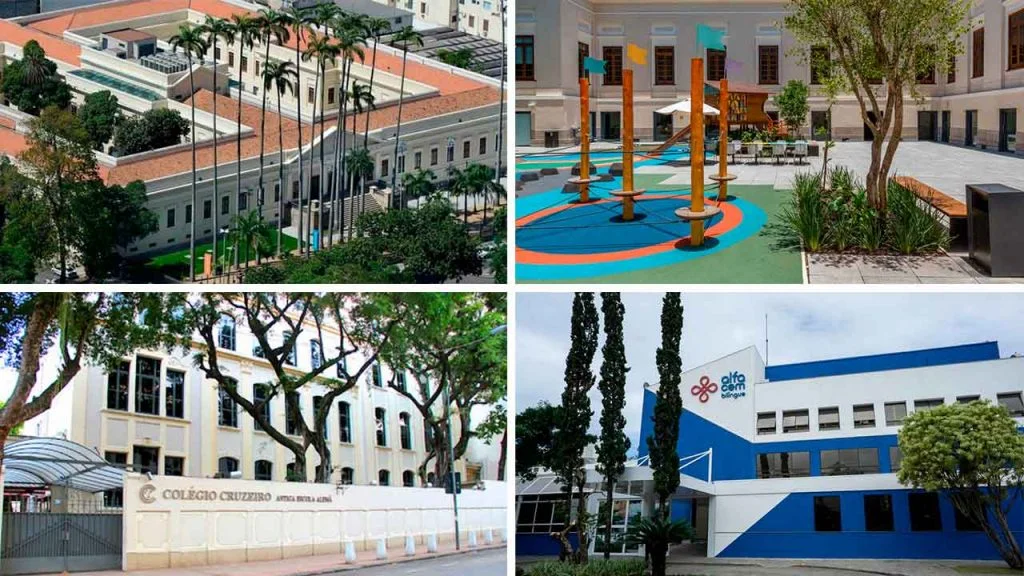 Learning objectives are defined based on the principles of the International Society for Technology in Education.
To go further, students have access to extra classes in arts, technology, science, sports, body, other languages and other interests distributed among all age groups.
Eleva is present in Botafogo and Barra da Tijuca.
Cruzeiro College
Colégio Cruzeiro is on the list of most expensive schools in Rio de Janeiro. In order to prepare new generations for life to the fullest, the space welcomes students from Early Childhood Education to High School.
With a German tradition, Colégio Cruzeiro has a historical commitment to the quality of the educational process. Each year, this tradition is fulfilled and renewed with high quality teaching, taught by competent and up-to-date teachers.
Thus, educators offer possibilities for the development of their intellectual capabilities, in addition to experiences of a socio-educational and cultural nature.
Among school subjects, the institute offers German classes so that students can stand out and have an additional qualification on their CV. Furthermore, it is one of the 4 most expensive Rio schools in Brazil, according to a Forbes survey.
Early teaching of foreign languages at school aims to offer children linguistic and cultural alternatives. In addition to all the subjects offered during classes, the school also offers extracurricular activities. Among them are:
Soccer;
Artistic gymnastics;
Judo;
Ballet;
Coral;
Theater;
Between others.
You can find Colégio Cruzeiro in the center of Rio de Janeiro and in Jacarepaguá.
Everest College
Colégio Everest is an educational network with units in Curitiba, Rio de Janeiro and Brasília. The institution is focused on offering a comprehensive, Catholic and bilingual education, in order to form whole, free and mature people. Friendship and closeness to God are encouraged to give meaning to their lives.
The school, run by Father Manuel Flores, has as its motto the Latin expression "Semper altius", which means "always higher". For the institution, the motto symbolizes all the aspiration to achieve the maximum possible development. According to the institution itself, its worldview is:
To be recognized as a leader in the educational market by providing and promoting comprehensive education with visible personalized attention to students and their families, in the full exercise of ethical, moral and spiritual values.

Guarantee, through bilingual education with immersion and full and fluent command of two languages (Portuguese and English), the approval of 100% of students in national and international universities and external assessments.

Everest College
With an innovative pedagogical proposal, the Everest Catholic Training Program methodology encourages critical thinking and more refined human skills in a set of skills to process and generate information and informed judgments, such as intellectual, human, social, spiritual and emotional.
The school also offers some extracurricular activities, such as dancing, fighting, sports, arts and sciences. Among the classes offered are: Ballet, Jazz, Artistic Gymnastics, Theater, Ecobé (group of biologists), Ecomaker, Football, Handball, Basketball, Volleyball, Capoeira, Judo and Code 4 Kidz.
Its pedagogical model is based on learning solid moral and religious values through competencies, made possible through classroom learning scenarios. In this way, students are enthusiastic about continuous learning and the permanent development of their skills, making school a challenge and an adventure for life.
In Rio de Janeiro, Colégio Everest is located at Estrada da Barra da Tijuca, 3020, and offers full education for levels covering Elementary School (I and II) and High School. Furthermore, it is one of the 4 most expensive Rio schools in Brazil, according to a Forbes survey.
Saint Ignatius College
Colégio Santo Inácio began with the arrival of the Jesuits in Brazil, from the moment the city of Rio de Janeiro was founded. Between comings and goings, the Society of Jesus tried to establish an educational initiative that went beyond catechesis.
In 1903, the Company's first primary school was opened in Flamengo. Shortly afterwards, the priests moved to Botafogo, where Externado Santo Inácio began operating. Today, in another building, the school stands out among the best educational institutions in the country, and is also one of the 4 most expensive schools in Rio de Janeiro.
Colégio Santo Inácio occupies an area of 37 thousand m² at Rua São Clemente, 226, in Botafogo, South Zone of Rio de Janeiro. Furthermore, the school establishes its social commitment by promoting various Christian Formation solidarity actions, aimed at needy communities, such as:
Ignatian Solidarity Arraial (ARSOI): ARSOI is the June festival of the Ignatian community. All income collected goes to social works with which Colégio Santo Inácio has a partnership;
Evening courses: This is a philanthropic offer of EJA courses and professional courses at night, such as: Nursing, Administration, Clinical Analysis and IT;
São Luís Gonzaga Outpatient Clinic: Composed of former students, the outpatient clinic is a philanthropic entity whose objective is to offer medical care in various specialties to the needy population;
Centro Educativo Padre Agostinho Castejón (CEPAC): It is an integral school in the Santo Inácio network that serves children from the community of Santa Marta free of charge, also offering food through income from ARSOI and Natal Mais Feliz;
A Happier and More Solidarity Christmas: It is a campaign led by Colégio Santo Inácio, in which basic food baskets are donated to needy communities in the region;
Community Pre-University Course (InVest): InVest is a community pre-university course, aimed at low-income students in Rio de Janeiro. The course was founded by a group of volunteers, all of them former students at Colégio Santo Inácio, in January 1998. It operates at night on the CSI premises.
In this way, the actions function as an element for the full development of the students' diverse gifts and characteristics, whether in the artistic, sporting, academic, social or spiritual areas. The mission of caring and teaching caring is at the heart of Colégio Santo Inácio. In the institution's words:
Colégio Santo Inácio has, in its essence, the mission of caring. Throughout our journey, we not only care, but we teach care: for others, for ourselves and for the world. We value relationships, respect and human dignity, believing that love, acceptance and responsibility are pillars for a fairer and healthier life.

Saint Ignatius College
On the institution's premises, students have access to more than 74 thousand book titles, 20 computers, 15 laboratories with different functions, a theater, 3 mini auditoriums, 4 sports courts, swimming pools, 2 cafeterias, bleachers and much more.
pH College
Colégio pH is one of the schools with the highest value in Rio de Janeiro and has 10 units located in the city. The place started with pre-university preparatory classes and currently also serves elementary and high school students.
Its pedagogical proposal combines high academic performance results with the sensitivity to develop students' socio-emotional skills. Thus, in routine autonomy, creativity, collaboration, communication and individual curiosity are stimulated. The teaching staff at Colégio pH is trained and qualified to offer ideal teaching at each stage of life.
But it's not just encouragement that the pH student receives. In order to maintain emotional balance, the school works with relaxation and relaxation techniques. Knowing that exam times, especially entrance exams, can be difficult and cause a lot of tension, meditation, massage and breathing techniques are practiced on site, which will make the student more confident and calm.
In addition, students undergo field activities and educational trips that serve as experience in relation to various contents. The school also has the help of Plurall, an online platform where students can ask their questions from anywhere. You can find Colégio pH in the following neighborhoods of Rio de Janeiro:
Bar;
Botafogo;
Ipanema;
Playground;
Tijuca.
St. Benedict College
Colégio São Bento is a Catholic educational institute exclusively for boys, and one of the most expensive schools in Rio de Janeiro.
Run by the Benedictine monks of the Monastery of São Bento, the institution works to bring Christian education to young people along with the cultural training necessary for social development.
Teaching elementary and high school students, the school offers a methodology that aims to form men committed to God, their own education and society.
Thus, teachers and all support sectors that make up its structure work together to offer the best to students. In addition to traditional subjects, the school offers extracurricular activities such as:
Field Classes;
Music;
Sports;
Environmental education;
Visual arts;
Digital Technologies;
And others.
Colégio São Bento is located in the center of Rio de Janeiro.
Pensi College
PENSI is an educational institution that is on the list of the most expensive schools in Rio de Janeiro. Founded by engineers from IME and ITA, the institute has cutting-edge teachers prepared to leverage the potential of each student.
The following classes are offered on site:
Child education;
Fundamental I and II;
Regular, Military and Medical High School;
Bilingual Program;
Full and Master Education;
ENEM Pre-Entrance Exam;
EspPCEx;
9th preparatory year;
CN/Technical Schools;
AFA/EFOMM/Escola Naval;
Pre-university medicine;
Pre-IME I and II;
IME/ITA.
Always up to date, Pensi adheres to the use of the Adaptive Platform. With it, it is possible to measure the student's level of knowledge in each subject and then suggest materials compatible with their needs.
You can find Colégio Pensi in 10 different neighborhoods in the city of Rio.
Saint Augustine College
Colégio Santo Agostinho has a planned structure to meet the needs of all students. Serving elementary and high school students, Santo Agostinho offers air-conditioned rooms equipped with an integrated TV or tablet system and internet access.
All equipment and materials are constantly updated to provide an increasingly rich teaching experience that is in line with our times.
Furthermore, in the space the student will find several learning facilitators, such as:
Physics, Chemistry, Biology and IT Laboratory;
Auditorium;
Library;
Chapel;
Multi-sports courts;
Nursery;
Between others.
So that the student can develop further, some extracurricular activities are available in the units, such as:
Theater;
Soccer;
Mandarin;
Volleyball;
Robotics;
And others.
Colégio Santo Agostinho is of Catholic origin and is located in the Leblon neighborhood.
Alfa Cem College
Colégio Alfa CEM Bilíngue teaches children and young people from Kindergarten to High School.
Bilingual literacy is sealed by the University of Cambridge with a class program specially aimed at developing socio-emotional skills. Furthermore, the use and production of new technologies in the classroom and methodological diversification are encouraged.
Aligning traditional practices with active learning methodologies, the school encourages the development of skills that the 21st century demands, such as: creativity, entrepreneurship and cooperativism.
The rooms are computerized and air-conditioned, allowing activities to be carried out comfortably. In the building, the following are available to students:
Library;
Laboratory;
Multi-sports court;
Patio with green area;
Vegetable garden;
Security system with internal circuit TV;
Between others.
You will find Alfa Cem units in Barra da Tijuca, Recreio and Jacarepaguá.
Luxury real estate in Rio de Janeiro
The most upscale neighborhoods in Rio de Janeiro have excellent infrastructure, which provides residents and visitors with excellent options when it comes to quality of life.
In these places, you will find the best names in the areas of education, health and leisure. Furthermore, important businesses and services are located throughout the upscale area of Rio.
Families living in the region have easy access to the most traditional schools in the capital of Rio and are able to offer excellent training for their children, focusing on upstanding values and preparation for their professional choice.
So, to learn more about the structure of Rio de Janeiro's neighborhoods, continue following INVEXO's content. Check out incredible apartments for sale in Rio de Janeiro with INVEXO, a real estate agency specializing in luxury properties in Rio de Janeiro.