If you are one of those who love to enjoy a drink and a hearty portion while enjoying the coastal landscape, you are in the right place! Discover five incredible Leblon Kiosk options in our post.
Just as the quantity and quality of bars and restaurants furthest from the beach draws attention, the most charming neighborhood in Rio's South Zone also doesn't disappoint when it comes to seaside kiosks.
In this article we have separated some of the main addresses for you to have fun in style. Check out!
Leblon kiosks
Surrounded by several leisure spaces and commercial establishments, Leblon has the most luxurious residential properties in Rio. Discover luxury properties in Leblon with high standard finishes, privileged locations and condominiums with complete leisure areas.
Whether for the decoration, the landscape or the menu, you can be sure that in Leblon you will find a kiosk that suits you. See some of the options.
Boho Leblon
Part of a trendy chain of establishments, Boho Leblon is a gourmet kiosk at Posto 12. One of the trendiest kiosks in the region, the establishment offers tasty food and exceptional drinks in a cool and at the same time refined space.
The menu highlights Mediterranean cuisine options, consisting essentially of fish and seafood, and drinks prepared with great care.
Highlights include shrimp stroganoff, crispy tilapia or grilled salmon with banana puree, rib croquette with dark mustard, salmon tartare, fish moqueca with shrimp, white fish ceviche and dishes served in coconut shells, such as açaí desserts or shrimp bobó.
Boho Leblon is at Avenida Delfim Moreira, 710, one of the best streets in Leblon, on the seafront. Living in Leblon means having access to the best restaurants whenever you want, with the ease that only a luxury neighborhood can offer.
Address: Avenida Delfim Moreira, 555, Leblon, Rio de Janeiro.
Opening hours: Every day, from 9am to 8pm.
Baixo Bebê Geneal Kiosk Leblon
Baixo Bebê General is located at Posto 12, on Praia do Leblon. Its location is strategic for enjoying the beautiful view of the sea and the busy sands, generally a place for sports such as beach volleyball and surf schools.
Baixo Bebê General's menu surprises by bringing delicious American hot dog options to the beach. In addition to the traditional variations, with Vienna sausage, the kiosk offers hot dogs with smoked sausage and vegetarian or vegan options.
Furthermore, the additions to the snacks are the tastiest. You can add additional flavor by choosing to eat a hot dog with cheese, bacon crispy, truffle mayonnaise, French mustard sauce or garlic sauce. There is also a quick snacks menu, with savory snacks and cod cakes.
The kiosk is also a great place to cool off on hot days with an açaí bowl or a cold beer. Baixo Bebê Geneal serves a variety of drinks and caipirinhas, great for enjoying Rio de Janeiro by the sea.
Address: Avenida Delfim Moreira, Posto 12, Leblon, Rio de Janeiro.
Opening hours: Open 24 hours.
Leblon Mirante kiosks
When talking about kiosks in Leblon, the great options at Mirante do Leblon cannot be forgotten: Oka Vista and Mirante Sonhador.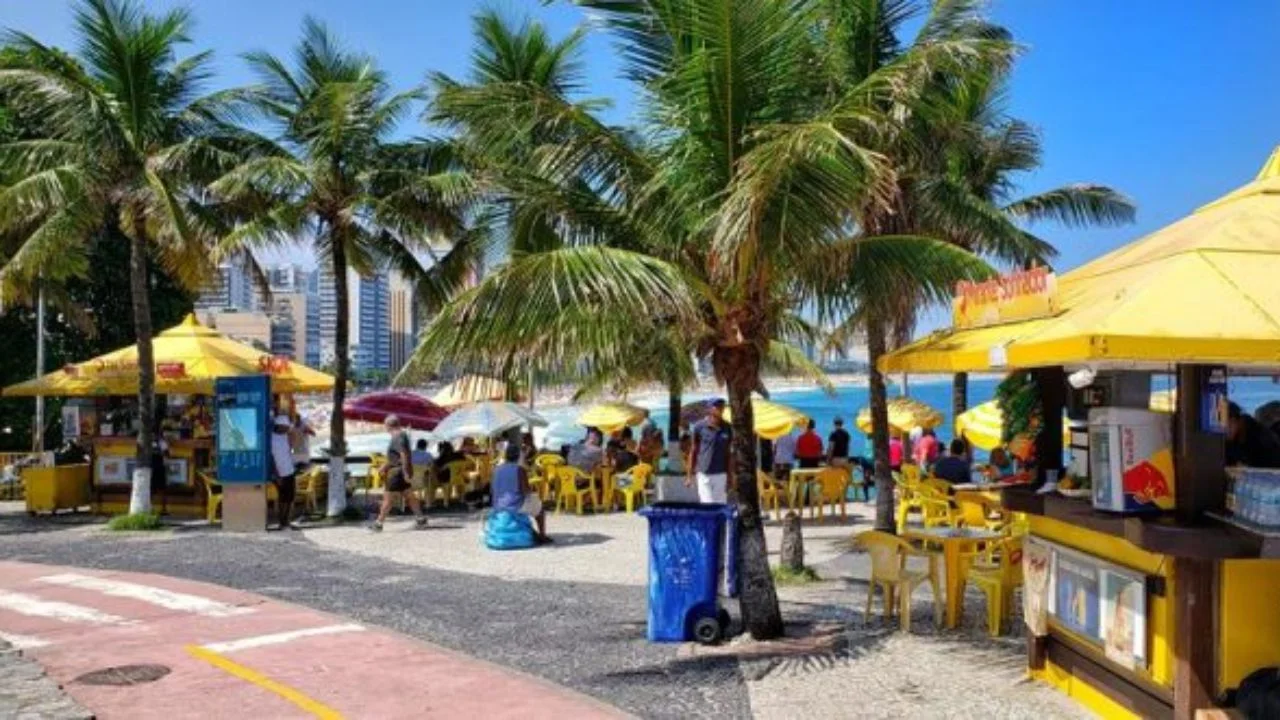 The Mirante Sonhador environment also offers space for celebrating birthdays and musical attractions.
Located on Avenida Niemeyer, the viewpoint is a fenced deck raised over the rocks. Its view reaches all of Leblon Beach, Ipanema, Corcovado, Arpoador, Morro Dois Irmãos and other mountains in the region.
Leblon Kiosk: Oka Vista and Mirante Sonhador
Anyone who visits the Oka Vista Kiosk can enjoy the breathtaking view of the Rio sea, enjoy several beers on the menu or the delicious gin-based drink that bears the kiosk's name.
Ideal for watching the sunrise and sunset, Mirante Sonhador stands out for being open 24 hours a day and for its diverse options of snacks, drinks, juices and seafood.
Come live in Leblon
Investing in an apartment in Leblon is more than a simple choice, it is an excellent idea for people looking for quality of life. Furthermore, it is a great option for those considering living close to green areas, with spaces for walks among the trees on the streets, proximity to the sea, and all the fauna and flora of the region.
Being in Leblon means being close to everything. In the neighborhood there are incredible options of restaurants, hospitals, shops, services and shopping malls such as Rio Design Leblon, as well as the Leblon metro station. Everything with great safety, comfort and sophistication. Look:
Hospitals in Leblon;
Shopping malls in Leblon;
Restaurants in Leblon.
The residential spaces in the neighborhood are large and, for the most part, were planned by the best and most modern architects. All this to make life easier for those looking for an apartment in a spectacular and charming region.
Living in Leblon means having access to the best restaurants whenever you want, with the ease that only a luxury neighborhood can offer.
The Zona Sul neighborhood has the most valued m² in the city, and is also considered the most upscale neighborhood in Rio. Check out the luxury properties for sale in Leblon with INVEXO, a real estate agency specializing in luxury properties in Rio de Janeiro.