Looking for the best Leblon cafes? Then follow our article, which presents the main coffee shops and pastry shops in Leblon. From breakfast to coffee after lunch, the region has plenty of options to enjoy this drink so beloved by all Brazilians.
We don't always find the time, or even the inclination, to prepare that delicious coffee first thing in the morning. We then headed to the cafes and pastry shops to enjoy hot coffee, smelling the aroma of bread, sweets and other delicacies.
Breakfast in Leblon
Joining the list of the best cafes in Leblon, the establishments serve, in addition to the hot drink, a series of sweets, pies, rolls and side dishes for a complete and tasty breakfast. These establishments make up the typical Leblon setting, full of elegance, good taste and refinement.
Talho Capixaba Leblon
Talho Capixaba Leblon is an award-winning delicatessen owned by a Portuguese family that has been committed to offering the best since 1962. Initially serving as a butcher shop for noble cuts, since 1996 it has also sold artisanal breads of different sizes and preparations:
Italian bread;
Campaign bread;
Terroir bread;
Baguette au levain and other types of baguettes;
Focaccia;
Ciabatta;
Australian bread;
French bread;
Packaged breads (wholemeal, Arabic, Syrian, petrópolis, 9 grains, brioches, hamburgers and others);
Puff and semi-puff pastries (croissants and other types of sweet preparations).
The menu has different types of sandwiches, pies, casseroles, baked pastries, quiche and various types of sweets, such as mille feuille, brigadeiro, cream, tartlets, quindim, eclair, pies and cheesecake. Also discover the Talho Capixaba in Ipanema.
The delicatessen sells premium meats, wines, cheeses from different sources, cold cuts (pastrami, turkey breast, various hams, pata negra, spinatta, salami) and pastas of various flavors. It is certainly one of the most remembered places from breakfast to happy hour.
On the menu, there are 5 types of breakfast combinations, which include side dishes such as fruit, butter, honey, jam, eggs, cheese, ham, cakes, juices and hot drinks. Talho Capixaba has already won several awards, such as:
Best bread and Best sandwich by the Rio Show de Gastronomia Circuit, in several editions;
Various categories, such as breakfast and bread, by Veja Rio Comer & Beber in several years;
Água na Boca Award (best sandwich and best breakfast, in different editions);
Época Rio de Janeiro (best delicatessen, best bread and best breakfast);
Several certificates of excellence from Trip Advisor.
Address: Avenida Ataulfo de Paiva, 1022, Leblon, Rio de Janeiro.
Opening hours: Every day, from 7am to 10pm.
Best Leblon cafes: Coffeetown
Coffeetown is a coffee franchise with a location in Leblon, located close to one of the metro stations in Leblon: Antero de Quental Station. It is also one of the best cafes in Leblon, with an excellent menu for breakfast and afternoon coffee. It offers classic croissants, hot mix and grilled bread, but also offers options such as waffles (with maple syrup), pancakes, eggs, cinnamon rolls, toasts, among other dishes.
The quality of Coffeetown's coffee is celebrated, and the company takes care to only use Arabica coffees rated above 80 by the SCAA (Specialty Coffee Association of America). And, after the specialty coffees, the house offers natural juices, hot and iced teas, smoothies and organic mate. In addition to savory dishes, in the best comfort food style (quiches, salads, soups, etc.), Coffeetown's sweets and cakes are incredible, with different presentations:
Red Velvet Cake;
Devil's cake;
Apple pie;
Cheesecake of different flavors;
Cappuccino pie;
Chestnut and walnut cake;
Milk caramel cake.
Coffeetown has several dishes for breakfast, lunch, afternoon coffee and dinner. It is also one of the most modern and charming cafes in Leblon, which surprises with its appearance and the wide variety of the menu, with its wonderful coffees in different preparations.
In addition to the stores that open early to offer the best breakfast, other options that open later complement your day, with menus from brunch to dinner time. Below, we present three prominent stores in this category, within the Leblon neighborhood.
Address: Avenida Bartolomeu Mitre, 297c, Leblon, Rio de Janeiro.
Opening hours: Every day, from 8am to 8pm.
Torta & Cia Leblon
Torta & Cia Leblon is an excellent choice for those who like cakes, roulades and pies with unique and classic flavors. Working with sweet and savory options, as well as smaller sizes and portions, Torta & Cia Leblon has a very sophisticated menu. You can choose whole portions, of different sizes, or in slices. Starting with savory pies with 5 main flavors:
Brie with apricot
Three cheese quiche
Paris Mushroom Leek Quiche
Quiche Cod
Chicken Pie With Catupiry.
The pies are all served in a large size, approximately 24 cm, with a yield of between 8 and 10 slices each.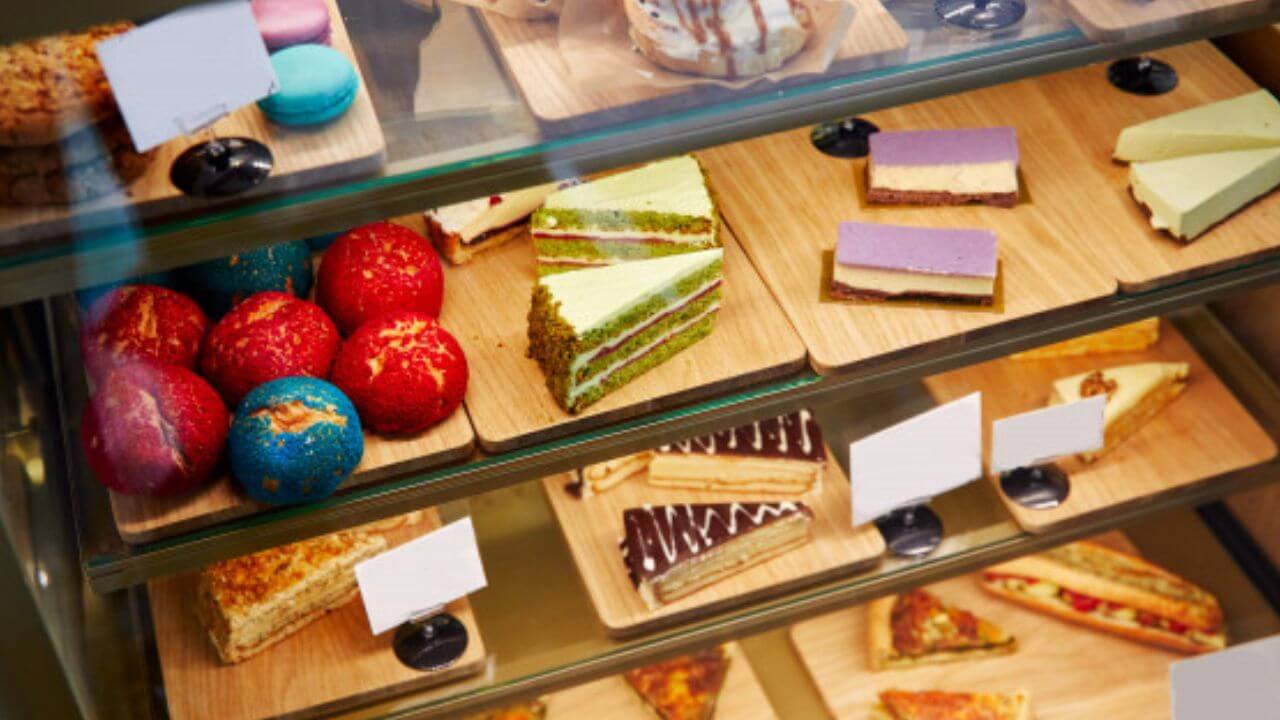 Torta & Cia has more than 30 flavors of sweet pies, most of which are fixed on the menu and some for events, celebrations and seasonal celebrations. Among all the pie flavors available we can highlight:
Cream pie;
Pie chocolate mousse;
Chocolate and caramel pie with fleur de sel;
Almonds Pie With Chocolate;
Pecan pie;
Cookie pie;
Apple crumble;
Lemon pie;
Cheesecake;
Strawberry Wonder;
Bacon from heaven.
They are all sizes P, M or L, with options to take away or serve in the store (in this case in slices). In addition to the precious pies, there are smaller savory and sweet options, such as:
Bureka;
Chocolate mousse;
chocolate lollipops;
Brigadeiros and various sweets;
Brownie;
Blondie;
Toffee;
Truffles;
Financier;
sweet and savory petit-fours;
Stuffed breads;
Wholemeal pastry;
Pies.
For those who prepare coffee for special guests, at home or at work, Torta & Cia has an attractive and tasty menu. And for those who want to have a coffee outside the home, in a cozy place, the store also serves this purpose masterfully. Therefore, it is on the list of the best cafes in Leblon, also offering a delivery option.
Address: Rua Gilberto Cardoso, 100, store 15, Leblon, Rio de Janeiro.
Opening hours: Every day, from 9am to 8pm.
Starbucks: One of the best cafes in Leblon
The famous Starbucks Leblon chain certainly makes the list of the best coffees in Leblon, not only because of its prestige, but because it really has quality products and lots of flavor. The standard menu for all the chain's units always presents incredible options, with selected ingredients and periodic updates.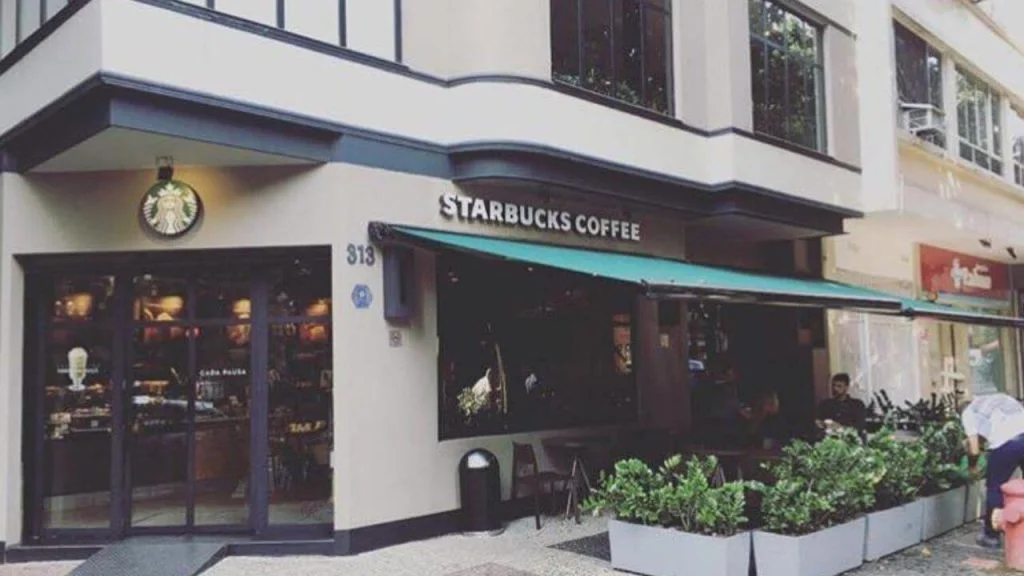 There are more than 50 types of drinks, which include juices, cold brew, teas, frappuccinos, coffees (press, Americano, filtered, etc.), cappuccinos, espresso, among others.
To eat, sandwiches, croissants, empanadas, cheese bread, toasts and various other bread preparations are part of the menu. Highlights include the Petrópolis toast and croque monsieur. In terms of desserts and sweets, donuts, cookies, muffins, brownies and a series of classics from North American cuisine are part of the menu, sharing space with loaf cakes, rolls and cakes.
Address: Avenida Afrânio de Melo Franco, 290, space Q-08, Leblon, Rio de Janeiro.
Opening hours: Every day, from 10am to 10pm.
Esch Cafes Leblon: Special coffees
A sophisticated coffee shop and tobacconist option, specializing in Cuban cigars, Esch Café Leblon is included in the selection of the best cafes in Leblon due to the refinement of its menu, its presentation and the proposal itself.
With a varied drinks menu, the restaurant also serves snacks and a lunch menu, with contemporary-inspired cuisine, in addition to a musical program with lots of jazz. The cigar menu is one of the best in Brazil, with provenance and high quality.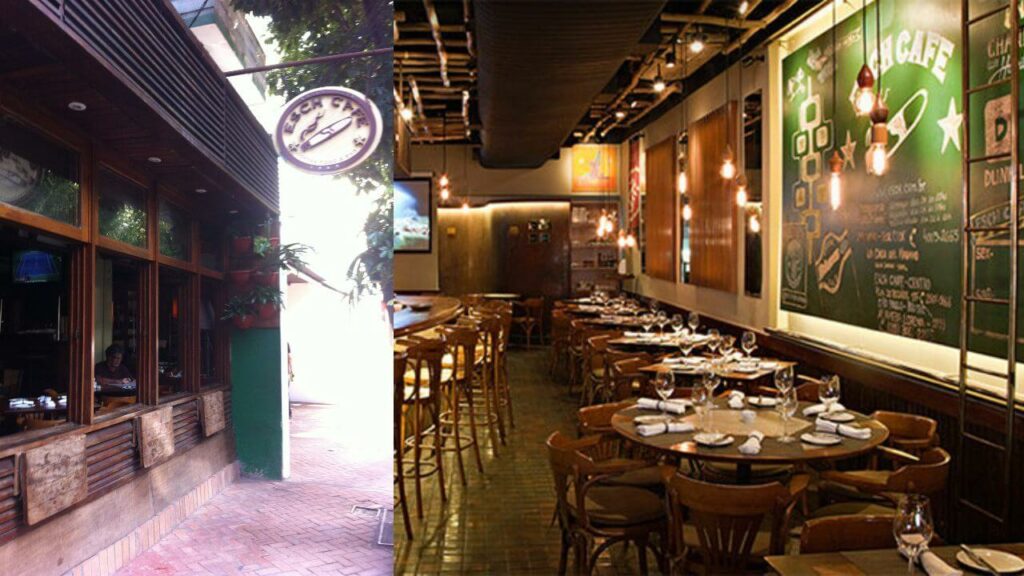 The location allows you to taste cigars within the store, making Esch an ideal alternative for happy hour and meeting friends.
Address: Rua Dias Ferreira, 78, Leblon, Rio de Janeiro.
Opening hours: Tuesday to Saturday, from 12:30 pm to 1 am, Mondays, from 12:30 pm to 10 pm, and Sundays, from 1 pm to 9 pm.
A neighborhood full of colors and flavors
Today we present some of the best cafes in Leblon, with different proposals, styles and menus. Each one with its own charm, sharing the aura of elegance and good taste of this neighborhood, which is one of the most valued in the country. If you liked our tips, you can find out more about Leblon by following other posts on our blog.