A traditional Rio bakery, confectionery and butcher shop, Talho Capixaba Ipanema was opened in November 2021. With stores open in Leblon and Gávea, Talho Capixaba operates with excellence, offering the best breads and snacks.
With a differentiated customer service proposal and quality products, Talho Capixaba brought the best baking techniques from Portugal and France to Brazil.
Awarded for its products, Talho Capixaba collects several honors from press vehicles and by popular vote, such as, for example, the awards for best delicatessen, from Revista Veja Rio Comer & Beber, and Best breakfast, from Época Special Edition Rio de Janeiro.
Therefore, Talho Capixaba Ipanema, like other stores, is open and has more than 25 types of bread, as well as several other products of unparalleled quality and flavors.
Talho Capixaba: History
Adored by locals and also by tourists who visit Rio de Janeiro, Talho Capixaba attracts more and more admirers due to its artisanal and classic products.
Located in Leblon since 1958, Talho Capixaba began as a traditional meat butcher's shop, but expanded its business to a delicatessen. There, sandwiches made with artisan breads, cheeses, cold cuts are served accompanied by wines and pastas.
Acquired in 1964 by Portuguese businessman Alberto Abrantes, the store initially operated in Leblon until the 2000s as a renowned butcher shop, focused on Portuguese trends and meat cutting techniques. The name Talho comes precisely from there.
Finally, upon noticing the decline in market sales, Alberto accepted the idea of his son Luís Alberto, who had completed a professional baking course in France and suggested investing his energy in this field to keep the business prosperous.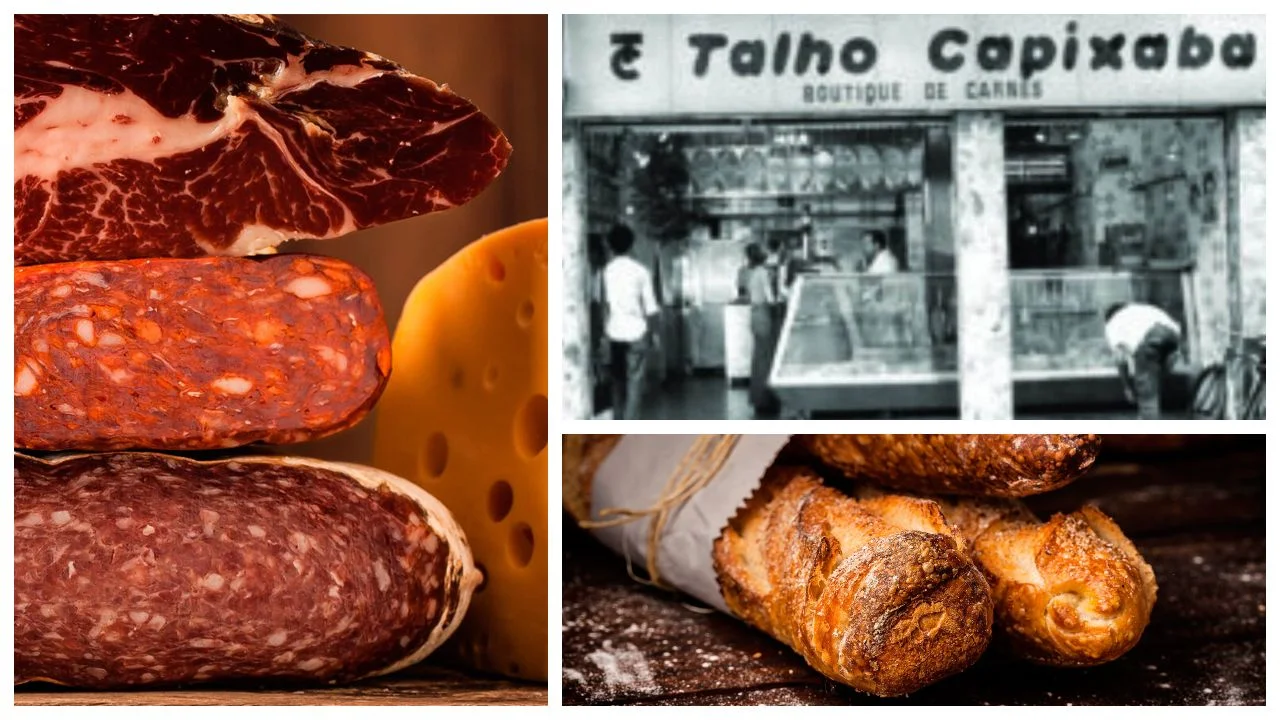 The turnaround in business was very successful. Nowadays, the house offers 25 types of bread with daily batches. However, at the request of old customers, a small part of Talho Capixaba Leblon is still dedicated to the butcher shop, with cuts made to order.
With the intention of always renewing itself, the place became a mix of delicatessen and bakery, with selected and imported products. There, you can find delicacies such as truffle oils, French jams, special sauces and craft beers.
In 2013, the house opened a branch in Gávea, another great local success and a reference in its segment. Furthermore, Talho Capixaba was a pioneer in investing in natural fermentation, a style of baking that revives ancestral techniques, which is now widespread.
Delicatessen in Ipanema
According to managing partner Rafael Saavedra, Talho Capixaba Ipanema is a project that has been worked on for a long time and has gone through different phases. "The pandemic required a reduction in pace and adaptations to the project, but it does not change the essence of our business, which is the relationship of trust with our customers", highlights the businessman.
Initially, Talho Capixaba began as a renowned specialty meat butcher shop in Leblon in the 1960s. It was only in the 2000s that the house specialized in delicatessen and special breads. The Talho Capixaba Ipanema unit opened in November 2021, in a 3-story building in the neighborhood. To top it off, the space has indoor and outdoor tables, ideal for having that quality breakfast before heading to Ipanema Beach.
Talho Capixaba is one of the most frequented places by residents and visitors of the South Zone, precisely because of its elegant and unique identity, which corresponds to the very soul of the region. This way, the place has a welcoming and cozy atmosphere, with a delicious aroma of fresh bread throughout the day. In addition to enjoying incredible snacks, you can find several other products made by hand, check them out below.
Award-winning menu at Talho Capixaba Ipanema
The new Talho Capixaba Ipanema will have the same variety of products and services that exist in other stores. Therefore, the products range from artisanal breads to cold cuts and breakfast baskets. Therefore, the menu has a wide variety of products that are always fresh, tasty and well prepared.
Breads
French Bread: Made with a simple mixture of flour, salt, water and yeast, with special treatment, without added sugar and fat;
Pre-baked French Bread: Removed from the oven one point before completion for storage in the refrigerator or freezer;
Baguette: Baguette follows the same characteristics as French Bread, but with less crumb and more crunch due to its shape. It also has a pre-baked option;
Complete Bread: With the addition of wholemeal flour and grains in its composition. It also has a pre-baked option.
Croissant: Puff pastry bread made in the French tradition. Light and buttery crumb, wrapped in a thin, crispy shell;
Small artisanal bread: Made with a minimum of ingredients and long fermentation, this bread has a rustic structure and a well-shaped interior;
Tradition Baguette: Made with imported flour and natural fermentation, following the traditional molds and processes of French baguettes, with a firm shell and well-shaped crumb;
Wholemeal Levain Bread: Large, rustic bread with long fermentation. It has a high percentage of natural fermentation and imported wholemeal flour which, added to rye, produce a particular flavor.
In addition to these delicious options, Talho Capixaba Ipanema also offers Brioche, made with buttery dough, and options of Petrópolis bread and Pão 9 Grãos, made with imported wholemeal flour.
Cheeses and dairy products
In addition to the beautiful cold board full of fresh and tasty cheeses, Talho Capixaba Ipanema offers a wide variety of cheeses and butters. Along the same lines, check out:
Small fresh Minas cheese Coalhadas;
Unsalted Aviation Butter;
Sliced Val di Fiemme cheese;
Sliced Tirolez cheese;
Traditional Poços de Caldas cream cheese;
Mozzarella cheese in Bufalina balls;
Cured Guarujá cheese;
light Poços de Caldas cream cheese;
Cured, cheese from the Serra da Canastra Onésio;
Sliced Cablanca goat cheese;
President petit brie cheese.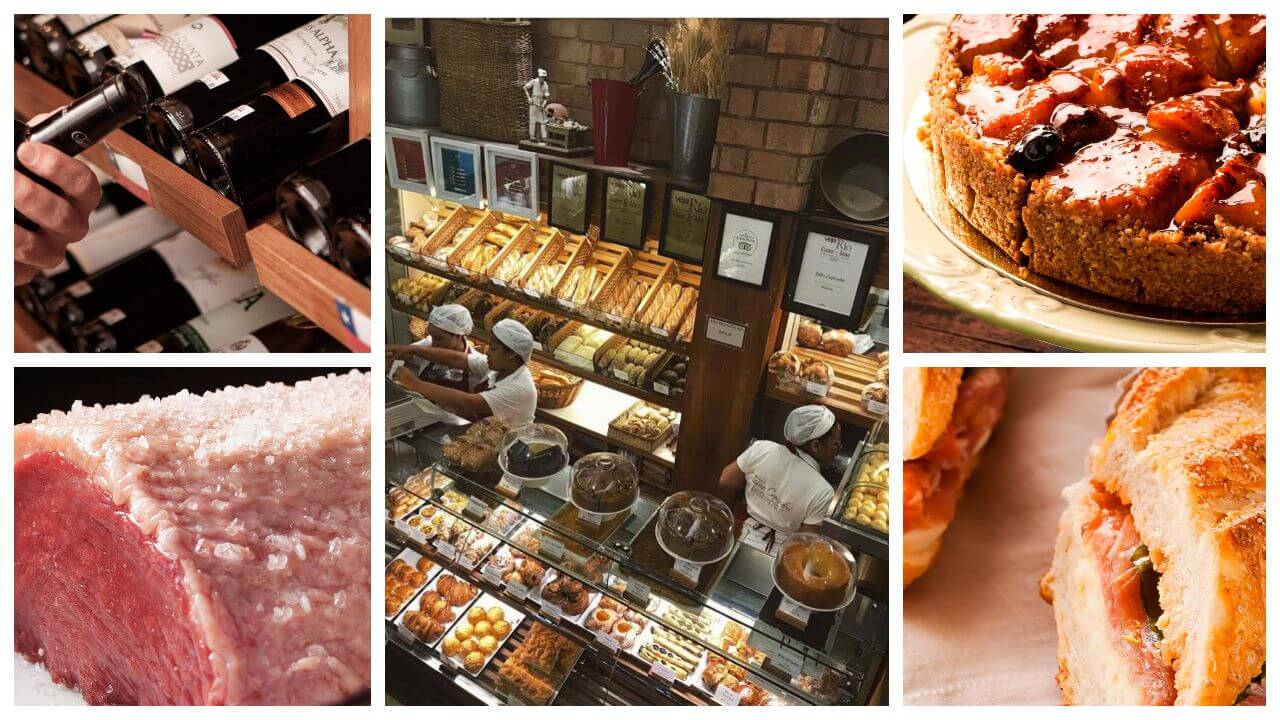 Jellies, sweets and other delicacies at Talho Capixaba Ipanema
The jellies and sweets are ideal to complement a snack or to enjoy a delicious dessert. So, check out the sweets and other delicacies available at Talho Capixaba Ipanema:
Aviation Dulce de Leche;
Traditional Zélia guava;
Traditional Zélia Bananada;
Traditional French toast;
Perfect Love Pie;
custard tart;
Brigadeiro, nut, apple, strawberry or banana pies;
Éclair.
Jams
St Dalfour Orange, strawberry and apricot jelly;
St Dalfour Jam 4 Fruits.
Pastas and appetizers:
cured salmon gravlax;
Smoked chicken sausage;
Cod salad with chickpeas;
Potato salad.
In addition to these delicious options, the store offers several pasta options, such as chickpea hummus, tuna, fresh olives and salmon.
Other delights
Orange, corn, carrot and carrot cake with chocolate;
Olive oil grissini;
Tapioca and cheese biscuit, guava and cat's tongue with chocolate;
provolone friselle;
Little lie and palmier;
Almond Financier and Tuille;
Guava biscuit and cat's tongue with chocolate.
Talho Capixaba Ipanema also has gift baskets. Among the options, the store offers a tasting basket, with butcher's delicacies, and the traditional one for breakfast.
Cold cuts, roasts and pickles
Roasts
Sliced house stuffed roast beef: Meat directly from the butcher, stuffed with Calabrian sausage and marinated for 3 days in red wine and spices. It is sliced very thinly in the machine, to accompany any meal.
Sliced house roast beef: Traditional roast beef, with a lightly toasted exterior and pink interior, sliced very thinly to enhance your sandwiches and salads.
Cold cuts
Sliced Sadia smoked turkey breast;
Sliced Royale Sadia ham;
Sliced Traditional Ceratti Mortadella;
Sliced traditional Sadia cooked ham;
Sliced raw Emiliano Villani ham;
Sliced Sadia Italian salami;
Sliced Parma Speciale Villani ham;
Sliced El Pozo Imperial salami.
Pickled
Garlic Confit: In olive oil, thyme and rosemary, Garlic Confit is essential in the kitchen and on the table. Rich in flavor, it is used in grilled vegetables, sauces, salads, fish or as an appetizer;
Tomato Confit: Ripe cherry tomatoes slowly roasted in the oven in olive oil and herbs. Delicious in salads and bruschetta, it can also be used to customize that special pasta;
Purple Onion Pickles: Onion without tears, just flavor and color. Cut into half-moons, ready to use in sandwiches, salads, fish and on smoked boards;
Cucumber Pickles: Fresh cucumbers are transformed to make a difference in a raw ham sandwich, in a tofu salad, in a salmon tartar or in a burger;
Rustic Tapenade: Used in starters or to enhance your dishes, black olive tapenade is inspired by the countryside. The artisanal cutting of the ingredients with a knife brings the unique flavor of this classic. Perfect for bread or salads;
Mediterranean: Portion of the traditional Mediterranean diet, with fresh ingredients. Like the others, it's an antipasto, but you can eat it however you want.
Talho Capixaba Ipanema also offers several other products, such as butcher service — with cuts of meat —, soups, pasta, savory snacks, cookies, juices and coffees.
How to get to Talho Capixaba Ipanema
The new Talho Capixaba is located in Ipanema and has extended opening hours, ideal for enjoying a great meal at any time of the day.
Address: Rua Barão da Torre, 354, Ipanema, Rio de Janeiro.
Opening hours: Every day, from 7am to 10pm.
Thus, now also located in the heart of Ipanema, Talho Capixaba is part of the excellent variety of businesses in Rio's South Zone, which attracts more residents and visitors to the neighborhood.
Ipanema, located in the South Zone of Rio, is one of the best and most noble neighborhoods to live in Rio de Janeiro. Discover luxury residential properties in Ipanema today with INVEXO, a real estate agency specializing in luxury properties in Rio de Janeiro.