The history of the Santa Monica Church in Leblon began when Dom Jaime de Barros Câmara, cardinal-archbishop of Rio de Janeiro, decided to create 25 parishes in celebration of the 25th anniversary of his episcopal ordination.
And so, he dismembered the Parish of the Ipanema neighborhood, starting the Parish of Leblon, known by the name of Santa Monica.
Saint Monica is the Patron Saint of married women and a model for Christian mothers. The Church was founded on May 4, 1945. And, since then, the Santa Monica Parish on Leblon has continued with its faithful, social work and also spreading God's teachings to as many people as possible.
Masses at Santa Monica Leblon Church
At the moment we are going through, with the Churches closed to the public, Santa Monica Parish has made live Masses available on its Facebook page and YouTube channel.
And so, the faithful can participate in these celebrations in their homes, being able to pray for whatever they want, in the comfort of their homes. Concern for spirituality is also one of the components of a high quality of life. Leblon provides this, being one of the best neighborhoods in Rio de Janeiro.
Social Work at Santa Monica Church
The Santa Monica Church in Leblon does special social work with the Santa Monica Polyclinic, which has been in operation since 1979 and has the collaboration of professionals and volunteer interns.
And it was with this thought, of helping those who need it most and extending a helping hand to people at risk, that in 2019, the Santa Monica Parish in Leblon held a dinner for hundreds of homeless people in the year that Leblon celebrated 100 years of existence.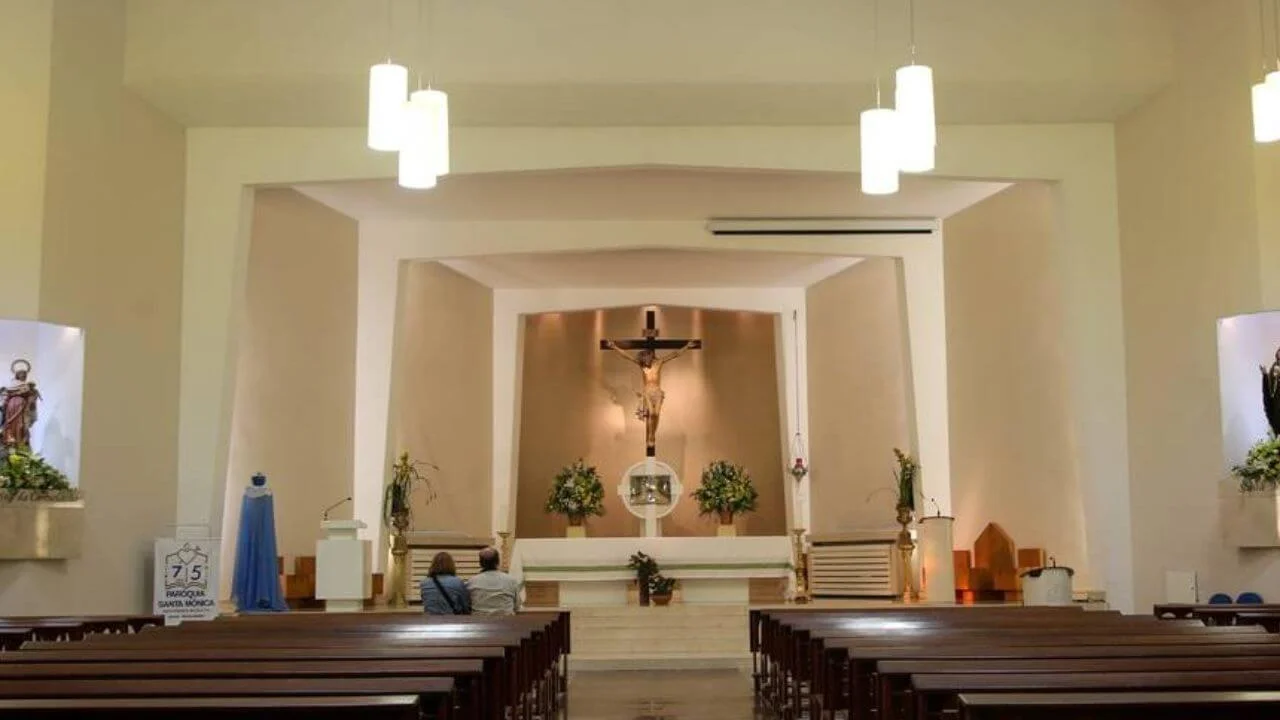 The charitable action was funded by donations from the faithful, savings from tithes and volunteer work from 40 people. But, in addition to this dinner, the Parish assists more than 50 homeless people, who receive food, clothes and personal hygiene items.
And there is also a campaign to donate basic food baskets to those most in need. To find out how to help, just access the Santa Monica Parish Facebook page in Leblon.
Leblon: a charming neighborhood
Leblon, in addition to having the Parish of Santa Monica, has numerous leisure facilities, as it is a quiet and pleasant neighborhood. The neighborhood is well known and famous for its beautiful Leblon Beach, which is one of the quietest and most popular.
You will also find several options of restaurant in Leblon, the best in Rio de Janeiro. There are several options, from restaurants of japanese cuisine in Leblon to French cuisine and steakhouses. For all these reasons, living in this neighborhood is an excellent choice. Furthermore, the region is highly valued.
The Zona Sul neighborhood has the most valued m² in the city, and is also considered the most upscale neighborhood in Rio. Check out the luxury properties for sale in Leblon with INVEXO, a real estate agency specializing in luxury properties in Rio de Janeiro.