Leblon Metro Station has two distinct stops: Antero de Quental Station and Jardim de Alah Station. Created in 2016, both are modern, equipped with various features, services and shops that make life easier for those who travel through the neighborhood on Line 4 of MetrôRio.
The metro is one of the most used means of transport today to facilitate urban mobility, which every day requires greater speed in all its processes. The absence of obstacles and intersections on its single lane makes this route one of the most accessed in Rio: it alleviates traffic on the surface and favors the agility of passengers, who arrive in a few minutes from one station to another.
Follow our article and find out more!
Leblon Metro Station
The Rio de Janeiro subway was opened in 1979, serving a short distance (less than 5 km), with few stops throughout the city and operating during limited hours. The initial expansions took place between 1980 and 1984. In 1998, the subway was already under the concession of MetrôRio.
Currently, the Rio subway has 41 stations, two of which are known as Leblon Metro Station: Jardim de Alah Station and Antero de Quental Station. Both were opened in 2016 to meet the demand of the Olympic Games and are part of Line 4, which covers a 16 km route.
Line 4 connects the South Zone to the West Zone, from Jardim Oceânico Station to Nossa Senhora da Paz Station. With a quick travel time of just over 10 minutes, the creation of the line and stations made life much easier for those who need to go to the neighborhood, whether for work or even for those who live in the region and need to travel between these different points.
All of Rio's subway stations are very well equipped and feature services and commercial establishments from different segments, to facilitate the daily lives of all passengers. Furthermore, they are located in strategic points, which mainly benefits those who work or need to travel to the main shops and services in the neighborhood.
Many residents also benefit from transport via the metro, due to its speed and agility, essential items in the routine of those who live in Leblon.
Leblon Metro Station: Antero de Quental
Antero de Quental Station is located in the square of the same name and has two entry points: Access A, via Avenida Bartolomeu Miter and Access B via Rua General Urquiza. It has several facilities and has access for PWDs.
To provide broad accessibility, the station has a tactile floor, Braille marking, escalators, ramps and elevators. The entrances have different opening hours and the station allows different types of integrations, such as the surface metro (Antero de Quental/Gávea) and vans that circulate around the region.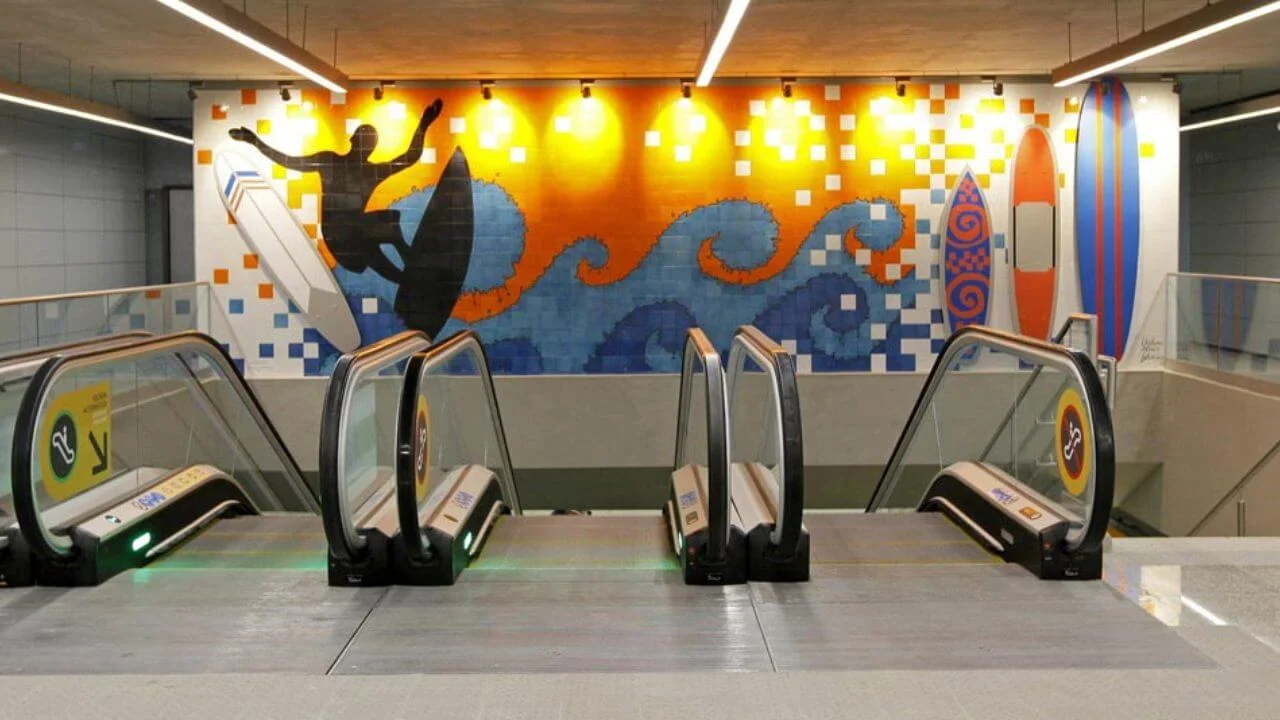 Facilitating the routine of all passengers, Antero de Quental Station also offers shops and services, such as:
Surrounded by several leisure, shopping and gastronomic spaces, Estação Antero de Quental is in a privileged location in Leblon.
This part of the neighborhood is home to precious places:
The station also serves the Alto Leblon region, with a location very close to the Zona Sul Supermarket, the Hotel Promenade Palladium, Giuseppe Grill and CT Boucherie. Several bars, pubs and other restaurants are present within this perimeter.
Jardim de Alah Leblon Station
Jardim de Alah Station has almost the same configuration as Antero de Quental Station. Access A is on Av. Borges de Medeiros and Access B is on Rua Almirante Pereira Guimarães. It allows integration with circular vans and is close to the region's main businesses.
Its opening hours, for both entrances, are from Monday to Saturday from 5am to midnight, Sundays and holidays from 7am to 11pm. It offers broad accessibility for PWD, with tactile flooring, ramps, Braille marking, elevators and escalators.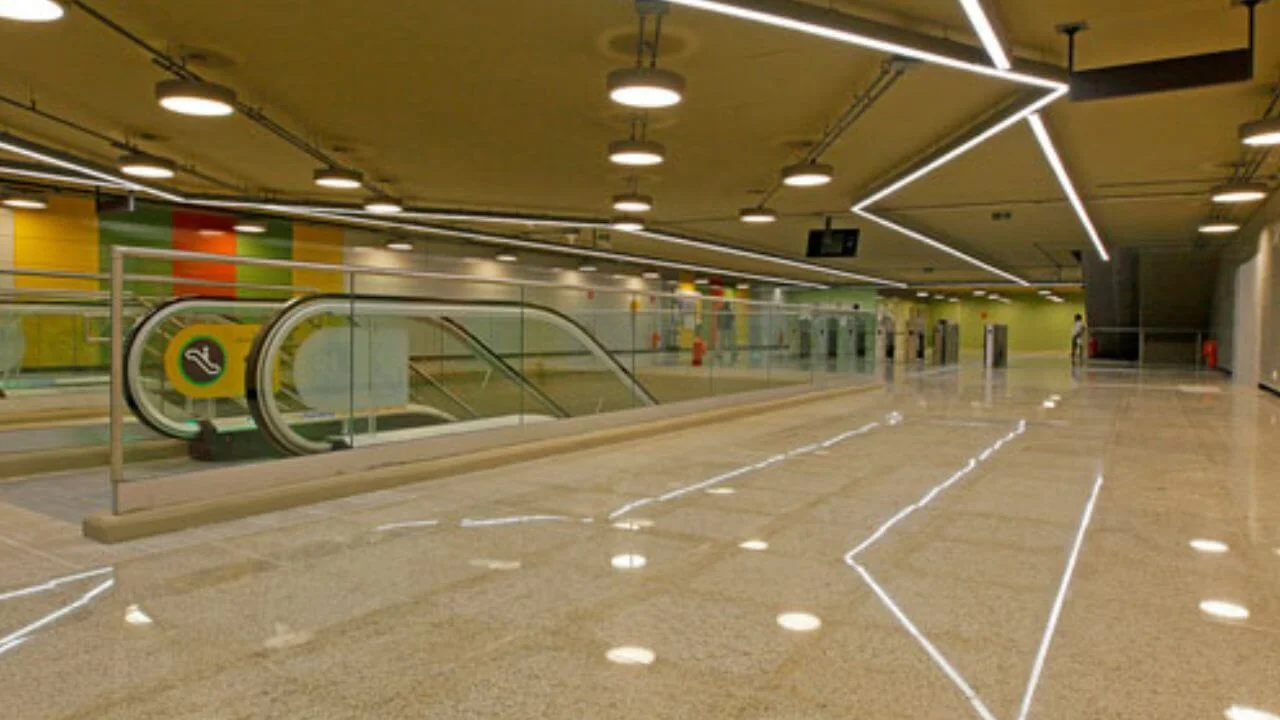 In addition to these amenities, the station has a small network of very functional services and shops, similar to those at Antero de Quental Station.
In addition to card machines, 24-hour ATMs and vending machines, Estação Jardim de Alah features:
Jardim de Alah Station is surrounded by several different types of businesses and attractions, such as:
The perimeter around Estação Jardim de Alah also has supermarkets, such as Supermercado Zona Sul, Hortifruti (Leve store) Leblon, pharmacies, pet shops and the best known and most used banks (Safra, Pine, Itau Personnalité, Bradesco, Santander, Caixa Econômica and Banco do Brasil).
Discover one of the best neighborhoods in Rio
The Leblon Metro Station, which actually comprises the Antero de Quental and Jardim de Alah stations, has attributes that match the region where it is located: it is modern, with a complete structure, a large number of services, facilities and amenities.
Leblon is one of the best places to live in Rio de Janeiro, as it combines tradition and innovation. The neighborhood's high quality of life is a result of its lush natural landscapes, its wide network of shops and the best properties available in the city.
The region offers options for all occasions, from those who want to find a solo home to those looking for large spaces to house the entire family. Most buildings and condominiums have a premium, high-standard structure, offering 24-hour security (most including perimeter surveillance), sports courts, swimming pools, party rooms, gourmet spaces, spa, playground and other fantastic options.
If you liked our article and are interested in all the great benefits offered by this region, we invite you to check out our special selection of apartments in Leblon on our website. There are different types of sizes (between 30m² and more than 500m²), in a privileged location facing the beach or overlooking other wonderful points of the city.
You can find options with a garden, triplex coverage and others with the right to use a slab, always with complete and modern condominium infrastructure.