The Leblon neighborhood is a reference when it comes to quality of life and good-tasting cuisine. Therefore, we are going to present 10 options for the best restaurants in Leblon. The region has several establishments that offer the best cuisine in different areas, such as Italian, French, Japanese, etc.
Anyone who knows the South Zone of Rio knows that the leisure options are great. And when it comes to gastronomy, restaurants in Leblon stand out for the quality and diversity of styles found in the region.
With alternatives for all tastes, it is possible to find restaurants from different cultures. Thus, Italian, Japanese and Chinese foods, among other nationalities, are common destinations for those who want to eat well.
The region has the most different and sophisticated cuisines, which only a sophisticated neighborhood like Leblon can offer. With so many options, it becomes difficult to choose which are the best restaurants in Leblon.
In addition to being a noble spot, cuisine is one of the strong points of this charming neighborhood in Rio de Janeiro. Do you want to know which is the best restaurant in Leblon? If you like haute cuisine and value a quality restaurant experience, you will love our suggestions.
We made a selection of sophisticated restaurants in Rio de Janeiro, which serve Brazilian and international cuisine, with well-prepared and delicious menus. Check it out here!
Oro Restaurant
The Oro restaurant features avant-garde Brazilian cuisine. The menu offers many choices of dishes, such as fish, sweets, salads, meats, grains and various pastas. Check out some options:
squid;
octopus;
cod;
oxtail;
beef marrow;
Stew;
mini-burger, among other varieties.
Led by acclaimed chef Felipe Bronze, who has already accumulated several awards and recognitions, Oro has a strong and renowned team.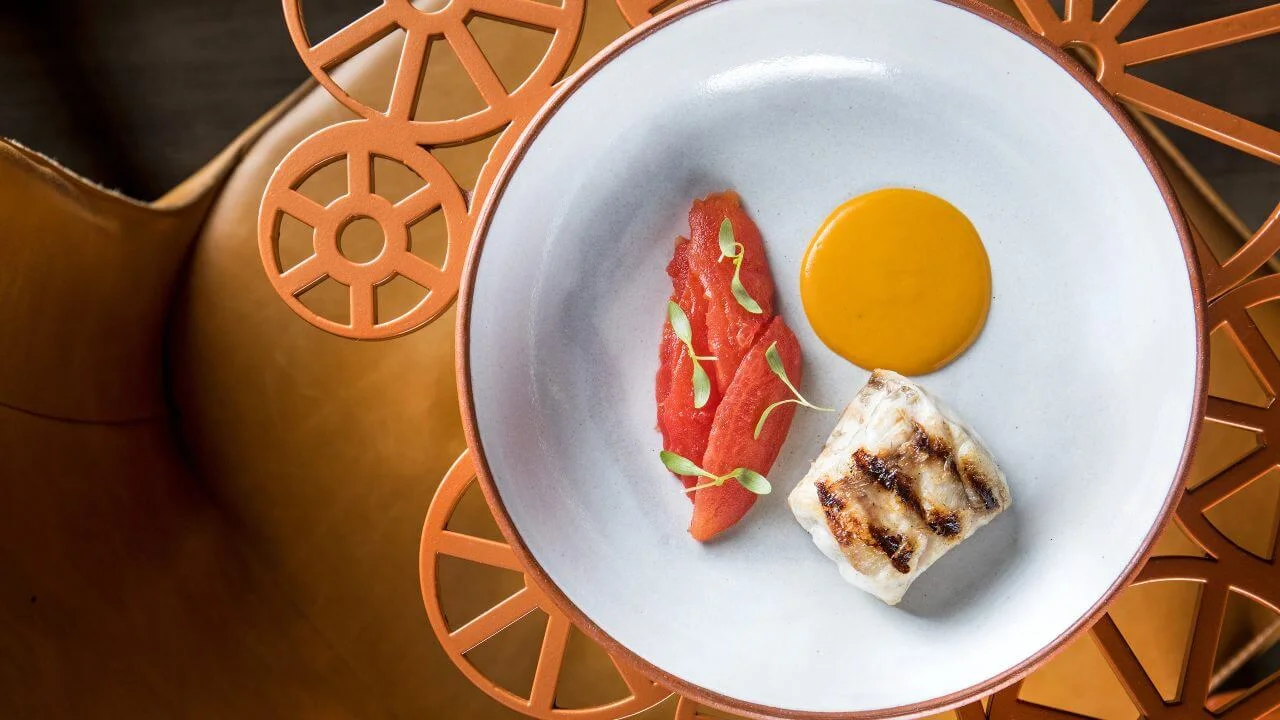 The kitchen is led by chef Rodrigo Guimarães (master in avant-garde gastronomy from the Basque Culinary Center) and the wine list is designed by Argentine winemaker and sommelier Cecilia Aldaz, who received two best sommelier awards from Veja Rio. The proposal is to prepare new versions of dishes that already exist in Brazilian cuisine.
The restaurant operates with the following scheme: two menu options are offered to the customer as a tasting. Each option features 12 starters (you can choose between 2 or 4 main courses) and ends with a dessert.
The good thing is that everything is offered in a smaller version, meaning the customer won't feel full right after the first dishes. The establishment offers several amenities, such as table reservations, valet parking, special access for wheelchair users, free Wi-Fi, among other facilities.
Address: Avenida General San Martin, 889, Leblon, Rio de Janeiro.
Kurt Leblon
Kurt Leblon is a traditional pastry shop in Leblon, located close to Antero de Quental station. The establishment offers many sweet and coffee options, such as macarons, puddings, chocolate, lemon and strawberry pies. The dough is light and the filling is soft, which doesn't get boring easily.
The environment is refrigerated, has a creative decoration and has an outdoor space where you can sit and enjoy the delicacies. Created by the German Kurt Deichmann, the confectionery is one of the most remembered by the locals and especially by the residents of Leblon.
Serving in the same neighborhood since the 1940s, Kurt presents traditional Austrian and German recipes, with more than 30 different types of sweets and flavors.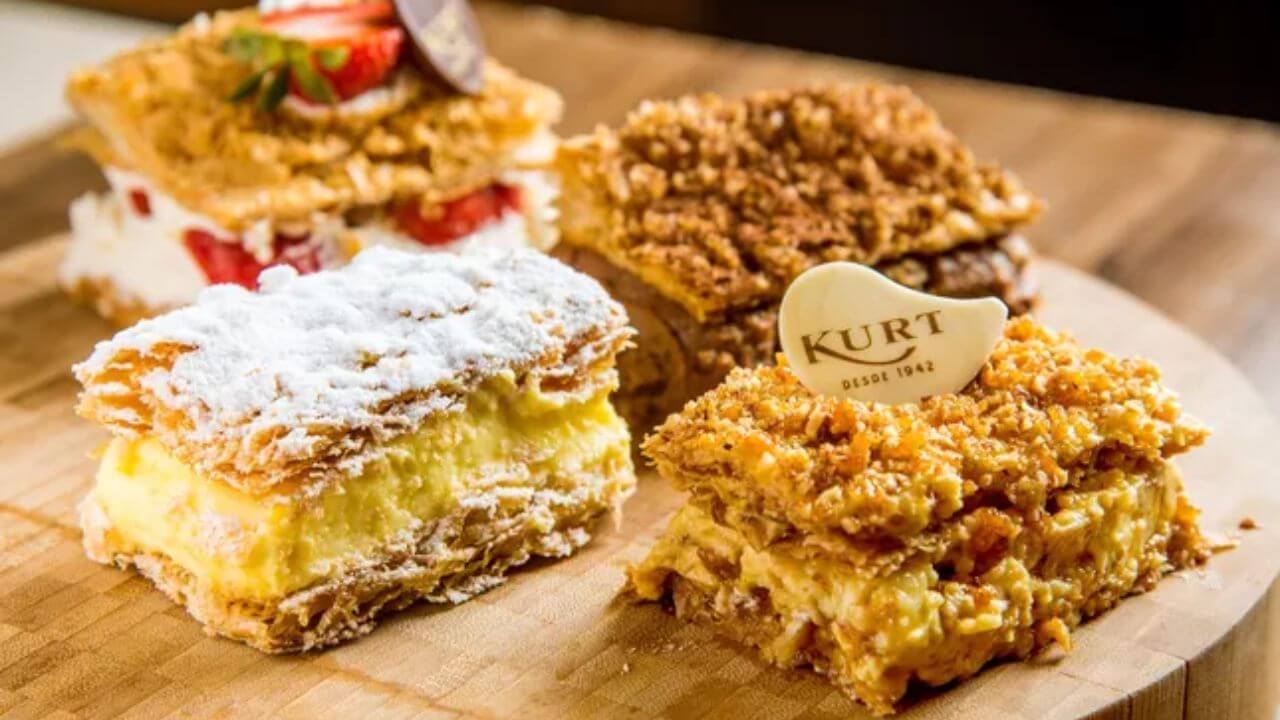 The place also produces sugar-free versions, exclusive products for seasonal celebrations and Passover. It is possible to purchase pies, cakes and other sweets in different sizes (mini, S, M, L) or in individual portions.
Therefore, it is one of the best pastry shops in Rio for those looking for products for special occasions such as birthdays, meetings, coffees, teas and other moments. With the look of Leblon, Kurt is the ideal option to meet the demanding profile of the neighborhood, known for having the most expensive square meter in Brazil.
Address: Rua General Urquiza, 117, Leblon, Rio de Janeiro.
Sushi Leblon
Sushi Leblon specializes in Asian cuisine, mainly Japanese, as well as exotic dishes. Considered the most famous Japanese restaurant in Rio de Janeiro, it is also the first in its category to be installed in the South Zone.
Sushi Leblon is a sophisticated Japanese restaurant. It was the first house specializing in Japanese cuisine in the south of Rio de Janeiro, founded in 1986. The restaurant combines innovation and tradition of Japanese cuisine.
The quality of the food is of a high level, as is the service offered. The ideal is to reserve a table in advance, as the place tends to fill up. The most celebrated dishes of the house and which are already permanent on the menu are:
white sailfish with quail egg and truffle oil;
salmon sashimi with crispy quinoa;
miso-marinated salmon with foie gras;
grilled tuna with foie gras, wassabi, miso and green apple.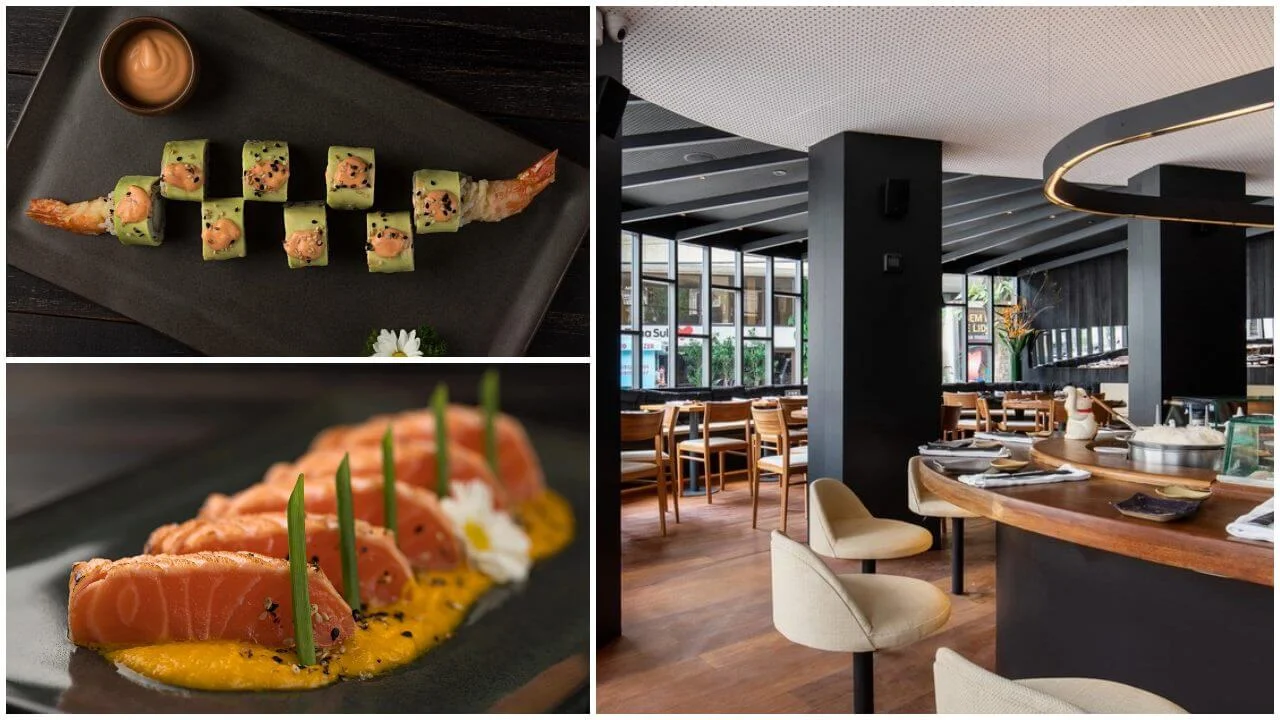 Among the other dishes on the menu, there are also exquisite options such as organic St Pierre ceviche, truffled octopus, spicy red tuna, warm sashimi with scallops and prawns and other incredible and tasty choices.
Among the highlighted dishes are: sushi, sashimi, rolls, combinations and desserts. It's worth trying the salmon sushi, tuna sushi and salmon sushi with crispy quinoa.
Address: Rua Dias Ferreira, 256, Leblon, Rio de Janeiro.
CT Boucherie Leblon
CT Boucherie Leblon is one of the restaurants of famous French chef, Claude Troisgros. The restaurant is located in the gastronomic hub of Rua Dias Ferreira and serves a sophisticated signature menu, with various cuts of noble meats. The restaurant's highlights are the chorizo steak and the prime rib.
Famous chef Claude Troisgros chose Leblon to set up his restaurants, including the acclaimed CT Boucherie. With a focus on meats and roasts, the place really resembles a French boucherie (meat house) in its decor and has an inviting menu.
For 10 years, the CT Boucherie restaurant has served a mixed purpose between boucherie and bistro, with a menu full of delicious options including snacks, starters, grilled dishes, pasta, salads and desserts. The decor of the environment is very characteristic and reminds us of old French butchers, ensuring an even more interesting experience for customers.
The house sauces are wonderful, presented in six different options, one of which was co-created with Thomas Troisgros, chef Claude's son. The restaurant has already been awarded in different categories by Veja Rio Comer e Beber, with emphasis on the Best Delivery category.
Address: R. Dias Ferreira, 636, Leblon, Rio de Janeiro.
Irajá Redux
Irajá Redux belongs to the Irajá group, owned by chef Pedro de Artagão. It presents a menu full of contemporary and avant-garde-inspired delicacies, with dishes that are already well-known and beloved by Rio residents, such as the chocolate cake, voted best sweet by Rio Gastronomia.
But Irajá isn't just made of sweets! Pedro de Artagão is a renowned chef, committed to producing a complete menu with meats, pastas, salads, vegetarian options and a good wine list.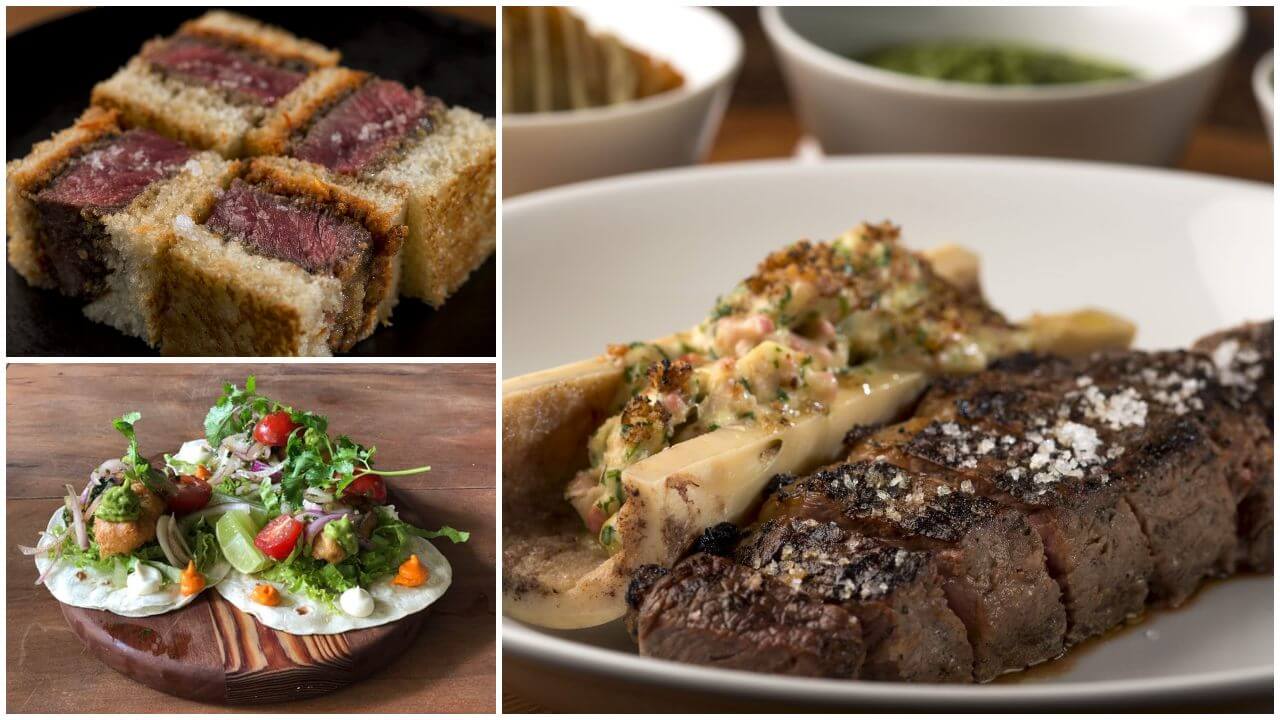 The highlights of the menu are:
chorizo steak with marrow;
pad thai served with egg, shiitake and bean sprouts;
Wagyu Sando (breaded sandwich made with wagyu).
The environment has a pleasant decor that resembles a garden full of freshness. Worth knowing.
Address: Shopping Rio Design Leblon, Av. Ataulfo de Paiva, 270, Leblon, Rio de Janeiro.
Giuseppe Grill
The Giuseppe Grill serves meat prepared on a grill and barbecue (both charcoal), a proposal adopted by the famous restaurateur Marcelo Torres. The place not only serves red meat and also has an exclusive grill for fish and seafood, with fresh fish every day.
The restaurant has already been chosen as the Best Meat in the City by Globo, Gula and Veja Rio, no wonder: its menu is one of the most extensive in the city, with a varied wine list that would be the envy of any establishment.
Its cellar has almost 700 labels from 16 countries and was even recommended by The New York Times. The signature dish of the house is Picanha Supra Sumo, made with the best part of the cut.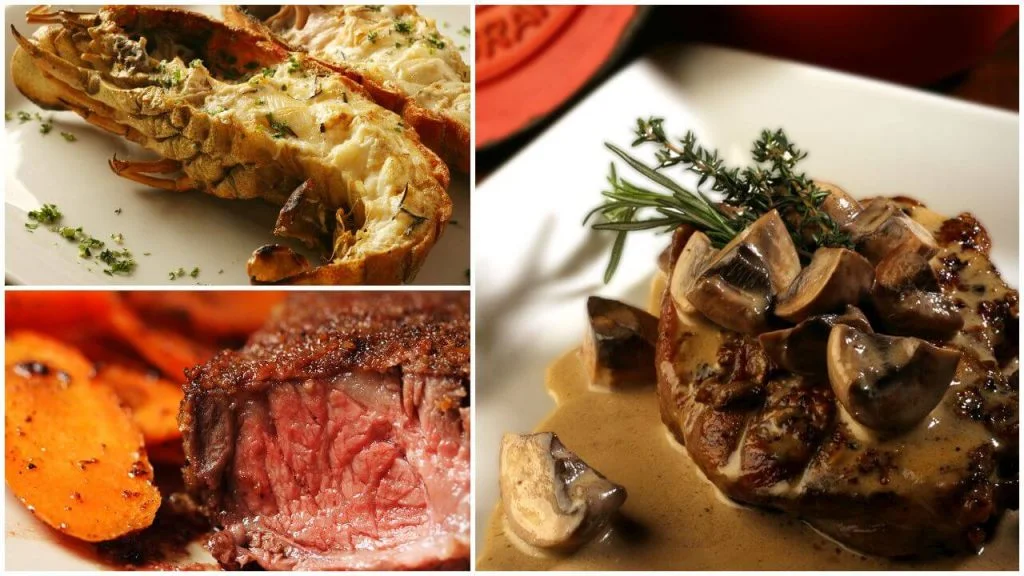 The space also has a private room for events and meetings, with capacity for up to 50 people. In addition, Giuseppe Grill offers the opportunity to bring the full barbecue menu and service to your private event.
These are just some of the many attractions that Giuseppe Grill has to offer. It's worth remembering: there are a series of works of art owned by Marcelo Torres on display in the hall, by renowned national and international artists.
Address: Avenida Bartolomeu Mitre, 370, Leblon, Rio de Janeiro.
Cortés Leblon
Cortés is a restaurant with a varied menu and many meat options, always of excellent quality. The concern and care that Cortés takes with his meats is unique. Not only with the preparation, but in the initial process, during the raising of cattle, attention is redoubled.
Belonging to the Rascal group, from the Bielawski family, Cortés prepares its meats using the parrilla as the main method, making the piece juicy and with less fat absorption during preparation.
The method is widely used in Argentina and Uruguay, with incredible results in the texture and appearance of the meat, also reducing the levels of carbon monoxide expelled during burning.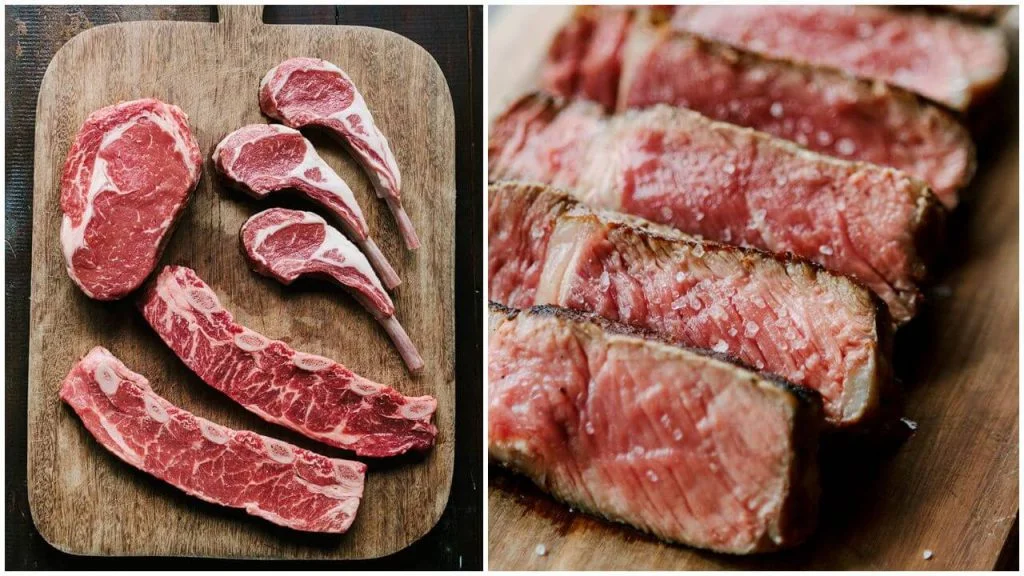 Angus cuts are the restaurant's preference, coming from managing a controlled herd, which focuses on the animals' well-being. The correct feed, local temperature, climate and altitudes are used to provide tender, high-quality meat.
Cortés has a menu divided into starters, salads, side dishes, roast meats, burgers, fish, pasta, dishes, drinks and desserts. Its drinks menu is well served, with more than 30 different beer labels and a wine list with more than 100 options.
Address: Shopping Leblon, Av. Afrânio de Melo Franco, 290, store 410/411, Leblon, Rio de Janeiro.
Fratelli Leblon
The Fratelli Leblon restaurant brings a piece of Italy to Rio de Janeiro. The Leblon unit has been in operation since 1992, with contemporary decor and a very sophisticated menu.
The house has a wine cellar with more than 2,500 bottles and 190 wine labels. Fratelli Leblon is considered one of the best Italian restaurants in Rio. The menu stands out with pizzas, risottos and pastas with incredible recipes. The biggest hits on the menu are:
potato gnocchi with fresh asparagus
the classic bolognese lasagna
white and green pasta with filet mignon, bacon and cream.
Address: Avenida General San Martin, 983, Leblon, Rio de Janeiro.
Togu Leblon
Togu Leblon is one of the best restaurants in Rio de Janeiro. With a contemporary menu and a sophisticated atmosphere, the restaurant specializes in classic Japanese cuisine and contemporary Western cuisine.
The restaurant works with the concept of cultural fusion, which provides customers with a gastronomic experience with several flavor proposals. Togu Leblon has the characteristic Rio charm in its atmosphere, with an intimate decor and a lot of sophistication.
The menu is excellent, with choices of pokes, sashimi, soups, salads, rolls, temakis and exotic dishes, such as spice tuna, fresh oyster cup and quail egg sushi. We have complete content about Togu and several other restaurants on our blog.
For those who appreciate differentiated, sophisticated cuisine with wide options, Leblon is the right place. In addition to the best restaurants, the neighborhood is considered one of the best places to live in Rio.
Address: Rua Dias Ferreira, 90 B, Leblon, Rio de Janeiro.
Italian restaurants in Leblon
For those who love Italian pasta and its incredible creations, you can find excellent options to eat well and remember Italy. In this regard, the following restaurants in the segment stand out:
Benvenuto Ristorante Cucina Calabrese.
Japanese restaurants in Leblon
For fans of oriental food, especially Japanese, the restaurant options in Leblon are also incredible. And, to help you with this task, we selected the main names for eating the best oriental dishes in RJ:
Chinese food in Leblon
Chinese dishes have been gaining fame in Brazil, as well as their tasty and affordable delicacies. Know that China is a very rich country gastronomically, with excellent options for those who want to eat well.
Leblon has a wide variety of Thai and Japanese restaurants, but, within a very short distance, it is possible to taste Chinese dishes in neighboring neighborhoods, such as Copacabana. Here, the following restaurants stand out:
Shou Cool;
Chinese Palace;
Mee Restaurant.
Indian restaurants in Leblon
How about feeling all the power and flavor that Indian seasonings can bring to your dishes? With different and unique flavors, Indians know how to win over their customers.
Currently, Nam Thai, which despite its name, also presents options from other culinary origins. These are two of the many restaurant options in and around Leblon.
Peruvian restaurants in Leblon
And who said that tasty Peruvian dishes would be left out? With a rich cuisine, Peru is a country with refined cuisine that draws inspiration from various cultures to create its typical dishes.
This way, it is possible to meet most flavor preferences and still deliver food with a lot of personality. La Carioca Cevicheria Leblon is one of the best-known kiosks that serve the most consumed Peruvian dish in Brazil: ceviche.
Vegan and vegetarian restaurants in Leblon
The number of people who declare themselves vegetarian in Brazil has reached 14%. In the metropolitan regions of São Paulo, Curitiba, Recife and Rio de Janeiro, the number is slightly higher, 16%, which represents an increase of 75% compared to 2012. Therefore, in the first topic, we will list some good restaurants in Leblon aimed at the public who do not consume meat.
Opened in July 2018, Tita is a small bistro located in the neighborhood of Leblon, Rio de Janeiro. The space offers an intimate and welcoming proposal, with a varied and 100% plant-based menu, that is, everything of plant origin. The products are all fresh and therefore, in some cases, subject to seasonality.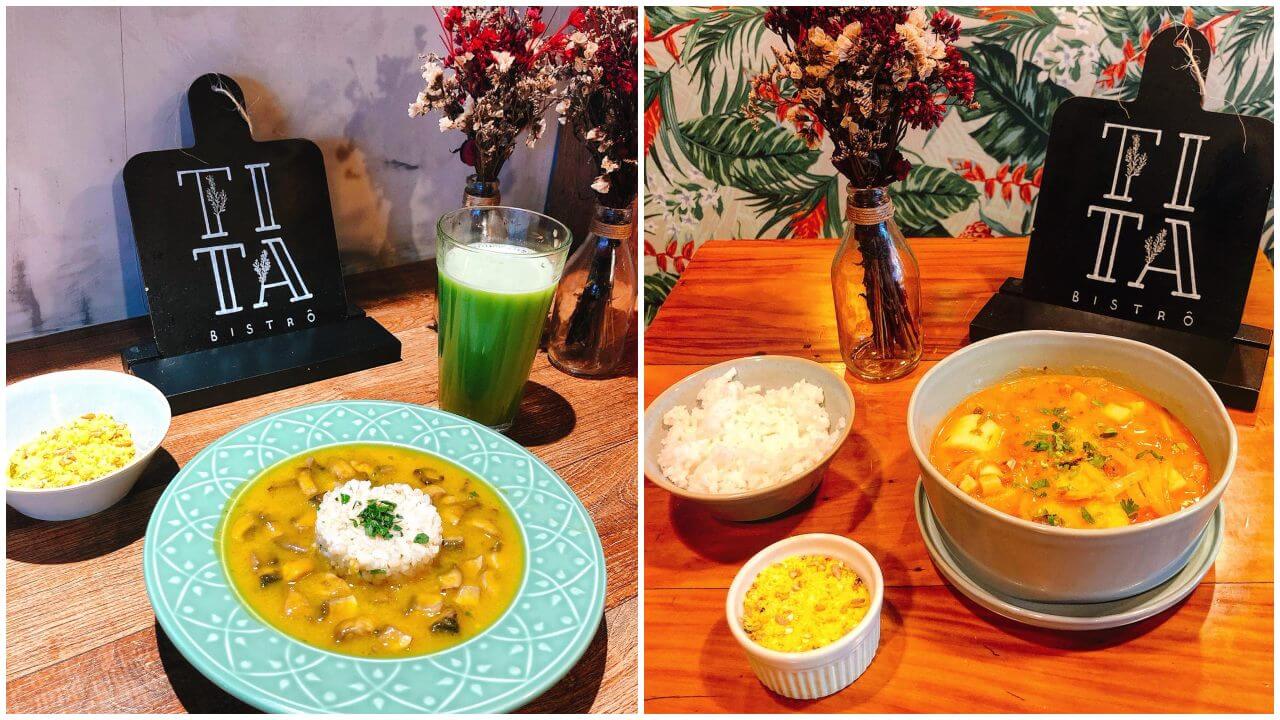 The menu has different options: starter, main course and dessert. In addition, the place also serves salads, portions and sandwiches. Dishes like Plantain Ceviche, Organic Polenta and Mushroom Bobó are mouth-watering just thinking about them.
Desserts include vegan ice cream, 70% cocoa brownie, banana pie, among others. Tita's address is Rua Almirante Pereira Guimarães, 72, Leblon, Rio de Janeiro.
For those who are vegan, but prefer a place with options for friends or family who eat meat, Casa Graviola is the right address. The place prioritizes organic foods and foods from local producers in all its preparations, and has a menu full of healthy options for all audiences.
The highlight here is the decoration of the space as a whole, due to its modern, stripped-down look and full of plants. The dishes include root gnocchi with basil pesto, vegetable lasagna with vegan cheese, tilapia with plantain puree and chestnut farofa and several other options. The restaurant is located at Av. Ataulfo de Paiva, 1240, Leblon, Rio de Janeiro.
Restaurants in Leblon: Pizzerias
Few foods are as democratic as a good pizza. The typically Italian dish won over the Brazilian palate in an overwhelming way. So much so that pizza is almost as present in the diet here as a dish of rice and beans.
Thin, light and crispy dough with unparalleled flavor, Vezpa Pizzas is considered by many to be the best pizzeria in Leblon. Highlighting the speed of preparation, ideal for those who are very hungry and have little time to wait. The place also sells individual pieces, to consume at snack time. The pizzeria is located at Av. Ataulfo de Paiva, 1063, Leblon, Rio de Janeiro.
Where to drink in Leblon?
Friends gathered, good chat, cold beer and varied tastes. In addition to the restaurants in Leblon, the neighborhood also deserves to be highlighted due to the quantity and quality of its bars and pubs. See some of the best bars in Leblon.
A traditional bar in the south of Rio, the award-winning Jobi has been around since 1956 and, therefore, has practically become a symbol of Leblon's bohemian nightlife. On the menu are various portions such as dried meat with farofa, cod cake, octopus with vinaigrette and several others.
In addition, there is an executive lunch daily with fresh dishes and food with a characteristic Brazilian seasoning. Did your mouth water? Write down the address and schedule the next visit. Address: Av. Ataulfo de Paiva, 1166 – Leblon, Rio de Janeiro
With a more sophisticated proposal, Stuzzi Bar brings the tradition of Spanish tapas, with the influence of Italian cuisine. In addition to the delicious food, which includes dishes such as Focaccia with burrata, Arugula salad and Tomato confit, the space has eye-catching decor. It's a true complete gastronomic experience – from start to finish!
Real estate in Rio de Janeiro
Now that you know more about the 10 best restaurants in Leblon, you need to know that the neighborhood in Rio's south zone has many more leisure and culinary alternatives.
It is possible to eat very well in the Leblon neighborhood. With options of dishes from different cultures, there are alternatives suitable for all budgets and tastes. From traditional Italian cuisine to Peruvian food, which is still growing in our country, you will be enchanted by the gastronomic varieties found in the Rio neighborhood.
Leblon is the perfect neighborhood for those who enjoy restaurants, luxury stores, outdoor activities and contact with nature. The region has some of the best apartments and penthouses in the launch phase.
There is no shortage of options for things to do in the neighborhood! Furthermore, having a wide variety of cuisine available is just one of the attractions for local residents. Want to know more about the advantages of living in the neighborhood? Then discover the benefits of living in Leblon!
Discover the best restaurants in Leblon and enjoy traveling the world without leaving Rio de Janeiro. Certainly, after tasting the best options we brought here, you will fall in love with the restaurants in Rio's South Zone. And if you are interested in this charming neighborhood and want to sell or buy your apartment or penthouse, count on us!
The Zona Sul neighborhood has the most valued m² in the city, and is also considered the most upscale neighborhood in Rio. Check out the luxury properties for sale in Leblon with INVEXO, a real estate agency specializing in luxury properties in Rio de Janeiro.