Leblon Viewpoint or "Mirante do Leblon" is located in the famous neighborhood of Zona Sul in Rio, where you can have a wonderful view.
In addition to the view, the viewpoint has kiosks, a place for fishing, happy hour and much more! In this article we will tell you everything about this incredible space, which is one of the most visited in Rio de Janeiro in Leblon.
What is the Leblon Viewpoint like?
Located on Avenida Niemeyer, almost at the end of the neighborhood, heading towards the São Conrado neighborhood, Mirante do Leblon is a fenced deck that was built on the rocks. Its view reaches all of Leblon Beach, Ipanema, Corcovado, Arpoador, Morro Dois Irmãos and other mountains.
Entirely made of wood, Mirante do Leblon also has a Portuguese stone sidewalk adorned by a row of coconut trees around the deck. Easily accessible, the place has free entry, has a small parking lot and two kiosks serving snacks, snacks, seafood, drinks, juices and coconut water.
As the parking lot is small, one option is to park the car on the shore and go up to the viewpoint on foot, a very short walk from Posto 12 at Praia do Leblon to the address.
Leblon lifestyle
Some people also come to Mirante do Leblon to fish, a hobby and leisure activity that has a large number of fans in Rio. It is a place that allows the presence of domestic animals, so your pet will be welcome.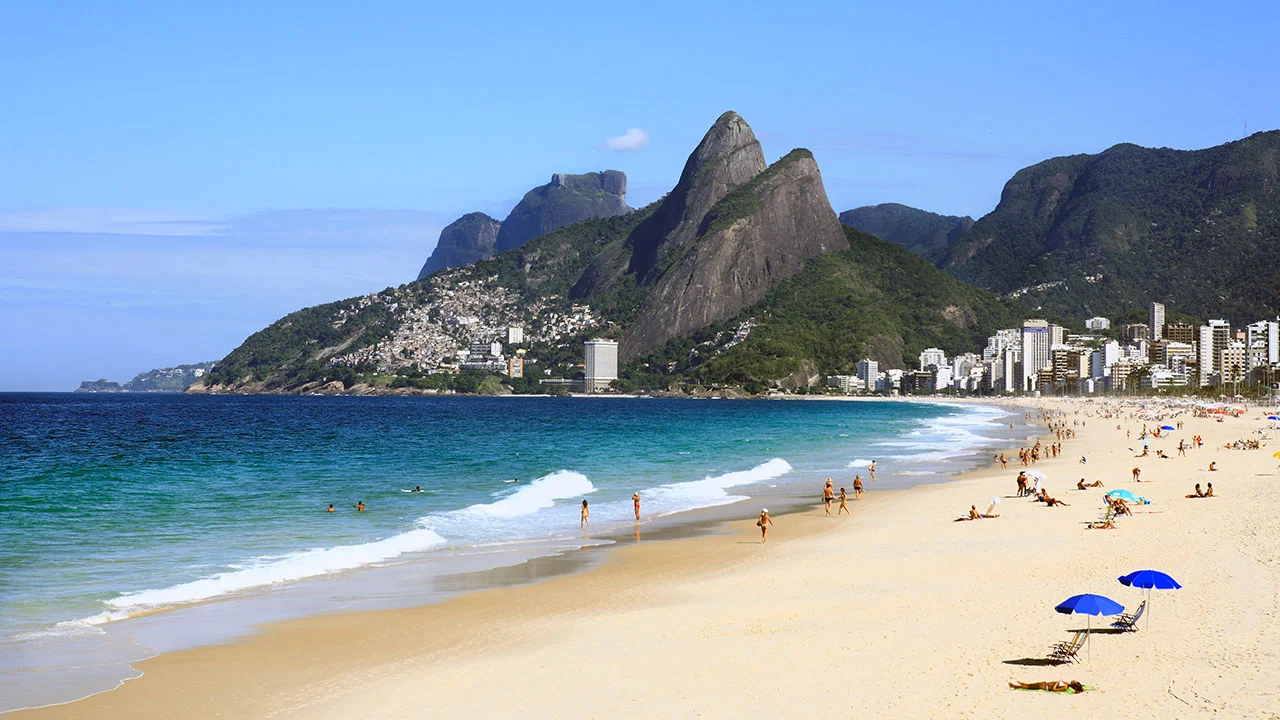 With easy access via the Tim Maia cycle path, the region is great for those who like to walk or cycle close to the beach in safety and tranquility to admire the beauty that the capital of Rio de Janeiro has to offer.
In addition to being enchanted by all the landscapes offered by Leblon, those who stroll through the region can see up close the luxury and refinement of the neighborhood's residences.
What to do at Leblon Viewpoint
Frequented by artists, families, tourists and couples looking for a quiet corner, Mirante do Leblon is a spot to be enjoyed throughout the day. It's a perfect place to have coconut water or a beer with friends, enjoying the wonderful ocean view.
From dawn until sunset, the viewpoint is a welcoming spot that offers several options. We've prepared a list of fantastic suggestions.
Sunrise at Leblon Viewpoint
Watching the sunrise at Mirante do Leblon is a fabulous experience. For those coming from the beach, cycling along the coast or going for a walk, it's worth replenishing your energy with a juice, coconut water or smoothie, enjoying the moment and the wonderful view.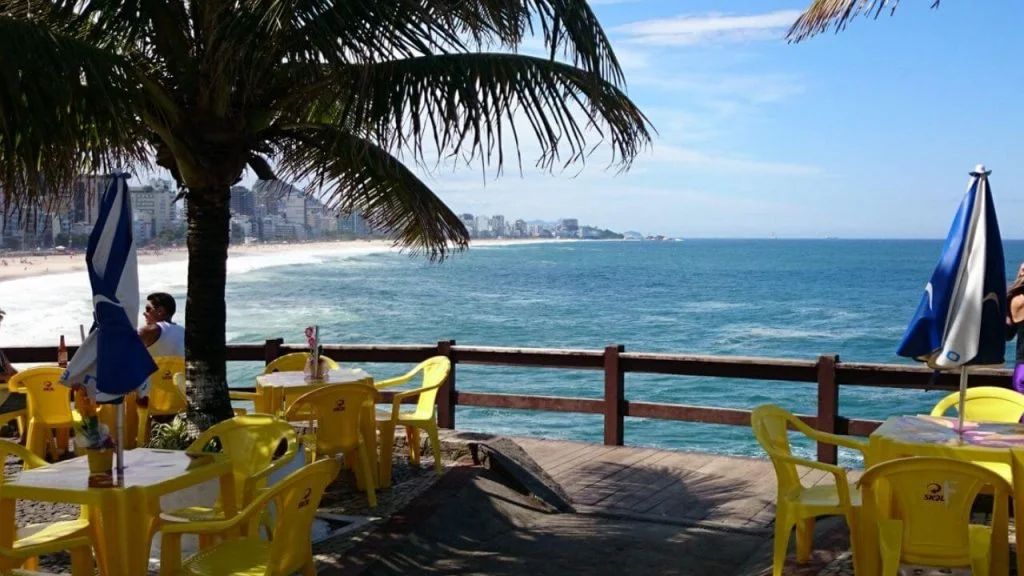 Want to stretch a little more? There are options for lunch too, served at the kiosks at the viewpoint.
Happy Hour at Mirante do Leblon
With an assorted menu of drinks and appetizers, happy hour at Mirante do Leblon has two kiosks. The menu features natural juices, drinks, snacks, salads, meats and seafood.
Occasionally, it is also possible to watch musical performances at Mirante do Leblon, with different musical genres, as well as other artistic interventions.
Sunset at Leblon Viewpoint
The sunset at Mirante do Leblon is quite famous. Seeing the meeting of the star-king with the waters of the ocean is an experience that mesmerizes everyone with its undeniable beauty.
The tip is to stay to see the city lights come on: a magnificent nighttime landscape. Admiring the ocean view accompanied by urban lighting and stars is an incredible experience.
Night at Mirante do Leblon
The kiosks remain open at night, with one operating 24 hours a day and the other until midnight. In other words, you don't need to worry about getting around, the viewpoint offers what you need for a complete day of relaxation and leisure with family, friends or a special companion. The Leblon Viewpoint is one of the many tips for enjoying the night in Leblon.
Fishing in Leblon
The best place for fishing in Leblon is in the right corner of the Mirante. Here several fans meet to fish and enjoy the landscape.
The only warning is to be careful with the rocks and on days with strong waves. Furthermore, just enjoy the peace and beauty of the viewpoint.
Where to eat at Leblon Viewpoint
Mirante do Leblon currently has two kiosks on site, Oka Vista and Mirante Sonhador.
Both have undergone restructuring and are under new management and supervision. Changes in decoration and renewal of the menu are what sets the new establishments apart.
Oka Vista Mirante do Leblon
Opened in December 2019, Oka Vista has a rustic decor and the focus is to provide a true gastronomic experience.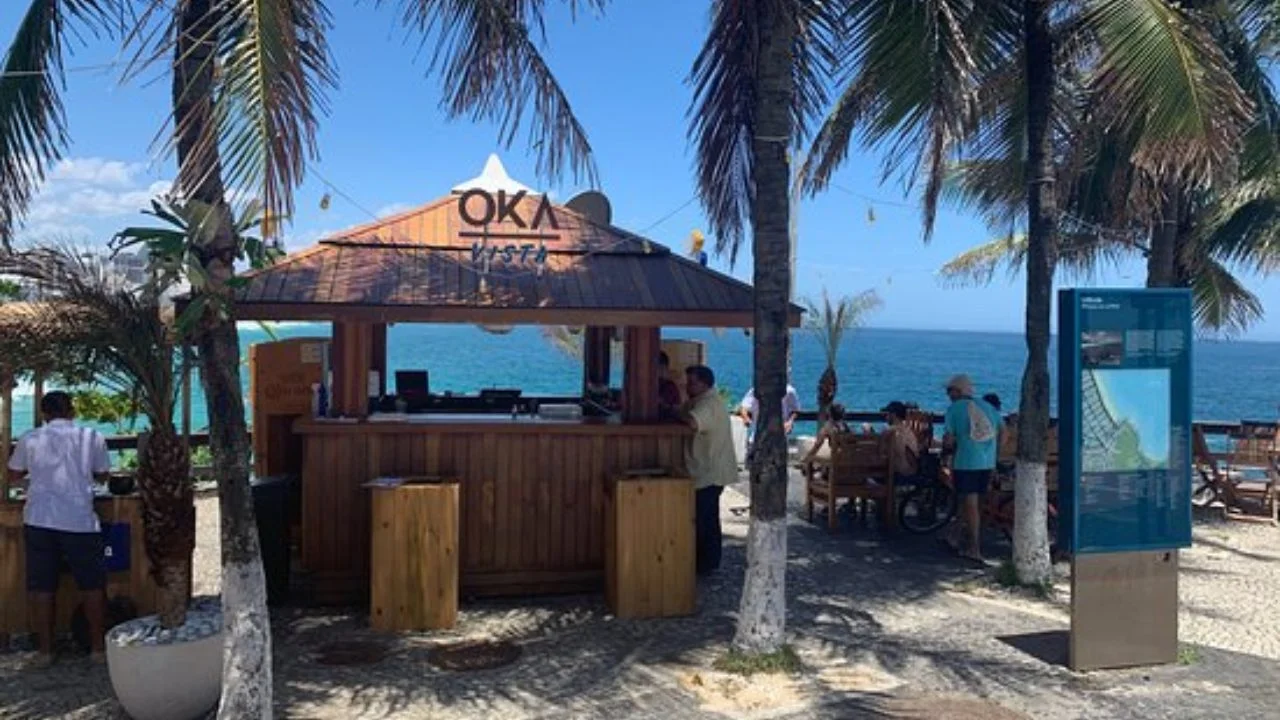 It opens from 10:00 to midnight and offers a menu of tapas, beers and a drinks menu (one in particular based on gin, which takes the name of the kiosk).
Mirante Sonhador Kiosk
Mirante Sonhador is open 24 hours a day. It underwent renovation in September 2019 and now has a new team. Its menu consists of several options for snacks, drinks, juices and seafood.
It is also a child-friendly environment, offering space for celebrating birthdays, as well as musical attractions.
Leblon Gastronomy at Viewpoint
Other gastronomic options are part of Mirante do Leblon, and are present in the surrounding area. There are different types of cuisine, check them out:
Hotels near Leblon Viewpoint
Leblon offers the best places to stay, from standard and executive options to luxury options, resorts and spas. Serving different purposes, there is a wide variety of these establishments. Here we list the hotels close to Mirante do Leblon:
Brazilodge Leblon;
Promenade Palladium;
January Hotel;
How to get to Leblon Viewpoint
Mirante has an address on Av. Niemeyer, s/n., in the direction of São Conrado. For those walking from the beach, the Mirante is 350 meters from Posto 12 (this will be your reference point if you don't know the region).
It is uphill at the end of Praia do Leblon, heading towards Morro Dois Irmãos. For those who come by bicycle, it is the same route.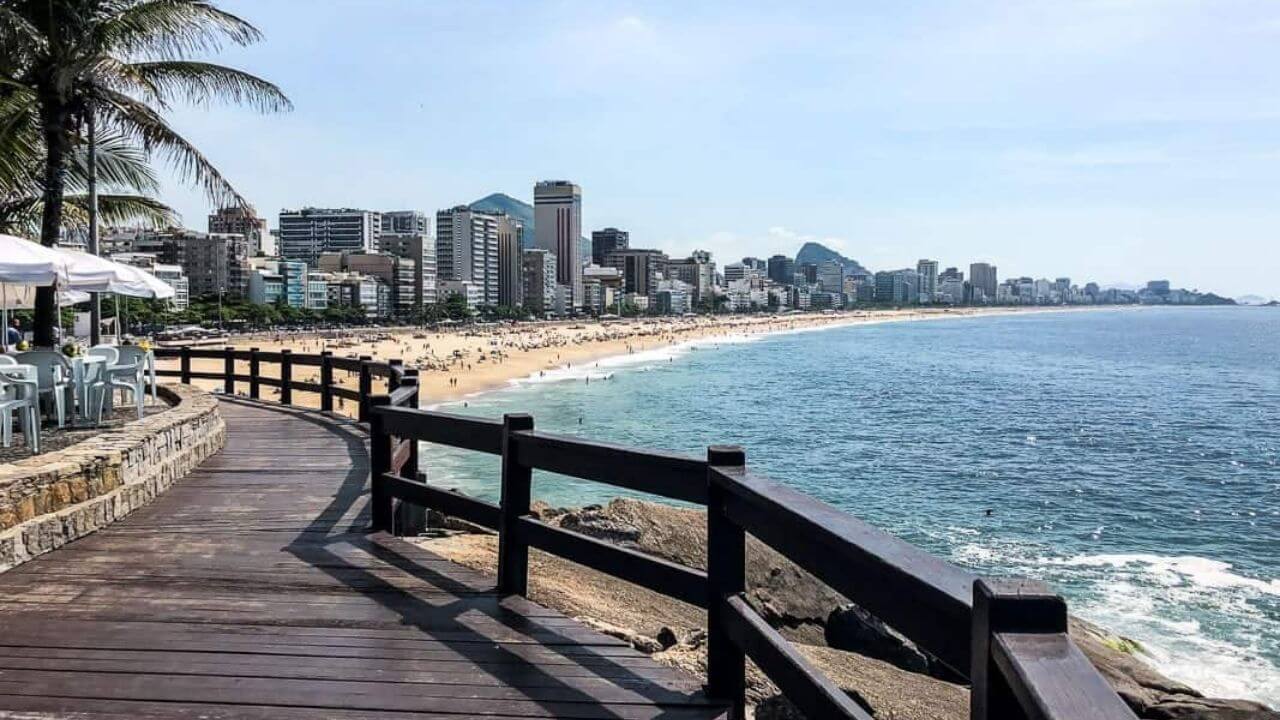 If you are coming by car from Barra da Tijuca, for example, the ideal is to come along the Lagoa-Barra highway, follow the Zuzu Angel Tunnel until you reach Avenida Visconde de Albuquerque. Then, head towards the seafront, on Avenida Niemeyer, until you reach Mirante do Leblon.
If you choose to use public transport, there are options for those coming by metro and bus. The closest metro station to Mirante do Leblon is Antero de Quental. Walking, you can reach the viewpoint in approximately 10 minutes. An option to get there faster is to cycle the route, taking advantage of the coastal landscape.
For those coming by bus, the lines that pass nearby are:
Integrated 9 Piabas/Rio Sul;
Line 525 General Osório/Alvorada;
Troncal 4 Bus Station/São Conrado;
Troncal 9 (line 109) towards São Conrado.
Always check the bus route itinerary.
Is it worth living in Leblon
Mirante do Leblon integrates a variety of wonderful attractions that this fantastic neighborhood has to offer. Leblon is one of the most coveted places to live in Rio, offering the best of gastronomy, culture, art, leisure and nature.
The Zona Sul neighborhood has the most valued m² in the city, and is also considered the most upscale neighborhood in Rio. Check out the luxury properties for sale in Leblon with INVEXO, a real estate agency specializing in luxury properties in Rio de Janeiro.