There are two metro stations in Ipanema, both strategically located in squares with excellent infrastructure in the region. The first is in Praça Nossa Senhora da Paz, where the famous Hippie Fair takes place; the second station is at Praça General Osório. Both stations are named after the squares in which they are located.
The Ipanema Metro Station, also known as Station General Osório, is much more than a Metro Line in Rio de Janeiro. Here you can find art exhibitions, shops and much more, as well as being just two blocks from the world-famous Ipanema Beach.
Firstly, it is important to mention that the Ipanema Metro Station was opened in 2009, making it one of the most recent in Rio de Janeiro. Its construction style resembles that of the Copacabana Metro Stations. Made with cutting-edge materials, its aesthetics attract attention.
Everyone who passes by is enthusiastic about the construction of the Station, whether they are taking a simple walk or those who go to work every day.
Located between the Nossa Senhora da Paz and Cantagalo Stations, and occupying an area of 20 thousand square meters, being 23 meters below the surface, General Osório is a completely accessible station and widely used by locals in various situations.
The last station on Line 1, the Ipanema Metro is close to everything, with shopping options, services, etc. Before it are the Cantagalo, Siqueira Campos and Cardeal Arcoverde Stations.
Ipanema Rio Metro
The Ipanema Rio de Janeiro Metro tunnels have ramps or moving walkways along parts of their routes, as well as being provided with stairs to change levels. Elevators for wheelchair users are also available, providing a great example of accessibility.
Previously we said that aesthetics is one of the highlights of the Ipanema Metro, and much of this is thanks to the modern and well-thought-out architecture that we can see when arriving at the location.
The Station's interior architecture is an example of this, with colorful walls, full of life and stories, which contrast in a very interesting way with the ventilation and air conditioning structures and installations: they are all white, and are present throughout the station.
See below a video explaining how to take the subway to Ipanema Beach starting from General Osório station. You can always activate the English subtitles to a better understanding.
While the predominant material on the floor is granite, cladding panels extend along the access tunnels and platforms. They are incredible tiles, one of which is by the famous artist and creator of "Menino Maluquinho", Ziraldo.
Equally beautiful is a panel that pays homage to the Banda de Ipanema, a symbol of Rio's carnival. In another, there is a text by writer Zuenir Ventura paying homage to yet another neighborhood block, "Sympatia is Almost Love".
Furthermore, the two artists mentioned, Ziraldo and Zuenir, are residents of the Ipanema neighborhood and are some of the intellectuals who were part of the neighborhood's Golden Period.
Ipanema Metro Stations
There are two metro stations in Ipanema, both strategically located in squares with excellent infrastructure in the region: General Osório and Nossa Senhora da Paz.
It is installed in the excavation, considered the largest urban cave in Brazil. The Station innovates not only in modernity, but mainly in the emphasis given to visual arts and arts in general. At each of the five entrances, Metro users will come across at least two works of art, whether poetry, music or exhibitions.
One of the professionals who will have their art forever engraved at the Station is the artist Alice Klesck. Her signature is on five incredible colored panels on the path leading to Praça General Osório. All inspired, according to the artist herself, by the "bossa" of Ipanema and the Rio spirit.
Ipanema Metro: General Osório Square
As previously mentioned, there are five accesses to the Station. Are they:
The access from Rua Barão da Torre with Rua Teixeira de Mello is through the Rubem Braga Complex, where the Metro access is integrated with a large elevator, at its top is the famous Mirante da Paz, a place that provides a beautiful view of the neighborhood and its surroundings.
Let's now talk about several businesses that can be found at the Station:
Lumine (retailer of women's jewelry and accessories);
Chocolates Brasil Cacau;
24-hour ATM;
Forno de Minas;
Mobi Box (cell phone accessories store);
RioCard (transport card trading);
Mega Mate;
Açaí Concept;
BB Básico (children's clothing store);
Gran Coffee;
Cosechas (food trade);
Dai Brasil (ATM);
Clique e Retire.
As you can see, there are stores of the most varied types, all to make life easier for those who use the Metro.
Ipanema Metro: Nossa Senhora da Paz Square
The Ipanema subway line was developed to make it easier for visitors to get around throughout the day. After all, the means of transport is known for making the lives of its users easier, being practical and agile, in addition to having a high capacity for passengers.
The station was opened on July 30, 2016 together with the other 4 stations built as part of line 4, on the eve of the 2016 Summer Olympics. Since then, the station has become a reference for all residents of the upscale neighborhood from the South Zone of Rio.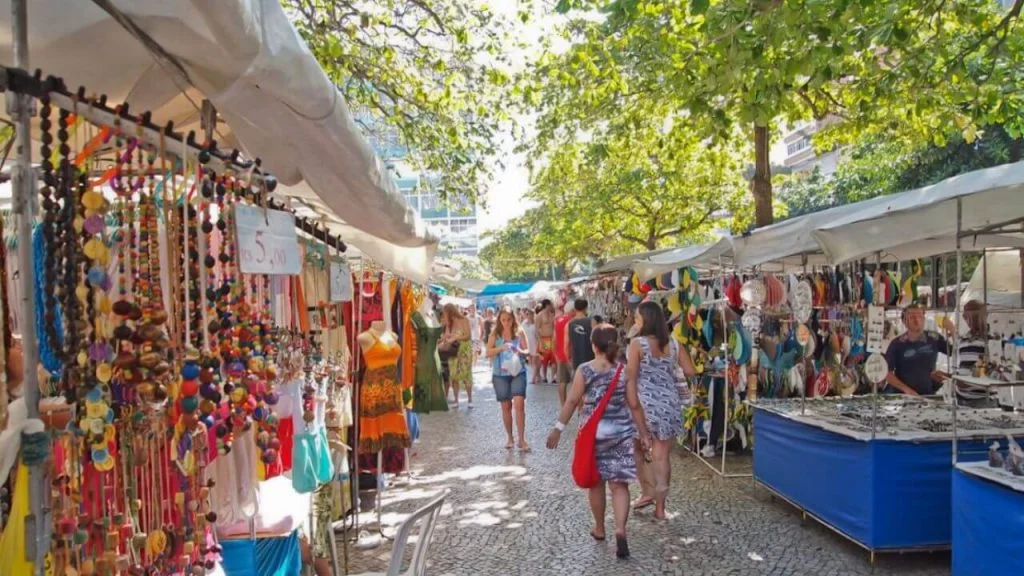 Nossa Senhora da Paz station is in the square of the same name, in Ipanema. Access to this station is via side streets of Ipanema:
Through these accesses, pedestrians walk through long tunnels at various levels, until reaching the embarkation and disembarkation platforms of the Rio subway trains. Its infrastructure has wide corridors that make it easier for people to get around.
Ipanema Metro: Surroundings
An important point is that not only within the Ipanema Metro can you find different businesses. Near General Osório there is also no shortage of alternatives, from beaches to tourist attractions, to a very charming little market. These places are frequented by locals and tourists.
The Ipanema Hippie Fair runs every Sunday and takes over Praça General Osório. In your tents you can find a variety of items, from bags, home accessories, baby clothes and silver jewelry.
Ipanema Beach is neighboring Praia do Arpoador and Praia do Leblon. She is one of the main choices when it comes to sport. And it is from the white sands of the beach that Morro Dois Irmãos can be seen. It is there that the sun often sets between the sea and the mountain and is applauded by tourists and locals.
It is in the vicinity of General Osório that there is also an incredible tourist spot in Rio de Janeiro, Lagoa Rodrigo de Freitas. It has 7.8 kilometers of cycle path that surround it, but that's not all.
The Lagoon is a hotspot at night with kiosks scattered around it. And, since 1995, a new Rio tradition has been inaugurated there: the floating Christmas tree, an event that thousands of people see every end of the year.
Line 1 of Metro Rio
The Ipanema Metro Station is part of Line 1, also known as Orange, of Metrô Rio. One of only 3 Lines present in the State, it operates from Monday to Saturday, from 5 am to midnight and on Sundays and holidays from 7 am to 11 pm.
To transfer between Lines 1 and 2, simply get off at any of the Stations between Central and Botafogo, from Monday to Friday or at Estácio Station, on Saturdays, Sundays and holidays. Discover each of the 21 Stations that are part of Line 1 Orange of the Rio Metro below:
Uruguai;
Saens Peña;
São Francisco Xavier;
Afonso Pena;
Estácio;
Praça XI;
Central;
Presidente Vargas;
Uruguaina – Engenheiro Fernando MacDowell;
Carioca;
Cinelândia;
Glória;
Catete;
Largo do Machado;
Flamengo;
Botafogo;
Morro de São João – Rio Sul (em projeto);
Cardeal Arcoverde;
Siqueira Campos;
Cantagalo;
General Osório.
See below a video showing the subway route from Ipanema to Copacabana. You can always activate the English subtitles to understand better.
From Ipanema to Barra da Tijuca by subway
Ipanema and Barra da Tijuca are two of the main neighborhoods in Rio de Janeiro. And, to get to Barra by subway, leaving Ipanema, it only takes 20 minutes. The path is simple and very efficient for those who want to make the journey.
You need to take the metro on L1/L4 from Nossa Senhora da Paz Station to Jardim Oceânico Station. Then, take a bus on Avenida Armando Lombardi, close to number 870 and get off at the stop on Avenida das Américas, close to 1114.
In less than half an hour you can go from the South Zone to the West Zone in a practical and peaceful way.
Ipanema is an excellent neighbourhood to live
Ipanema is a reference in healthy lifestyle. The neighborhood has a lot of nature and restaurants with the most varied menus. It is a great region for those who want to live safely and peacefully. Even though it is an extremely trendy neighborhood, it also provides peace for its residents.
The Ipanema neighborhood is not only known for its beautiful beach, which is so famous. The streets are very tree-lined and allow direct contact with nature. But that's not all, Ipanema has no shortage of the most renowned and luxurious stores, sophisticated restaurants and relaxed bars, all to make life better for residents of the region.
Another popular tour is to visit the Tom Jobim Statue. Just outside Arpoador you can find the statue in honor of the genius and composer of "The Girl from Ipanema". And, speaking of Tom or Vinícius, another worthwhile spot is Toca do Vinícius. This is a bookstore and record store, which has a lot of history to tell. It is close to Bar Garota de Ipanema, the place where the world-famous song was written.
Now, speaking of restaurants, a must-see for anyone in Ipanema is the refined Espaço 7zero6. In addition to having a menu full of gastronomic delights, the view of Ipanema Beach is a highlight of the restaurant in question. The restaurant is located on the terrace of Praia Ipanema Hotel and is open to both guests and day-use visitors.
With security and complete infrastructure, Ipanema is one of the favorite neighborhoods of those looking for an upscale region of Rio de Janeiro to live. To find apartments in Ipanema, visit the Invexo website. There are several options for you to enjoy. One of them may be what you are looking for.