The South Zone of Rio de Janeiro is one of the most differentiated regions of the Marvelous City. How about discovering some tips on what to do in Leblon, the Rio neighborhood that is considered one of the most noble in Brazil?
Without a doubt, Leblon is among Rio's favorite regions. The neighborhood is recognized for its exquisite infrastructure, charming architectures that are also full of remarkable stories.
If you are passing through Rio or live in the region and want to learn more about the leisure options, you will definitely like what we have put together in this article.
Regardless of the day and time, the neighborhood offers varied alternatives for those who want to enjoy special moments as a couple, with family, for adventurers seeking outdoor activities or for those who prefer cultural programs.
But, with so many interesting attractions and the region's diverse attributes, it is difficult to choose what to visit first. Therefore, we have put together some tips on what to do in Leblon that can help you select and enjoy the attractions of one of the best neighborhoods in Rio de Janeiro.
Nature
Rio de Janeiro preserves incredible areas of environmental preservation in its territory. The beautiful natural scenery attracts the attention of tourists from all over the world and is certainly a source of great pride for the locals.
In fact, some of these stunning natural areas have become the background for cinematographic works and countless national soap operas.
The Leblon neighborhood is home to at least three famous attractions. For example, the charming promenade in front of Leblon Beach, the fascinating Morro Dois Irmãos that can be viewed from the beach and nearby viewpoints are characteristic of the region, such as Mirante do Leblon.
Due to Rio's captivating nature, Leblon has become widely sought after for housing. This and other reasons increase the value of the neighborhood and make it one of the most beautiful and influential regions of the city.
Several sophisticated developments and residential launches offer stunning views of Leblon's beautiful natural landscapes. To get to know them, count on INVEXO — a real estate agency specializing in luxury properties located in Leblon.
Leblon Beach
Obviously, the highlight of what to do in Leblon could not be any other. With more than 1km in length, Praia do Leblon has one of the most famous and charming coastlines in the entire country. In addition to its breathtaking natural setting, the attraction has a boardwalk ideal for practicing sports. The beautiful view captivates high-end visitors from all over the world, making the place the perfect choice for a trip.
On the sand, you can take a peaceful walk, play footvolley and even practice slacklining. The boardwalk and bike path are ideal alternatives for those who want to do more intense activities.
The enchanting natural attraction has been and still is the setting for several soap operas, in addition to increasing the value of the noble neighborhood in the South Zone of Rio. Still on its shore, there is another interesting attraction: the Leblon Viewpoint.
Address: Avenida Delfim Moreira, Leblon, Rio de Janeiro.
Leblon Viewpoint
The Leblon Viewpoint can be easily accessed from the beachfront itself. For those who love to enjoy a privileged view, the attraction is an excellent choice.
Furthermore, the Mirante is the place to get the perfect selfie next to Rio's beautiful scenery. Its elevated deck guarantees a free view of the coast, Corcovado Mountain where Christ the Redeemer is located and Morro Dois Irmãos. So, if you want to visit the place here's a tip: the sunset seen from the viewpoint is unforgettable!
Address: Avenida Niemeyer, Leblon, Rio de Janeiro.
Two Brothers Park: Morro Dois Irmãos
Most of the beautiful photographs of Leblon feature a charming background: Morro Dois Irmãos. For adventurers who enjoy stunning landscapes and activities surrounded by nature, visiting the park is a must.
The Municipal Natural Park was opened in 1992 and contains a preserved natural area. Therefore, some activities can be carried out in the park, such as trails, walks, family picnics or simply visits to enjoy the view.
The tourist spot offers easy access both by metro, with a stop close to the park, and also by private transport. Entrance to discover the natural wonders of Dois Irmãos Municipal Natural Park is free, just pay attention to opening hours.
Address: Rua Aperana, Leblon, Rio de Janeiro.
Opening hours: From Tuesday to Sunday, from 8am to 5pm.
Shopping Tours
Leblon's infrastructure balances beautiful natural views with modern urban architecture. Therefore, it is essential to stroll around the neighborhood and visit the main shopping malls in the region. Several renowned stores, sophisticated restaurant options and different leisure alternatives can be found in the attractions.
The space is ideal for family outings on the weekends, to enjoy a good meal and watch a good film showing in the cinemas. Therefore, shopping malls are located in areas that are easily accessible, both by public and private transport. Both have ample parking and are located just a few meters away from the metro station.
Shopping Leblon
Opened in 2006, Shopping Leblon has a luxurious and complete infrastructure, with establishments that please even those with demanding standards. Numerous famous brands have stores that can be found on site, which has almost 200 commercial units in the most varied categories.
In addition, a large food court, different gastronomic options, parking and cinemas also feature in its infrastructure.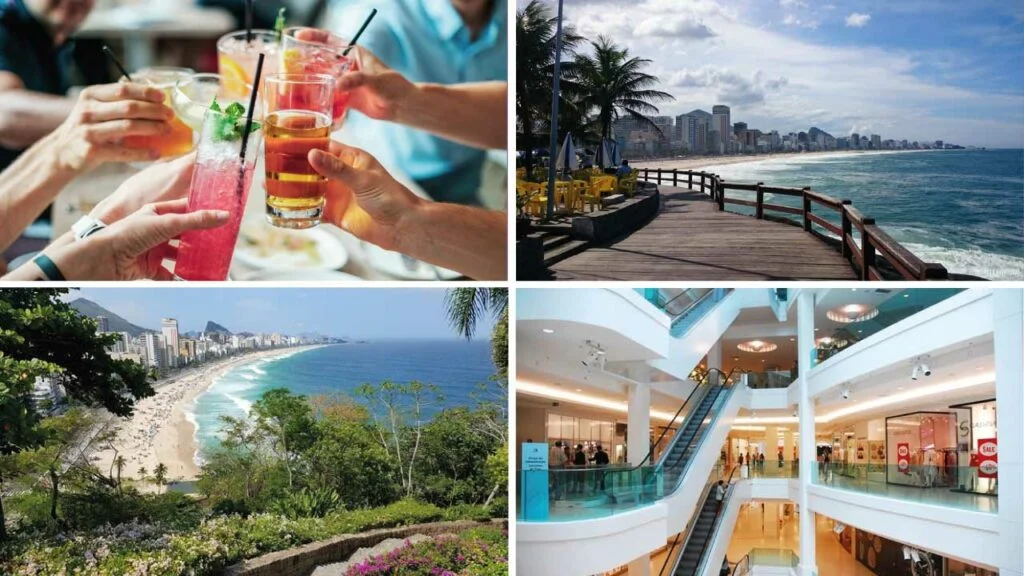 If you are a visitor, Shopping Leblon is an almost obligatory stop to visit. Residents of the region have the great convenience of having access to the main services and shops in one place.
Address: Avenida Afrânio de Melo Franco, 290, Leblon, Rio de Janeiro.
Opening hours: Monday to Saturday, from 10am to 10pm, and on Sundays, from 1pm to 9pm.
Rio Design Leblon
Another alternative for shopping malls is Rio Design, located just a few meters away from Shopping Leblon. With dozens of stores, leisure options, restaurants from the most diverse cultures and in relaxed environments, Rio Design is ideal for visiting with the whole family.
Furthermore, the shopping mall is located in a prime spot in the neighborhood and provides ample mobility via public transport.
Address: Avenida Ataulfo de Paiva, 270, Leblon, Rio de Janeiro.
Opening hours: Monday to Saturday, from 10am to 10pm, and on Sundays, from 2pm to 8pm.
Bars in Leblon
For an outing with friends after a busy week, there's nothing better than enjoying a bar, with traditional snacks and a cold draft beer. When taking into account Leblon's reputation as one of the most complete gastronomic hubs in the city, it is easy to find several interesting bars to visit.
After all, the history of the Marvelous City includes decades marked by musicians who composed their melodies in bohemian establishments, in the mid-60s and 80s. Among the highlights of the region, we can mention two bars synonymous with good drinks and live music: Jobi and the traditional Bar Veloso.
Jobi
Opened in 1956, Jobi is one of Rio's favorite meeting points. The establishment offers cold beer and draft beer and a cozy structure for those who want to enjoy leisure time with friends. With a decor reminiscent of Portuguese culture, Jobi offers a varied menu, full of Portuguese snacks, dishes and starters.
The pizza, seafood and feijoada options are famous at the establishment, prepared with traditional recipes and also available for delivery.
Address: Avenida Ataulfo de Paiva, 1166, Leblon, Rio de Janeiro.
Opening hours: Thursday to Sunday, 11am to 8pm.
Bar Veloso
Bar Veloso is one of the most traditional attractions for those who enjoy a relaxed atmosphere. In fact, an interesting fact can be mentioned about the name of the space: it is a simple tribute to the musician Caetano Veloso.
The establishment is considered one of the best bars in the South Zone. Its retro-style infrastructure exudes charisma and pleases everyone who enjoys an authentic place to enjoy an incredible meal. Furthermore, the menu is varied, offering delicious options for starters, snacks, desserts and much more.
Address: Rua Aristides Espinola, 44, Leblon, Rio de Janeiro.
Opening hours: Tuesday to Friday, from 5pm to 11:30pm, Saturdays, from 3pm to 11:30pm, and Sundays, from 3pm to 10pm.
Restaurants in Leblon
Another highlight that the Leblon neighborhood receives is due to its charming gastronomic hub, which encompasses a wide variety of famous establishments. For this reason, for those who like to eat and drink well, there are many restaurant options in Leblon.
The options range from relaxed to the most refined environments, of various nationalities, styles and price ranges. If you are looking for an interesting restaurant to visit, find out more details about two options we selected: the Giuseppe Grill steakhouse and Oro Restaurante. Both establishments are honored as the best in their respective categories and will provide a rich culinary experience for their visitors.
Giuseppe Grill
Barbecue is characteristic of Brazilian culture and it is essential to have an establishment that presents this typical food to both residents and visitors. Therefore, if you love good barbecue, you need to visit Giuseppe Grill. The restaurant stands out for holding the title of best meat in the South Zone, widely praised by the Michelin Guide.
In a sophisticated environment that matches the noble neighborhood in which it is located, Giuseppe Grill offers a menu that includes full barbecue service, sea fish, a very rare wine cellar and much more.
Address: Avenida Bartolomeu Mitre, 370, Leblon, Rio de Janeiro.
Opening hours: Monday to Thursday from 12pm to midnight, Friday and Saturday from 12pm to 1am and Sundays from 12pm to 11pm.
Oro Restaurant
Restaurante Oro was founded in 2010 in Leblon, and won several important awards that classified it as the best contemporary culture restaurant in the city. The establishment exudes a refined and cozy atmosphere. Its menu is inviting, being prepared using innovative techniques that result in dishes that impress with their unparalleled flavor.
So, if you enjoy getting to know different cultures and love tasting delicious dishes, Oro will be your best stop in the Leblon neighborhood.
Address: Rua General San Martin, 889, Leblon, Rio de Janeiro.
Opening hours: Tuesday to Friday, from 7:30 pm to 11 pm, on Saturdays, from 1 pm to 3 pm and from 7:30 pm to 11 pm.
What is it like to live in Leblon
There are many other destination options to make the most of the infrastructure of the most upscale neighborhood in the South Zone of Rio. Certainly, living in Leblon means being able to enjoy all the attractions mentioned above, with the convenience of having them very close to home.
Furthermore, the region is considered the most valued in the city. The beautiful natural landscapes make the neighborhood one of the most sought after for housing. A large number of commercial establishments, cultural centers and services necessary for everyday life are easily found in the region's complete infrastructure.
Furthermore, the main restaurants and bars in the region, as well as the beach and cultural spaces are some of the alternatives that residents of this privileged and luxurious neighborhood in the South Zone have at their disposal.
The Zona Sul neighborhood has the most valued m² in the city, and is also considered the most upscale neighborhood in Rio. Check out the luxury properties for sale in Leblon with INVEXO, a real estate agency specializing in luxury properties in Rio de Janeiro.