What's good deserves to be repeated, doesn't it? In the case of Boteco Boa Praça Leblon, this is more or less what happened.
The traditional São Paulo bar gained a branch in the heart of Rio's South Zone in 2019 and, since then, has been a success among the public and critics.
Point of the city's various tribes, the bohemian-style establishment offers live music, lots of excitement and, of course, excellent bar food. Check out this article and learn more!
Boteco Boa Praça Leblon
When it opened, at number 12 on Rua Dias Ferreira, Flávio Sarahyba, one of the venture's partners, stated:
We know that this type of project has a very strong vocation for Rio, where people like simple and relaxed things.
And wasn't he right? In a short time, Boteco Boa Praça Leblon was very well received by cariocas, tourists and local residents, who saw a real revitalization taking place in the place.
This is because the establishment was built on a property that had been inactive for some time. In the 1980s, the address housed the legendary Gordon's snack bar.
Atmosphere of Boteco Boa Praça Leblon
According to Sarahyba, the idea was to make Boteco Boa Praça Leblon a meeting point for young people, families, groups of friends, residents and visitors from the South Zone. And it worked. In fact, you meet all kinds of people there.
The project seeks to enhance a little nostalgia. The decoration incorporates references to the bohemian universe, with chandeliers made from beer bottles and very Carioca elements.
The themed sarongs that line the ceiling, the Portuguese stone floor and the replica of the Selarón staircase, a famous postcard located in Lapa, also make a difference to the look.
The bar has a relaxed atmosphere that exudes friendliness. There, the public can occupy the interior of the establishment as well as the sidewalks.
In any case, Boteco Boa Praça Leblon appears comfortable and welcoming and offers customers quality service and excellent service — a common standard expected by residents of the neighborhood.
Boteco Boa Praça Leblon menu
Just like its interesting look, the menu at Boteco Boa Praça Leblon is also beautiful and offers the best in the world of bar food. It's worth starting with the portion of tapioca dice or bean dumplings, which are highly rated by those who try them. The baroa potato drumsticks stuffed with creamy chicken are also a highlight.
Other mouth-watering options are melted brie wrapped in puff pastry, parmigiana on a stick, breaded meat with homemade tomato sauce and also cheese au gratin served as an appetizer. The restaurant also focuses on parrillas, which have cuts served as a snack or dish.
Speaking of dishes, another good choice is the flank steak with broccoli rice, egg farofa, French fries and campaign sauce, created by Marcelo Malta, owner of Malta Beef, offered exclusively to customers at Boteco Boa Praça Leblon. In addition to traditional drinks and well-drafted draft beer that you can't miss, the bar offers a list of 15 beer labels, including Original and Wäls Belgian Witte.
Cazuza Square
As part of the Boteco Boa Praça Leblon project, the venture's partners also decided to adopt Square "Praça" Cazuza. The place right in front of the bar, between Dias Ferreira Street and Ataulfo de Paiva Avenue, is a famous meeting point.
And to do justice to the bronze statue of the singer and poet, signed by the artist Christina Motta – the same one who reproduced the French actress Brigitte Bardot on the Búzios waterfront –, the owners of Boa Praça decided to revamp the lighting and landscaping of the public place.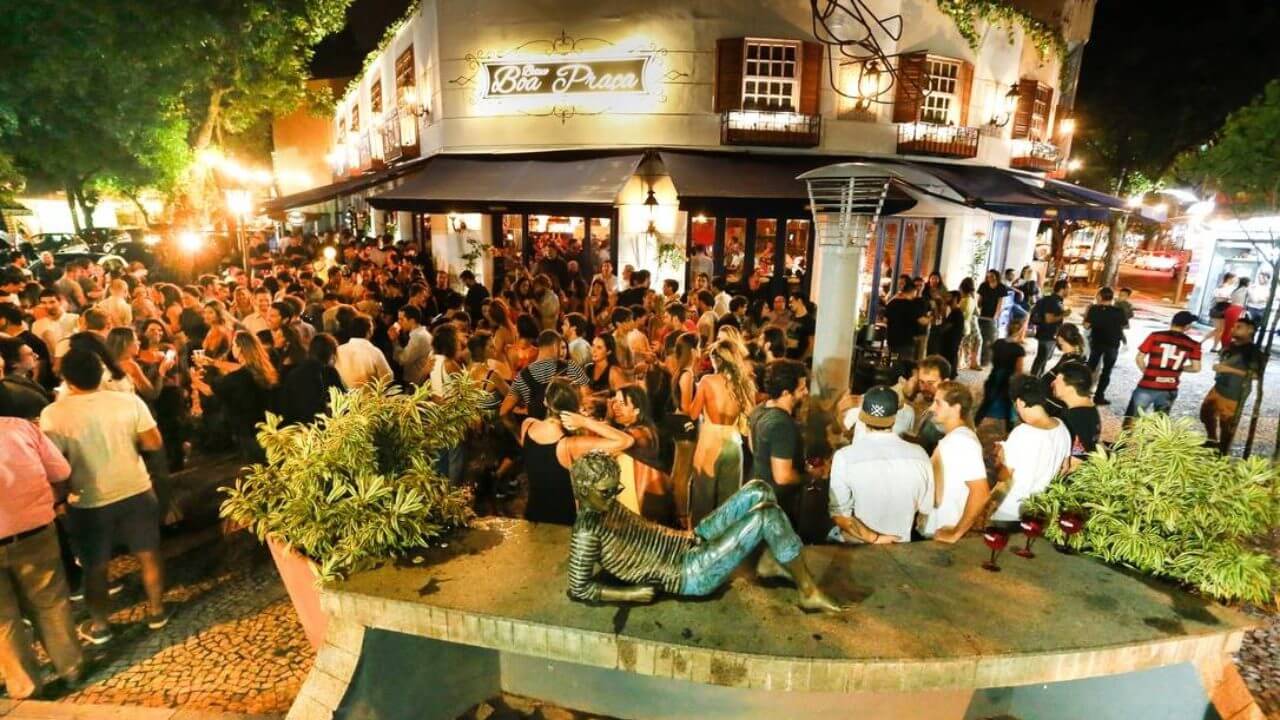 In addition to inserting light lines, eight canafístula trees, a tree with yellow flowers, were planted. Currently, the square is occupied by customers of the establishment.
Dias Ferreira Leblon Street
Rua Dias Ferreira is the right destination for those who enjoy good food and are looking for quality restaurants. It is no exaggeration to say that the place is a gastronomic reference not only for Rio de Janeiro, but also for Brazil.
This is because the street is home to several renowned establishments, such as Bottega del Vino, CT Boucherie, Sushi Leblon, Nola, Esch Café and Boteco Rainha. Over the years, Dias Ferreira has gained fame for its vibrant movement and frequency of visits by artists, poets and musicians.
Currently, the street is an important meeting point for events, happy hour, get-togethers, meetings with family and friends. Furthermore, it is worth mentioning that the address has one of the most valued square meters in Rio and one of the most sought after places to live in the Marvelous City.
Live in Leblon
The Leblon neighborhood is an excellent option for those who want to live in an inspiring place, full of beautiful landscapes and privileged infrastructure. Therefore, if your desire is to live safely and with a good quality of life for you and your family, Leblon is certainly a great choice!
In addition to Leblon's bars, the neighborhood offers a diverse range of other leisure options. Leblon Beach, for example, is recognized as a great spot for outdoor physical activities. However, Boteco Boa Praça is really a great highlight for those who want to get to know Leblon. But, before visiting the bar, check the correct address and opening hours:
Address: Rua Dias Ferreira, 12, Leblon, Rio de Janeiro.
Opening hours: Tuesday and Wednesday from 5pm to 1am; Thursday and Friday, from 5pm to 2am; Saturday, from 12pm to 2am and on Sunday, from 12pm to 1am.
The Zona Sul neighborhood has the most valued m² in the city, and is also considered the most upscale neighborhood in Rio. Check out the luxury properties for sale in Leblon with INVEXO, a real estate agency specializing in luxury properties in Rio de Janeiro.