If you love purchasing sophisticated and elegant pieces of clothing at a more affordable price, you should definitely check out one of the Thrift Store ("brechó" in portuguese) options in Ipanema.
The Ipanema neighborhood is already known for having a large shopping center that includes several renowned stores.
However, what many don't know is that, in addition to luxury stores, the neighborhood also has thrift stores that sell items from renowned brands.
Therefore, you can find several excellent thrift store options that have a large number of products for you to choose, try and purchase at great value for money.
After all, when you shop at a thrift store, you are giving a second chance to clothes that, for the most part, are of excellent quality. And, in addition to helping the environment, by purchasing items at a thrift store or bazaar, you can also make significant savings on your monthly income.
In Ipanema's thrift stores you will find items such as clothes, shoes, bags, glasses, jewelry and even household items, such as plates, glasses and furniture. In addition to having several clothing stores, the Ipanema neighborhood is a reference when it comes to quality of life and luxury apartments Ipanema.
BG Mix
BG Mix is a thrift store that features several luxurious and sophisticated items in its catalog. Its space is large and well organized, providing customers with an excellent experience when purchasing the product.
Furthermore, BG Mix has a well-trained customer service team that will help you choose the items that best suit your taste and style. There are several original and pre-owned designer items to compose your look in the best possible way.
In addition to having a physical store in Ipanema, BG also has its online store, which sells throughout Brazil. Thus, the BG Mix thrift store has items in the following categories:
Bags;
Shoes;
Wallets;
Glasses;
And much more.
And, as it aims to bring its customers the best in the luxury market, BG Mix Ipanema has items from the following brands in its catalog:
Prada;
Louis Vuitton;
Mil Miu;
Gucci;
Among others.
This way, it is guaranteed that you will receive excellent quality products at a more affordable price, making it even easier to fall in love with all the products on the BG Mix showcase.
Address: Rua Visconde de Pirajá 318, Loja 10, Ipanema, Rio de Janeiro.
Opening Hours: Monday to Friday, 10am to 6pm.
Baúh: Thrift Store Ipanema
Baúh Brechó in Ipanema is a collab (that is, in addition to Baúh, there will be other brands making up the store's catalog).
So, you can go to just one store and put together your complete look, using mega stylish items from different brands. Among the brands that make up Baúh Brechó Ipanema, the following stand out:
La Chica: 100% handmade accessories brand, which mixes Mexican and Rio culture;
Tacita: brand focused on transforming women's lives through its semi-jewelry, silver items and costume jewelry;
Brigitthy: a brand of accessories handmade with lots of love.
In addition to these brands, Baúh has its own clothing brand that aims to make its customers comfortable and stylish for any occasion. The main items available in the Baúh brand collections are:
Dresses;
Pants;
Blouses;
Jumpsuits;
And much more.
Among the products available at Baúh Ipanema, you can also find a line of natural and herbal soaps and phytoenergetic and artisanal products.
Furthermore, the store also opens up space for those who have an original brand and are looking for a physical space to sell their pieces.
Address: Avenida Henrique Dumont, 68, Loja A, Ipanema, Rio de Janeiro.
Opening hours: Monday to Friday, from 10am to 8pm, and on Saturdays from 10am to 6pm.
Catherine Labouré Thrift Store
The Catherine Labouré Bazar Brechó & Artes Ipanema thrift store is a second-hand clothing store that offers a wide variety of pieces for all tastes.
So, you can find a range of clothes from famous brands at a super affordable price. Regardless of your style, Brechó Catherine Labouré will have an ideal option for you.
The clothes come in different sizes and cater to women, men and children. Its space was developed to display the vast majority of pieces in an organized and practical way.
The company works with quality products from different categories, making it more likely that its customers will find what they are looking for.
Service is provided by an attentive team that perfectly assists you in searching for products in the store. The main brands that make up the Brechó Catherine Labouré catalog are:
Abercrombie & Fitch;
Hollister;
American Eagle.
This thrift store also has a designer clothing section, where you can find items from the world's main brands, such as Gucci, Louis Vuitton and Chanel.
Address: Rua Visconde de Pirajá, 207, Loja 212, Ipanema, Rio de Janeiro.
Opening hours: Monday to Friday, from 10am to 6:30pm, and on Saturdays, from 9:30am to 2pm.
Chiquetê Ipanema Thrift Store
If you are looking for a thrift store that can offer you several authentic and well-cared for pieces, Chiquetê Ipanema is an excellent choice. The store's window enchants everyone who passes by, through its well-put together looks and top-notch clothes.
Its environment is well organized and cozy, making it easy to be enchanted by any of the pieces on display. And, speaking of pieces, the Chiquetê Ipanema catalog has the best options on the market. Thus, at Brechó Chiquetê Ipanema you can find pieces in the following categories:
Bags;
Shoes;
Clothes;
Glasses;
Bracelets and Earrings;
And much more.
There are several options that suit the most diverse tastes and styles, with different sizes, colors and prints. The pieces can be enjoyed by women, men and children, although their main focus is on the female audience.
And the high-quality service provides ease and speed when locating the items customers are looking for.
Address: Rua Visconde de Pirajá, 86, Loja 4, Ipanema, Rio de Janeiro.
Opening hours: Tuesday to Thursday, from 1pm to 5pm, and on Fridays and Saturdays, from 1pm to 7pm.
Cacareco CHIC
Cacareco Chic Ipanema is a Rio company dedicated to buying and selling used products. The company is a pioneer and leader in the Rio thrift store market ("brechó"), which has more than 19 years of tradition and good services.
In this way, Cacareco Chic offers convenience in removing unwanted objects and items, allowing its customers to pay a fair price for them. Service is provided by a highly competent team that knows each space in the store.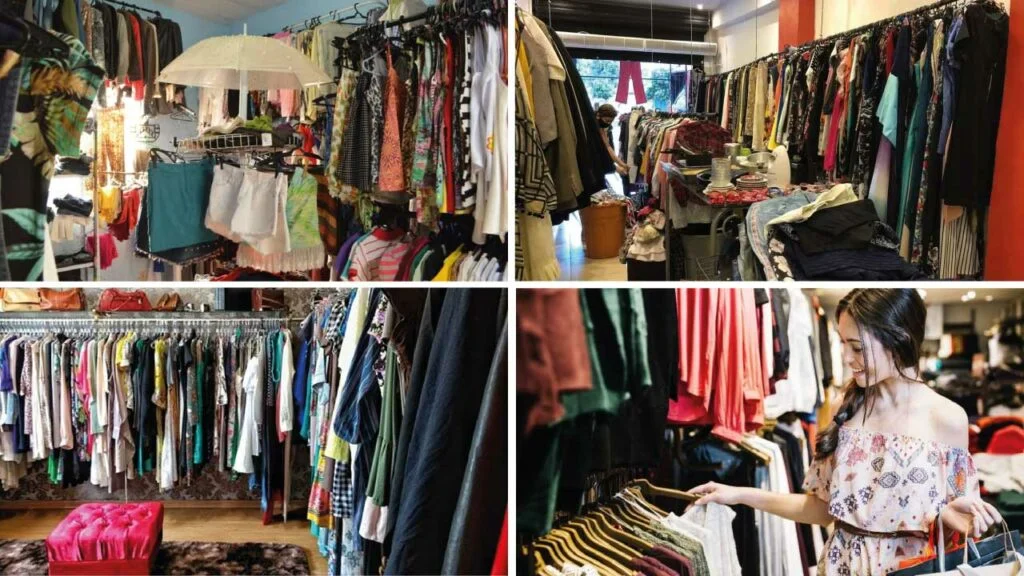 This way, it is easy for the customer to find the parts they are looking for. After all, the shelves have a large quantity and variety of products. Among the products available in the Cacareco Chic Ipanema catalogue, the following stand out:
Decoration;
Cutlery;
Tea, Coffee or Dinner Games;
Various silverware;
Porcelain and Glass Jars;
Crystals;
Cups of all types;
And much more.
In total, there are more than 5 thousand pieces in the catalog of different models, prints, colors and sizes. In addition to these products, you can find at Cacareco Chic several options for rugs, paintings and furniture categories.
Address: Rua Joaquim Nabuco, 238, Ipanema, Rio de Janeiro.
Opening Hours: Every day, 24 hours a day.
Living in Ipanema: Commerce and others stores
The Ipanema neighborhood is acclaimed by all its residents and visitors. After all, nothing less is to be expected from an area that offers excellent commercial establishments, leisure areas and essential services.
You can count on a range of clothing stores that integrate every part of Ipanema's streets, such as Farm, Leeloo, Zinzane, Hering and much more. And those looking for luxurious clothes with excellent value for money can find several high-quality thrift stores and bazaars.
In addition to clothing stores, the neighborhood also has excellent spots for leisure activities, such as Ipanema Beach and Praça Nossa Senhora da Paz, perfect places to enjoy the day in different ways. To facilitate movement for its visitors, the neighborhood's structure was designed with strategic roads, well-positioned parking lots, bus stops and subway stations.
In addition to the wide variety of stores located in Ipanema's wide commercial network, the neighborhood also offers a range of luxury residential properties. For these and other reasons, Ipanema has become a reference in quality of life and continues to constantly attract new residents to its renowned region.
Ipanema, located in the South Zone of Rio, is one of the best and most noble neighborhoods to live in Rio de Janeiro. Discover luxury residential properties in Ipanema today with INVEXO, a real estate agency specializing in luxury properties in Rio de Janeiro.