For those who love Japanese food, accompanied by good drinks, Spicy Fish Ipanema is the perfect choice. The restaurant opened its doors in Ipanema on August 16th 2021 and serves Asian cuisine.
In addition to perfectly prepared dishes, an executive menu and great drinks, the restaurant offers a cozy atmosphere full of personality, well decorated with an Asian atmosphere.
Thus, with a facade reminiscent of fish scales, the property has four floors and provides a complete experience, both gastronomic and sensorial.
The entire decor, such as the beautiful sushi bar on the rooftop in front of Nossa Senhora da Paz square, indicates a light Asian atmosphere.
And, in this way, it combines in one place an elegant and relaxed environment for locals to enjoy a delicious meal.
Japanese food spot in Ipanema
Since its opening, the Japanese food spot in Ipanema has provided excellence in what it offers. This is because, to guarantee fidelity to the traditional culture of the East, Yasmin Yonashiro took over training the team.
Yonashiro entrusted chef Emerson Kim with command of the kitchen, an activity he carries out with mastery and efficiency. With inspirations brought from Bali, the menu presents an Asian fusion, based on Korean and Japanese cuisine.
Therefore, its difference lies in offering perfectly prepared dishes with total quality. Among the various menu options, we will mention the main ones below. Check out!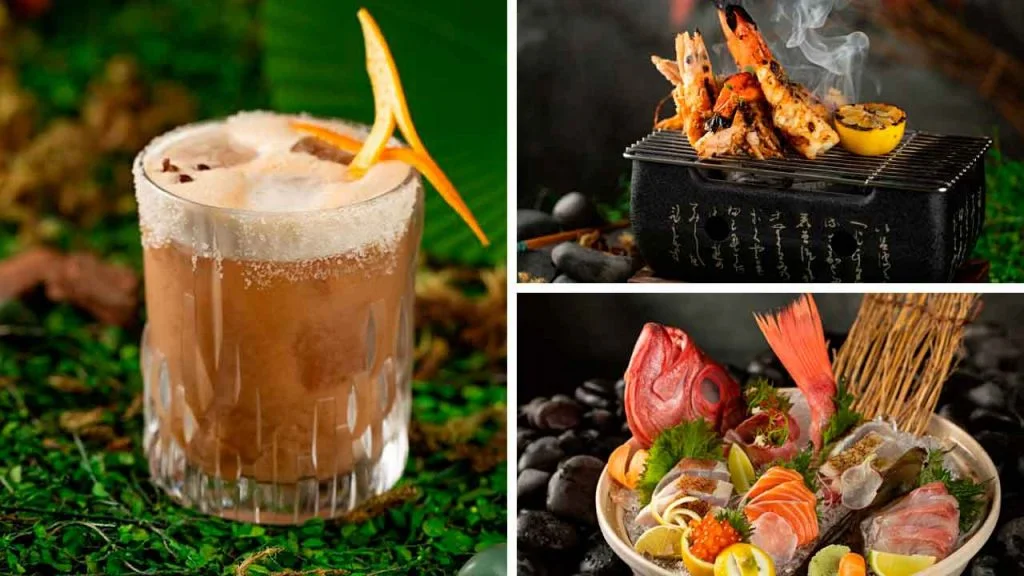 In addition to the renowned sushi bars in the South Zone, Ipanema is also home to several restaurants, bars, pubs, ice cream parlors and other types of leisure spaces.
The passion for the Rio lifestyle is what brings new residents to Ipanema. Its infrastructure and basic services, such as education, health and security, are the neighborhood's biggest differences.
Spicy Fish Ipanema menu
The elaborate, vast and diverse menu at Spicy Fish Ipanema begins with raw options. Such as:
Usuzukuri truffle shake: slices of salmon in truffled citrus sauce, with a touch of dehydrated miso and shiso;
Tako ussuzukuri: octopus with shiso vinaigrette, olive oil, lemon, micro coriander, dry miso with a touch of yuzu kosho;
Tuna tataki: tuna sealed in a sauce made with citrus soy sauce, a touch of sesame oil, turnip, garlic and grated ginger;
Karashi no sumiso shake: salmon seared in a sweet miso sauce, vinegar and spicy mustard.
And, as a good Asian food restaurant, it also offers options for ready-made hot dishes, see:
Miso soup: misoshiro with tofu, chives and wakame;
Spicy hoisin edamame: green soy in hoisin sauce, spicy and sweet, with sesame and micro green;
Gyoza: pork loin bundles with chard, sesame and oyster sauce. Served with ponzu sauce;
Gyoza foie gras: Korean-style filet mignon bundles, sweet and spicy with foie gras, yuzu honey and lemon zest;
Rock shrimp: breaded shrimp with spicy aioli and onion, and also edamame.
Shimeji: mushrooms sautéed in miso and soy butter, tempura and nirá flakes;
Tako tempura: breaded octopus, served with 3 sauces. Chilli garlic aioli, ponzu and jalapeño dressing.
In addition to these delicacies, Spicy Fish Ipanema also serves: Wagyu from Kagoshima, served on hot volcanic stone; delicious mussels in teriyaki sauce; roe aioli and ponzu; and salads.
To top it off, you can enjoy delicious rice options with vegetables, meat and sesame seeds, fried or boiled. And also options based on noodles and pork.
Grill
The rest is known for its delicious dishes prepared on the grill, which gives the food a different and unique flavor. See Spicy Fish's menu options:
Salmon: grilled salmon marinated in sweet miso, served with gohan;
Bulgogi: grilled filet mignon seasoned Korean style with marrow, gotchujang sauce, gohan and baby romaine lettuce.
In addition to these, the menu offers vegetarian options, based on sweet corn, grilled in a charcoal oven, such as: eggplant, broccoli with lemon and grilled shiitake with soy sauce.
Parts
The pieces are quick to prepare and of high quality, usually served in pairs or more quantities. Check out the options available in the menu:
Dyo shake uzura;
Spicy salmon belly;
Hotate truffle honey;
Wagyu foie gras;
House special;
Hossomaki and Uramakis;
Soft shell and spicy salmon;
Rainbow spicy tuna.
Spicy Fish Ipanema Menu
The Spicy Fish Ipanema Executive Menu is a service available from Monday to Friday at lunch time. Therefore, the dishes available for the daily meal are:
Spicy box: salad, miso soup or edamame, gohan or fried rice or nasu shiitake or salmon or ton katsu or karaage or bulgogui;
Spicy special selection: with salad, miso soup or edamame, sashimi, salmon and tuna nigiri.
And, to finish off a beautiful meal on a high note, it's worth trying one of the house's delicious desserts. A good choice is the airy chocolate mousse with cocoa crumble and chocolate flakes.
Or, one of these other delicious options:
Matcha-yuzu tiramisú: sponge cake, mascarpone cream with yuzu and matcha jam;
Tropical coconut pudding: baked coconut, accompanied by miso caramel ice cream;
Fruit toban yaki: hot compote of tropical fruits such as passion fruit, with pineapple sorbet and tuile;
Choux cream: cinnamon crunch pastry filled with banana cream and dulce de leche syrup;
Mochi: filled with cheesecake ice cream, dulce de leche, diet chocolate, Belgian chocolate, lemon tart and lychee.
Spicy Fish Ipanema Drinks
Spicy Fish Ipanema is known for its wide variety of drinks offered on site. In addition to the variety, the options are always creative and tasty, such as the house's signature drinks. See some options:
One trip to Bali: vodka, lemongrass, touch of passion fruit and lemon;
Madame butterfly: sake with cucumber, St. Germain, lychee, strawberry;
Hanami: Roku gin, soju, melon, chamomile and lemon;
Wasabi mule: vodka, Yuzu, lemon and wasabi ginger ale;
Good morning Vietnam: gin, house mate, blackberry and Sichuan compote;
Matcha and ginger: Bourbon, matcha, Falernum, tangerine and ginger;
Forbidden city: Roku gin, umeshu liqueur, abbey aperitif, ginseng and jasmine tea;
Tamarind sour: The Chita, spicy fish citrus liqueur and pepper sugar.
For drinking in a group, a good choice is the jug of Clericot do oia, made with gray goose la poire, citrus, seasonal fruits, tangerine liqueur and sparkling asti.
Classic drinks with a chef's touch
Spicy Fish Ipanema serves a range of well-known classic drinks, such as the famous Dry Martini, Lillet Vive and Gin and tonic. Other classics served at the sushi bar are: Cosmopolitan, Bourbon sour, Moscow mule, Aperol and Negroni.
However, to maintain the difference, the house offers exotic and different options, such as:
Singapore sling: gin, pineapple, cherry hering, Benedictine, spicy fish citrus liqueur, lemon and bitters;
Fitzgerald: gin, Yuzu honey, lemon and Angostura bitters
Daiquiri: Carta Branca rum, Spiced rum, sugar, lemon and nutmeg;
Dark 'n' stormy: gold rum, tahitian lime, Peychaud's bitter and ginger beer;
Jasmine Negroni: gin with jasmine tea, red vermouth, Campari, Manzanilla Jerez.
Shots and sodas
For those who prefer smaller doses, the house offers options of cachaça, rum, tequilas and vodka. As well as aperitif options, such as Punt e Mes, Antica Formula and Amaro Lucano. To top it off, it serves great liqueur options, such as Cointreau, Drambuie, Patron Café, Cuarenta y Tres and Baileys. Among the varieties of gin, we see: Tanqueray, Bombay, Beefeater, Plymouth and Roku.
This way, you can order a drink with gin, such as:
Beefeater 24: grapefruit, parsley and tonic;
Hendrick's: cucumber, rose petals and tonic;
Tanqueray: citrus, green apple x juniper and tonic;
Roku: orange zest, cardamom and tonic;
Bulldog: bahia orange, cinnamon and tonic;
Remembering that, in addition to spirits, Spicy Fish Ipanema offers beer options, such as Stella Artois, Becks and Hoegarden. Therefore, you can see that it is very easy to find a tasty drink that suits you at Spicy Fish.
As for non-alcoholic options, the restaurant offers Soft Drinks, with fresh coffee, natural juices with seasonal fruits, mate, soft drinks and tonic water.
How to get to Spicy Fish in Ipanema
The Spicy Fish restaurant in Ipanema is located on one of the best-known streets in the neighborhood, next to Slow Bakery and a few meters from Ed. Quartier Ipanema, Talho Capixaba Ipanema and Confeitaria Colombo.
Address: Rua Maria Quitéria, 99, Ipanema.
Opening hours: Monday to Thursday, from 12pm to midnight, Friday and Saturday, from 12pm to 1am, and on Sundays from 12pm to 11pm.
Thus, in the heart of Ipanema, Spicy Fish is part of the excellent variety of businesses in the South Zone of Rio. The neighborhood's infrastructure ensures that residents can enjoy everything that Ipanema has to offer. Have you ever thought about living in the most charming neighborhood in Rio?
Ipanema, located in the South Zone of Rio, is one of the best and most noble neighborhoods to live in Rio de Janeiro. Discover luxury residential properties in Ipanema today with INVEXO, a real estate agency specializing in luxury properties in Rio de Janeiro.