If you are looking for a sophisticated area that will offer you a beautiful view, as well as exceptional services, you should pay a visit to a rooftop in Ipanema. The attractions are aimed at lovers of the South Zone of Rio who are looking for a different and fun program.
We already know that the real estate market is always evolving. Thus, the idea of the rooftop is one of the main trends today. In literal translation, its meaning is "top of the roof". In other words, basically rooftops are the spaces located on the top floor.
The rooftop is an architectural concept that aims to enhance the view from the top of buildings. Thus, the penthouses, traditionally used for the construction of apartments, now also contain leisure and living spaces, bringing greater tranquility to its residents.
This concept has already been used in the main urban centers, where it is possible to find bars, restaurants and hotels that boast beautiful views offered by rooftops. Therefore, the upscale neighborhood of Ipanema could not be left out of this incredible trend.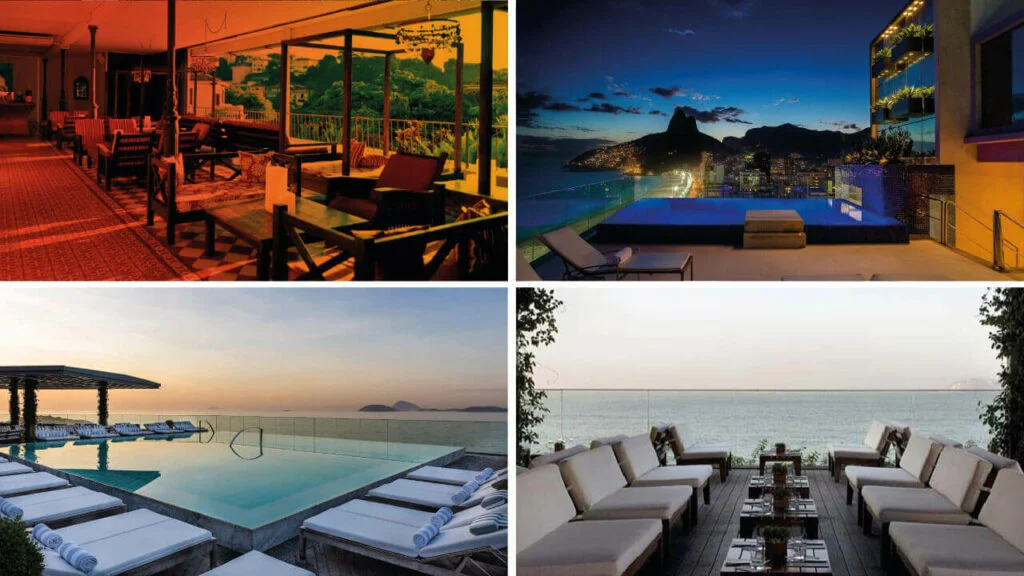 There are several options of bars and hotels focused on the sophisticated and innovative rooftop style in Rio's acclaimed Zona Sul neighborhood. The options for hotels with rooftops in Ipanema are the Fasano Rooftop Pool Lounge and the Vieira Souto Rooftop. On the other hand, the rooftop bar options in Ipanema are Boteco Belmonte, NOSSO Ipanema and Bar da Laje. Check out for details!
Belmonte Bar
Boteco Belmonte is a relaxed chain of bars, famous for its draft beer and open entrances. With a location in Ipanema, its spacious, modern and sophisticated interior speaks beautifully to the concept of a rooftop.
The decor features armchairs and tables that mix modernity with rusticity, combining perfectly with the plants that brighten the place. The view from its rooftop provides a beautiful image of Ipanema Beach, perfect for those who want to taste the dishes while admiring nature.
The menu at Belmonte Ipanema is a show in itself, with options of pies, pastries, dumplings, snacks, sandwiches, soups, side dishes and much more! In addition to delicious dishes, Belmonte Ipanema has a huge selection of meats, such as the following:
French-style Filet Mignon: grilled and served with natural straw potatoes, ham, onion and mixed peas;
Medallion à Piamontese: delicious grilled, served with Madeira sauce and accompanied by Piamontese rice and Portuguese potatoes;
Picanha à Oswaldo Aranha: grilled and covered with fried garlic, served with rice, Portuguese potatoes and egg farofa.
The establishment also has majestic service and a bar that offers the best drinks in the region. And you can enjoy all of this facing the view of the wonderful Ipanema Beach and its surroundings.
Address: Avenida Vieira Souto, 236, Ipanema, Rio de Janeiro.
Opening hours: Monday to Friday, and on Sundays, from 11am to 2am, and on Saturdays, from 11am to 1am.
NOSSO Ipanema
NOSSO Ipanema is a restaurant and bar in a colorful and modern space, serving rum drinks and seafood dishes, such as ceviche. Its rooftop has an excellent view and a special menu, developed for those who want to enjoy the spices while contemplating the beauty provided by the Ipanema neighborhood.
The relaxed and diverse environment provided by NOSSO Ipanema, with a welcoming and informal system, is essential for its customers to feel comfortable and happy. The kitchen is led by chef Bruno Katz, who is largely responsible for serving the authentic and tasty dishes offered by Nosso Ipanema. Among the tasty dishes available on the menu, the following stand out:
Angus steak tartar: tasty angus meat cut on the tip of a knife, mollet egg, capers, crispy onion and special house mayonnaise;
White fish ceviche: served with tiger milk, quinoa popcorn and spicy mango sorbet;
Crispy salmon cones: prepared with sriracha and soy sauce aioli, red onion, mustard seed pickles, black ginger and chives;
Pork gyoza: composed of pork, kimchi, ginger, Korean pepper oil, sesame and chives.
In addition to these dishes, the restaurant has a drinks menu that serves excellent options, such as:
Gazpacho cobbler;
Sururu milk punch;
Panzanella sour;
Gimlet ratatouille;
Negroni caccio & pepe;
And much more.
All these delights can be enjoyed in a space where it is possible to eat well, drink well and socialize with new people.
Address: Rua Maria Quitéria, 91, Ipanema, Rio de Janeiro.
Opening hours: Tuesday to Thursday, from 6:30 pm to 1:30 am, Friday and Saturday, from 6:30 pm to 2 am, and on Sundays, from 6:30 pm to 12:30 am.
Bar da Laje
This bar is not exactly in Ipanema, but it is easy to get to, as it is in Vidigal, a nearby neighborhood. Located on the Morro Dois Irmãos trail, Bar da Laje offers stunning views of nature.
Bar da Laje is famous for its cold beer, its top-notch snacks and its feijoada that wins the hearts of each of its customers. All of this coupled with the breathtaking panoramic view, which highlights several points in the Ipanema neighborhood.
The bar opened in 2014 mixes art, culture and gastronomy in a single place, allowing you to enjoy one of the most beautiful views of Rio. Its menu consists of several tasty and practical options, perfect for the establishment's proposal. The main categories of the Bar da Laje menu are:
Prohibited;
Snacks;
Main dishes;
One of the biggest sensations are the dumplings, available in the flavors of cod, feijoada, northeastern, vegetarian and rice with pepper jelly. Another excellent option is the famous feijoada, served daily and accompanied by rice, cabbage, orange and farofa.
Bar da Laje also has a samba circle that livens up the afternoons of all its regulars.
Address: Rua Armando Almeida Lima, 8, Vidigal, Rio de Janeiro.
Opening hours: Every day, from 12pm to 8pm.
Rooftop Vieira Souto Ipanema
Vieira Souto Rooftop is the ideal space for holding events in Rio de Janeiro. In addition to holding various events, Rooftop Vieira Souto is a master at planning and holding your wedding in a way that is unforgettable.
Its atmosphere is elegant and has a huge swimming pool, as well as an unparalleled view. The dishes are delicious and have an impeccable aesthetic, all made with top quality ingredients and previously selected.
Vieira Souto presents a buffet full of incredible options, such as:
Salads;
Birds;
Meat;
Seafood;
Sandwiches and Burgers;
Desserts.
A highly requested highlight of the buffet are the snacks and finger foods, with various filling options, such as kibbeh, chicken fillets, fries, cheese balls, cod fritters, among others.
In addition to these options, the Buffet also has a special menu that features healthy and tasty dishes.
Address: Avenida Vieira Souto 510, Cobertura, Ipanema, Rio de Janeiro.
Opening hours: Tuesday to Sunday, from 11am to 7pm.
Fasano Rooftop Pool Lounge Ipanema
The Fasano Rooftop Pool Lounge is a renowned hotel that offers its customers the best hotel service in the city. Its Rooftop is located on the eighth floor, next to the infinity pool, exclusive to guests, which overlooks the beach, with Arpoador, Morro Dois Irmãos and Corcovado as its backdrop.
The pool bar offers a menu of light dishes, cocktails and natural and tasty juices throughout the day. Among the dishes on the Fasano Rooftop Pool Lounge menu, the following stand out:
Tuna chopped on the tip of a knife;
Salmon carpaccio marinated with arugula and lemon;
Grilled filet mignon escalopes;
Caprese with buffalo mozzarella and tomato;
Bruschetta with tomato and arugula;
Penne ala vodka with salmon;
And much more.
The menu also features the bambini menu, which allows you to choose a dish, such as vegetable soup, escalopes, chicken breast and fish of the day, along with a side dish. The hotel has several services aimed at the comfort and satisfaction of its customers.
Address: Avenida Vieira Souto, 80, Ipanema, Rio de Janeiro.
Opening Hours: Every day, 24 hours a day.
What to do in Ipanema
The Ipanema neighborhood is one of the most visited and highly rated tourist attractions in the city of Rio de Janeiro. Its visitors are blessed with a wide range of establishments that offer entertainment in different parts of the neighborhood.
Some excellent options in Ipanema are the rooftop restaurants and bars, which combine their beautiful views with dishes with exceptional flavors, such as Belmonte, Espaço 7zero6, NOSSO and Bar da Laje.
In addition to the establishments, Ipanema has a range of tourist attractions, perfect for enjoying the day, such as Ipanema Beach, Arpoador, Feira Hippie, Parque Garota de Ipanema and much more.
Thus, the neighborhood continues to constantly attract new visitors who are willing to enjoy incredible moments in one of the most famous neighborhoods in the South Zone of Rio.