With options for outdoor practice, Rio is practically an open-air gym
For those who don't give up playing sports, the city of Rio de Janeiro is a great place to be. With its exuberant beauty and pleasant weather most of the year, there are different options for exercising outdoors, without having to be locked in an enclosed gym.
Options range from extreme sports, such as hang gliding and surfing, to alternatives for those who just want to relax and practice more traditional sports, such as beach football, running and racquetball.
All of this, combined with a setting with stunning landscapes, which promote, in addition to improving physical condition, well-being and happiness.
With this in mind, we have selected the best sports to practice outdoors in Rio de Janeiro. Check out!
Run/Walk
If you want to escape boredom and start practicing sports with something lighter, Rio's beaches are the perfect setting for this.
Ideal for walking and running, the beaches are equipped with a huge sidewalk or cycle path, which makes it easier to practice during the week. In some of them, during Sundays or holidays, one of the lanes is closed.
Among the best beaches to practice the sport, we can highlight Copacabana, Leme, Leblon Beach, Ipanema Beach and Barra da Tijuca.
Swimming
Bathed by an immense blue sea, Rio de Janeiro is excellent for those who want to practice swimming in the sea and improve their techniques.
Although it is possible to practice the sport anywhere along the coast, the beaches of Leme, Leblon and Urca are the most popular for this purpose, as they have the calmest sea.
It is worth remembering that the best time to practice swimming in the sea is from 6am to 9am.
Surfing
For those who love an extreme sport, such as surfing, the city also offers ideal beach options for practicing it.
With incredible and equally beautiful waves, Rio is sought after by surfers from all over the country, whether amateurs or professionals, who want to try their hand at the sport.
Among the most popular beaches are Praia do Arpoador, Barra da Tijuca and Ipanema.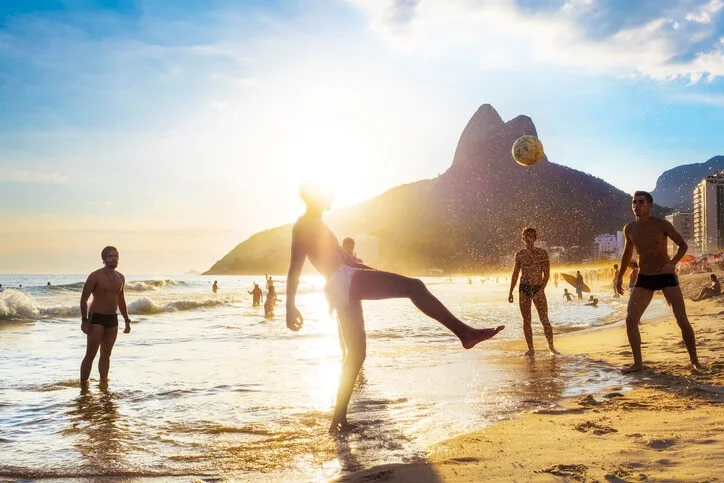 Volleyball/Footvolley
One of the most famous sports in the city, the practice of volleyball and footvolley is almost a tradition on Rio's beaches.
Most of them have reserved spaces and networks for those who play for sport or just to pass the time and have fun with friends.
Hang gliding
Another common activity in Rio de Janeiro that provides practitioners with a unique experience, hang gliding flight is commonly practiced in Pedra da Gávea, with a scheduled landing at Praia de São Conrado.
For those who like adrenaline and excitement, want to see the wonderful city from above, you shouldn't miss this opportunity.
Outdoor sports for all tastes
With people increasingly looking for quality of life, those who choose to live in Rio de Janeiro will certainly find an infinite number of possibilities to practice outdoor sports and fit practices into their hectic daily routine.
In addition to these benefits, living in an apartment in São Conrado, Leblon or other neighborhoods in the city directly contributes to the search for well-being, considering that Rio de Janeiro is capable of masterfully combining nature and urban areas.