Residents of Rio's South Zone have the privilege of having several quality establishments throughout the region, such as the famous stores to luxury shopping in Ipanema. With dazzling windows, Ipanema's stores feature the most sophisticated in current fashion.
This type of establishment sells everything from clothing, footwear and accessories to precious stone jewelry.
In this way, luxury shopping stores in Ipanema have become excellent allies for those who wish to purchase the most varied products that suit the most diverse styles. After all, who doesn't like walking the streets while admiring different store windows on a day of shopping?
Depending on the establishment, customers can even try on the pieces until they find the ones that fit them best. There are several options for clothing, footwear and accessories stores in Ipanema that offer their customers quality products with unique styles and designs.
The Ipanema neighborhood is still known for having a range of highly luxurious commercial establishments that provide an excellent quality of life for residents of this upscale area of Rio's South Zone.
Hermes Rio de Janeiro Ipanema
Hermès is a high-end French store that sells private label clothing, bags, scarves and other accessories. Its infrastructure is modern and spacious, including decorations typical of French soil, which allows customers to be welcomed with a different climate than they are used to.
Since 1837, Hermès has remained faithful to its artisanal model and humanist values. The brand is also faithful to the freedom to create and the constant search for beautiful materials, which allow the creation of useful and elegant objects that resist time and forge the uniqueness of Hermès.
Despite maintaining the majority of its production in France, with its 51 production units, the brand also develops its international distribution network of 306 stores in 45 countries.
The brand is known worldwide for presenting highly luxurious items, with unique design and characteristics. Among the main clothing items available at Hermès Ipanema are:
Coats and Jackets;
Dresses and Skirts;
Tops and Blouses;
Scarves and Scarves;
Pants and Shorts;
Ties and Belts;
Hats;
Shoes;
Bags;
And much more.
The store also has a variety of watches and silver and gold jewelry, such as bracelets, rings, earrings and brooches.
And, to complete the innovation aspect, Hermès sells home items, such as blankets, cushions, plates, tables and chairs, notebooks, playing cards and other various objects printed with the most eccentric arts.
Address: Rua Garcia d'Avila, 160, Ipanema, Rio de Janeiro.
Opening hours: Monday to Friday, from 10am to 7pm, and on Saturdays, from 10am to 4pm.
Louis Vuitton Rio Ipanema
Louis Vuitton Rio is a sophisticated, high-quality brand and one of the oldest on the market. Therefore, it is extremely renowned in the designer market around the world.
The company was created in 1854, in Paris, by the luggage and handbag manufacturer Louis Vuitton. His work was recognized in Europe when he reinvented the shape of travel bags and created a different design pattern compared to what existed at the time.
Over the years, Louis Vuitton expanded its market, starting to work with clothing, shoes, watches, jewelry, accessories, sunglasses and much more. However, the brand continues to be known for its specialization in the production and sales of bags and suitcases, being one of the largest and most valued brands in the world.
Currently, there are more than 400 Louis Vuitton stores that sell its most famous uniquely manufactured products. Among the main items made available by Louis Vuitton are the following:
Bags;
Wallets;
Trip;
Accessories;
Shoes;
Jewelry;
Clocks;
As one of the main names today, Louis Vuitton is constantly present at various fashion shows, with the aim of presenting its newest collections to the world.
Address: Rua Garcia d'Avila, 114, Ipanema, Rio de Janeiro.
Opening hours: Monday to Friday, from 10am to 7pm, and on Saturdays, from 10am to 4pm.
Sara Joias Ipanema
Founded in 1977 by brothers Laja Zylberman and David Zilberman, Joalheria e Relojoaria Sara opened its first store in the luxurious Rio neighborhood of Ipanema. Sara Joias is known internationally for its high quality jewelry and unparalleled beauty.
Thus, luxury jewelry is Sara Joias' main items. Their unique designs and high-level sophistication captivate everyone who looks at them.
The pieces are arranged in impeccable and stunning collections, with exorbitant variations that promise to please all types of tastes. Sara Joias' jewelry categories include the following:
Alliances;
Rings;
Toys;
Scapulars;
Chokers;
Pendants;
Piercings;
Bracelets;
Best Sellers.
Each piece of jewelry draws attention due to its distinctive style, coupled with unique features implemented by designer Laja Zylberman. And, to beautifully compose some of the pieces, a range of precious stone options could not be missing, such as Emerald, Diamond, Paraíba Tourmaline, Ruby, Amethyst and much more.
In addition to jewelry, the company is one of the main representatives in Brazil of major watch brands, such as Rolex, Cartier, Hublot and twelve other international brands. In this way, the store is responsible for bringing exclusive watch models to Brazilian soil.
In addition to jewelry and watches, the establishment offers cufflinks, writing instruments and leather items, such as diaries, wallets and passport cases.
Address: Rua Garcia d'Avila, 129, Ipanema, Rio de Janeiro.
Opening hours: Monday to Friday, from 10am to 7pm, and on Saturdays, from 10am to 4pm.
Osklen Ipanema
Osklen is a luxury shopping brand store from Rio de Janeiro that had its first store opened in 1989, by Oskar Metsavaht. The brand's pieces are inspired by large cities, nature, avant-garde combined with sportswear and the cool atmosphere of the Rio de Janeiro area.
It was such a success that the brand now has more than ten stores abroad, in addition to fifty in Brazil, where more than 250,000 people visit each month. The products that stand out the most are shoes with different designs and exclusive models, such as the following:
Superlight;
Flow, Soho;
Riva;
Bossa nova;
Canvas;
Mule;
Pirarucu;
Hybrid;
Among others.
The shoes also feature a vast amount of materials, such as suede, canvas, neoprene, EVA, rubber and much more. In addition to these, Osklen has other prominent shoe models, such as:
Soho: has a stripped-down design with anatomical details, as well as a more voluminous shape, with slightly sloping sides, providing more balance when walking;
Trkk: has a high upper made of nylon and cowhide suede, with a textured rubber toe cap and rear detail in cowhide leather;
Creeper: with a minimalist design and a vintage touch, it features a thick sole, with ripples on the side, a rounded toe, soft insole, midsole textures and rubber sole.
In addition to shoes, the store also has shirts, dresses, jumpsuits, shorts, pants and other typical men's and women's clothing items. Osklen is still recognized nationally and internationally for its pioneering actions in search of socio-environmental sustainability.
Address: Rua Maria Quitéria, 85, Ipanema, Rio de Janeiro.
Opening hours: Monday to Friday, from 9am to 8pm, on Saturdays, from 10am to 7pm, and on Sundays, from 11am to 5pm.
Other luxury shopping stores in Ipanema
The Ipanema neighborhood is known for having a range of renowned luxury shopping stores and establishments in Ipanema. Its sophisticated streets and beautiful landscapes require worthy stores to complement its magnificent infrastructure.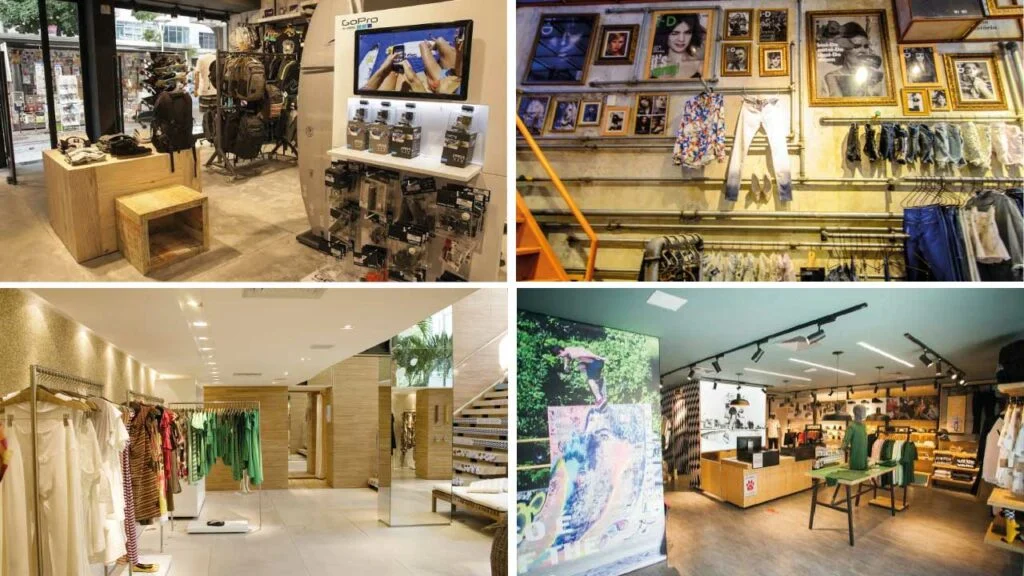 In addition to those mentioned above, the streets of Ipanema also include the following luxury shopping stores in Ipanema:
The stores are exorbitant and have extremely high quality pieces and unique designs in their catalogues. Furthermore, the Ipanema neighborhood also includes a range of utility stores and gastronomic establishments.
It is still possible to find a variety of luxury shopping stores when walking along the famous streets of Ipanema, such as Rua Visconde de Pirajá and Rua Garcia d'Avila, considered great spots for those who like shopping.
Buying luxury properties in Ipanema
The Ipanema neighborhood is considered one of the most noble in the city of Rio de Janeiro, both by its residents and its visitors. After all, its well-designed infrastructure, magnificent architecture and breathtaking landscapes are unparalleled.
Furthermore, the area is easily accessible by both private and public transport, with several bus stops and metro stations located in strategic locations. The region is surrounded by several acclaimed neighborhoods in the South Zone of Rio, which facilitates interaction between different audiences.
And, as if that weren't enough, Ipanema also has a variety of tourist attractions and entertainment-oriented programs. A good idea is to visit the famous Ipanema Beach to enjoy a peaceful afternoon with friends or family.
The famous streets of Ipanema still have several luxury residential properties, ready to welcome new residents at any time.