Known as the most sought after neighborhoods in the South Zone, Leblon and Ipanema are home to a range of highly qualified restaurants. With a wide gastronomic network, the neighborhoods present a true variety of flavors and culinary styles for their residents and visitors.
French, Italian, Japanese and American cuisine are just some of the options found in Rio's upscale neighborhoods. Therefore, enjoying the best of the region's cuisine is certainly not a problem, as there are possibilities for all tastes.
In terms of beauty and sophistication, the restaurants located in the neighborhoods combine perfectly with their spacious and elegant infrastructures.
The streets of the neighborhoods contribute to the easy movement of customers who want to discover the most diverse local gastronomic establishments. This way, it's easy to find a good restaurant in the two hottest spots in the South Zone of Rio de Janeiro.
In addition to gastronomic establishments, the neighborhoods of Ipanema and Leblon have a complete infrastructure, with several essential services and luxury properties, providing their residents with a luxurious and healthy lifestyle.
Rio de Janeiro is one of the most beautiful cities in the world. If you are looking to live with sophistication in a wonderful city, count on INVEXO, a real estate agency specializing in luxury properties in Rio de Janeiro.
Leblon and Ipanema restaurants: Giuseppe Grill
Giuseppe Grill Leblon is a sophisticated restaurant, specializing in meat and seafood prepared by excellent chefs. Its environment is elegant and charming, decorated with beautiful collections of paintings by the main names in Brazilian contemporary art, each one representing their vision of Bullfighting, the house's theme.
Its kitchen works with excellence, with the aim of offering the best dishes and flavors to its customers. The menu has several categories, such as appetizers and starters, organic salads, executive lunch, among others.
The main highlight of the house is its famous Steaks, such as the following:
Picanha Skewer: tasty slices of picanha served on a skewer with peppers and onions;
Ojo de Bife: prime part of the Black Angus sirloin streaked with fat;
Polpetone Giuseppe Grill: made from picanha cut at the tip of a knife, stuffed with standard Minas cheese.
In terms of seafood, the dish that most impresses is the Lobster Thermidor, flambéed with Cognac, served with thermidor sauce made with Bechamel, a blend of mustards and Dijon and mushrooms. To accompany the sophisticated dishes, Giuseppe has a beautiful bar, which offers a variety of drinks such as classic gins, whiskeys, caipirinhas, liqueurs and much more.
However, the ones that attract the most attention are the house's special drinks, such as the Lemon Gress, made with Gray goose Le Citron, lemon grass, pineapple juice, Sicilian juice and sugar. In addition to the extravagant drinks, the Giuseppe Grill also has an unparalleled wine cellar, renowned for its rarities, appealing to all budgets and tastes.
Address: Avenida Bartolomeu Mitre, 370, Leblon, Rio de Janeiro.
Opening hours: Monday to Thursday, from 12pm to midnight, Friday to Saturday, from 12pm to 1am, and on Sundays, from 12pm to 11pm.
CT Boucherie
CT Boucherie, located in Leblon, is a restaurant that aims to be a mix between bistro and French butcher shop, serving meat as a highlight — but not in the same formats as steakhouses or steakhouses.
Its decor is inspired by French boucheries, with flowers, inlays, a two-tone awning and cold cuts hanging on the lounge counter. The in-house chef is successful in mixing his traditional French cuisine with natural flavors. The menu has a variety of dishes, such as:
Prime Rib;
Filet Mignon;
Black Angus Chorizo Steak;
Salmon Fillet;
Bavette diaper;
Grilled Steak Haché;
And much more.
All grilled dishes and dishes of the day are served with crisp potatoes and special panko crumbs, your choice of sauce and a choice of side dishes. Moving on to dessert, CT Boucherie leaves nothing to be desired, presenting delicious delicacies:
Chocolate Mousse on a Spoon;
Petit Gateau De Sweet Milk;
Diet ice cream;
Cheesecake Of Red Fruits;
Apple and Cinnamon Crumble;
Tia Bia's Chocolate Gateau;
And Classic Crème Bruelée.
Address: Rua Dias Ferreira, 636, Leblon, Rio de Janeiro.
Opening hours: Monday to Friday, from 12pm to 5pm and from 6:30pm to midnight, and on Saturdays and Sundays, from 12pm to midnight.
Leblon and Ipanema restaurants: Gero Rio
Gero Ipanema is a modern and sophisticated Italian restaurant, which belongs to the FASANO chain, one of the most traditional in Brazil and which is very successful in São Paulo as well.
The environment of this venture, which is one of the best restaurants in Ipanema, is decorated to provide customers with an experience very close to a colonial Italian house adapted to today, with rustic bricks and wooden tables.
The recipes bring the most classic and traditional of Italian cuisine, placing this restaurant in Ipanema among the most popular in the capital of Rio. Among the most requested dishes is Risotto With Gamberi and Zucca, made with pumpkin and prawns.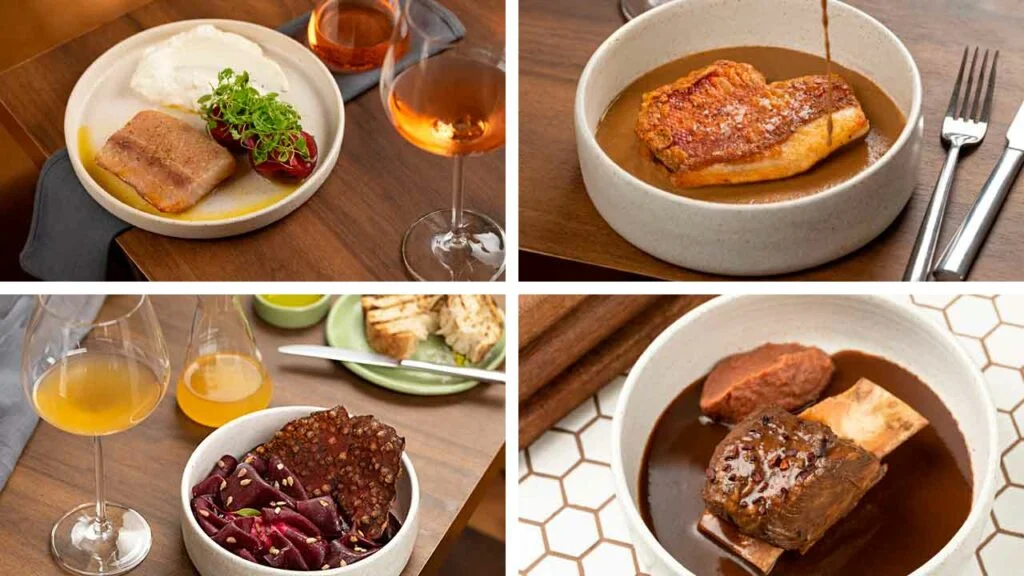 The cover charge, made up of breads and pastas, is replenished all the time, with options of grissini, pâtés and bruschetta. The menu has great options, including vegetarian dishes. Some suggestions are the Sicilian lemon risotto and the carbonara sauce made just right. The parmigiano risotto with fillet stuffed with parmesan and truffle sauce is also among the highlights of the house.
The carppaccio with pinolle also tends to be very popular with customers. The wine list is surprising, with excellent national and foreign labels. The desserts are mouth-watering and, as in any good Italian, you can't miss the gelato and tiramisù, as well as much more elaborate sweets.
Address: Rua Aníbal de Mendonça, 157, Ipanema, Rio de Janeiro.
Opening hours: Every day, from 12pm to 11pm or midnight, with breaks.
Posi Mozza e Mare
Posi Mozza e Mare, located in Ipanema, is a gourmet restaurant that serves individual and sophisticated Italian dishes, with an emphasis on seafood. Its environment is luxurious and welcoming, providing the customer with a unique and pleasant experience.
The dishes on the menu are varied and include an extremely creative presentation, which is one of its differences. Among the main requests of the Posi Mozza e Mare restaurant are:
Zucchini;
Per Comminciare;
Carbonara di Polpo;
White fish tartare;
Gnocchi;
Cacio & Pepe;
And much more.
The Scallopine al Limone is also an excellent choice on the menu. The dish consists of filet mignon escalope in lemon sauce with tagliollini in sage butter. In the sweets category, one of the main desserts offered is Rocher, a delicious milk chocolate mousse, filled with Nutella, caramel with hazelnuts and cocoa sablé.
With wines and other drinks that pair perfectly with your dishes, Posi Mozza e Mare presents what you are looking for in sophisticated gastronomy in the South Zone of Rio.
Address: Rua Aníbal de Mendonça, 158, Ipanema, Rio de Janeiro
Opening hours: Every day, from 12pm to 11pm.
Leblon and Ipanema restaurants: Satyricon
Satyricon Ipanema is a sophisticated restaurant serving Italian-Mediterranean cuisine with great seafood and an extensive fish counter. Its ingredients, such as fish, crustaceans, molluscs, seafood and special meats, all fresh, are carefully selected by the owners.
The variety of fish, the texture of the crustaceans, the origin of the products and the vitality of the Mediterranean flavors, adapted to the tropical climate, are the fruits of the excellent work carried out by the restaurant team. The menu is varied and extensive, with several categories, such as:
Antipasti;
Crudi Di "Mare Nostrum";
Paste & Risotti;
Altri;
Contorni;
Pesce del Giorno;
Crustacei;
Gamberi & Scampi;
Carni;
Among others.
The highlight goes to the Crudi Di "Mare Nostrum" category, which features incredible dishes, such as the following:
Involtino di Tonno: tuna or white fish roll of the day, stuffed with avocado, cucumber and shrimp;
Marenostrum: a set of tuna, salmon, sea bass, snapper, ox eye, salmon tartare and tuna;
Di Sogliola o Pagello: sole or sea bream with a sauce of olive oil, lemon, horseradish, garlic and fresh herbs.
In the desserts category, you can find delicious options, such as truffles, cheesecakes, tiramisús, mousses, gelatos and much more. The preparation of dishes is carried out with unique and excellent products, in a simple and careful way, using techniques that preserve the true flavor of the ingredients.
Address: Rua Barão da Torre, 192, Ipanema, Rio de Janeiro.
Opening hours: From Sunday to Thursday, from 12pm to midnight, and on Fridays and Saturdays, from 12pm to 1am.
Mimolette Leblon
With a stunning view of Christ the Redeemer and Lagoa Rodrigo de Freitas (lagoon), Brasserie Mimolette was named after the cured cheese of the same name, born in France. Its elegant and comfortable environment features walls painted an intense blue and balconies reminiscent of French cafes.
The restaurant's proposal is to offer the best of French cuisine at an affordable price, increasingly attracting residents of the South Zone of Rio de Janeiro.
Its menu has delicious starters, such as Egg Mollet, Chèvre Salad and Steak Tartare. The main dishes are refined and well prepared, prepared by the hands of the excellent chefs responsible for the kitchen at Brasserie Mimolette.
Among the most requested main dishes are:
Boeuf Bourgignon: beef brisquet slowly braised with red wine, spices, bacon, carrot, pearl onion and Paris mushroom, accompanied by aligot;
OQ Au Vin: chicken thigh and thigh marinated and slowly cooked in wine and spices, accompanied by potatoes au gratin;
Moqueca Brasserie: fish of the day in house moqueca sauce, accompanied by rice and pangratatto;
File de Boeuf: filet mignon steak with truffled mushroom risotto and rôti sauce;
Steak Frites: grilled filet mignon with house fries and sauce of your choice: mustard, bearnaise or poivre;
Riz de Canard: roast duck rice with homemade sauce, sausage and panko crumbs.
In addition to the main dishes, the menu includes starters, sandwiches, pasta, risotto and desserts.
Address: Avenida Afrânio de Melo Franco, 290, 4th floor, Leblon, Rio de Janeiro.
Opening hours: Every day, from 12pm to 10pm.
Haute cuisine in Rio de Janeiro
The city of Rio de Janeiro is one of the most acclaimed spots in the country, boasting unparalleled beauty. The restaurants on Ipanema and Leblon, neighborhoods located in Rio, are mandatory stops for those who want to discover the best of gastronomy.
In Leblon, there are excellent restaurants with the highest cuisine, such as Giuseppe Grill, Chez Claude and Marius Degustare. Ipanema is part of one of the largest gastronomic centers in the city, with names such as Gurumê.
Whichever neighborhood in the South Zone of Rio you choose, you are sure to find excellent food options, being able to enjoy various flavors and spices in one area. In addition to being known for their acclaimed restaurants, the neighborhoods of Ipanema and Leblon have a unique infrastructure, providing their residents with a high-quality lifestyle.
At INVEXO, you will be able to stay up to date with information about gastronomic news in the neighborhoods, in addition to finding out more about the luxury residential properties available in Leblon and Ipanema.
Check out incredible apartments for sale in Rio de Janeiro with INVEXO, a real estate agency specializing in luxury properties in Rio de Janeiro.