Those who love enjoying good coffee can easily find excellent coffee shop options in Ipanema. Rio's acclaimed Zona Sul neighborhood offers some of the best coffee shops in all of Rio de Janeiro.
After all, coffee is part of the routine of most Brazilians and is consumed at different times throughout the day. The drink, in addition to being present at breakfast times, is also highly sought after by workers and students who want to reinvigorate their energy.
There are several types of coffee that can be prepared and consumed at home or enjoyed in cafes, such as espresso, cappuccino, latte, mocha, among others. In establishments, it is possible to count on the presence of baristas, specialized professionals who can transform a simple cup of coffee into a work of art.
There are several coffee shop options located in different parts of Ipanema, making it difficult for consumers to choose just one. In addition to having a range of gastronomic establishments, the Ipanema neighborhood has an excellent infrastructure, full of leisure areas and luxury residential properties.
Ás Café
Ás Café in Ipanema is a coffee shop specializing in specialty coffees, which aims to offer the best delicacies in the region to its consumers. Its environment is extremely cozy and it has a friendly and receptive team, willing to provide the best service to its customers.
The house specialties are prepared there, with the intention of maintaining their freshness and original flavor. Therefore, Ás Café is the ideal option for a snack at any time of the day.
Among the different coffee variations, the following stand out:
Sapucaí;
Cantagalo;
Cintra;
Fine gold;
Rum;
Moquinha;
And good view.
In addition to the excellent coffee flavors, you will also find traditional cakes, sandwiches, stuffed tapioca and warm soups on the menu.
Address: Rua Visconde de Pirajá, 580, Loja 101, Ipanema, Rio de Janeiro.
Opening hours: Monday to Friday, from 8:30 am to 7 pm, and on Saturdays, from 8:30 am to 3 pm.
Le P'tit Cafe Coffee Ipanema
Le P'tit Café, located in Ipanema, is an intimate, French-style café, which features a menu full of fine pastries, pastries and savory products. The space was designed by chef Patrícia Lombardi, trained at the French school Le Cordon Bleu, who decided to bring a French touch to the wonderful city of Rio de Janeiro.
Therefore, its environment was planned to be spacious and comfortable, with outdoor tables, perfect for those who want to enjoy the delicacies in an open environment. The most famous options on its menu are its delicious coffees, available in the following variations:
Express;
Mocaccino;
Cappuccino;
Bark;
Hot chocolate;
Machiato;
And much more.
And, to accompany the coffees, a good option is to choose one of the savory options, such as coxinhas, omelettes, crepiocas, among others. The options sold in-house can be enjoyed right there, at one of the comfortable round tables. Another option is to take the item home or even place the order and receive it at the desired address.
Address: Rua Visconde de Pirajá, 444, Loja 114, Ipanema, Rio de Janeiro.
Opening hours: Monday to Friday, from 10am to 7pm, and on Saturdays, from 10am to 2pm.
Gringo Cafe Coffee Ipanema
Gringo Café Ipanema is a café that serves delicious homemade food in the classic American style. The place is perfect for those who want to taste different dishes, such as sandwiches, salads, desserts and the typical brunch at any time of the day.
And, to improve, the relaxed and lively atmosphere provides customers with a unique fun experience.
The Gringo Café menu has several categories that were designed to please the most diverse palates. The Gringo Brunch is one of the main highlights of the menu, and has the following options:
Country Style Breakfast: prepared with 2 eggs, a meat, maple and butter and a pancake, waffle or French toast, according to your choice;
Eggs Benedict: made with 2 poached eggs with soft yolks, on toast, with a choice of meat, accompanied by Hollandaise sauce;
Belly Buster: prepared with 3 eggs, bacon, homemade turkey sausage patties, hash browns, biscuit, two pancakes, maple and butter;
Body Builder: four scrambled egg whites, one fruit and one meat option.
In addition to this category full of delicacies, Gringo also has several coffee options, such as espresso, macchiato, Rio cappuccino, American coffee and much more.
Address: Rua Barão da Torre, 240, Loja A, Ipanema, Rio de Janeiro.
Opening hours: Every day, from 8pm to 10pm.
Armazém do Cafe Ipanema
Armazém do Café was founded in 1997, in the Ipanema neighborhood, with the aim of implementing a new coffee concept. Thus, a true gourmet café emerged with all the charm and quality of a boutique specializing in fine coffees.
And, to fulfill its proposal, the company uses grains from the most noble Brazilian producing regions, selected by harvest, type, sieve and drink.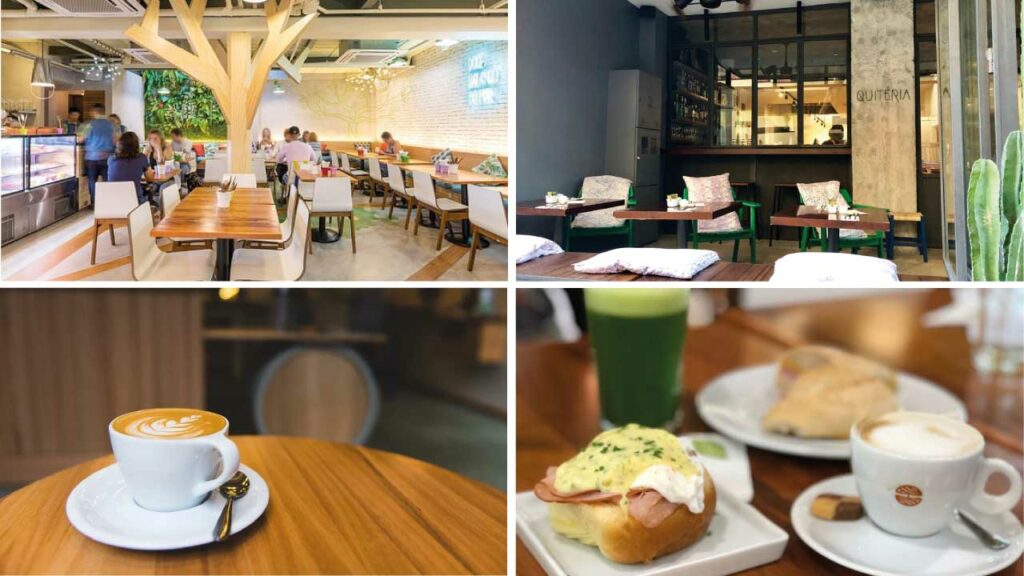 Its menu features different types of coffee, sweets and savory dishes, such as croissants, puff pastries, pastries, toast and sandwiches. When it comes to dessert, Armazém do Café has the following spices:
Chocolate gateau;
Brownie with almonds;
Lemon and Brigadeiro tarts;
Custard;
Cakes;
And much more.
Also, for those who want to take a little coffee home, the tip is to buy it at one of the chain's stores or through the virtual catalog. It is possible to purchase not only the specialty coffee beans, but also coffee makers and accessories used to prepare the drink.
Address: Rua Visconde de Pirajá, 261, Ipanema, Rio de Janeiro.
Opening hours: Monday to Saturday, from 8:30 am to 8:30 pm, and on Sundays, from 9 am to 8 pm.
CaféZaum Ipanema
A stylish café that serves delicious snacks and specialty coffees is what defines the pleasant CaféZaum. Its decoration is modern and has several paintings, perfect for art lovers to admire.
CaféZaum's main objective is to bring surprising experiences to its dear customers through the unparalleled flavor of its special coffees.
And it's not just coffee that the Ipanema café lives on. On its menu, CaféZaum has the following snacks:
Cheese bread;
Brownies;
Cookies;
Sourdough Bread;
Cakes;
Among others.
With so many options, it's easy to choose a tasty snack to accompany one of the different types of coffee.
Address: Rua Gomes Carneiro, 132, Ipanema, Rio de Janeiro.
Opening hours: Monday to Saturday, from 10am to 8pm, and on Sundays, from 11am to 7pm.
The Coffee Ipanema Rio de Janeiro
The Coffee Ipanema is an urban café, inspired by simplicity, with the best of Brazilian beans combined with the purity and perfectionism of Japan, in the Grab and Go style. After all, Tokyo is the city with the largest number of To Go coffee shops in the world. world and Japan has been emerging on the global specialty coffee scene.
Therefore, in 2017, after several trips to Japan, the brothers Alexandre, Carlos and Luis Fertonani decided to create a café that would bring the To Go culture to Brazil.
High quality, perfectionism, minimalism and space optimization are some of the characteristics that inspired the creation of The Coffee. By providing a unique experience to customers from beginning to end of their purchase, The Coffee was instantly successful and has continued to expand over the years.
The menu at the café in Ipanema is simple, modern and unique. With hot and cold drinks, it was designed, created and developed by renowned experts and baristas. In addition to the drinks being simply spectacular, they were named with special names that make them even more exclusive. Thus, among the most requested coffee styles at The Coffee Ipanema are:
Pure black;
American;
True White;
Flat caramel;
Mad mocha;
Urban chocolate;
Vanilla latte;
Iced Latte;
And much more.
And, to accompany the coffees, the customer can choose a delicious cookie or a breathtaking cake, in the flavors of lemon, orange, banana, chestnut and chocolate. The Coffee is in a constant process of improvement, always bringing news and new products to the menu.
Address: Rua Vinícius de Moraes, 80, Loja A, Ipanema, Rio de Janeiro.
Opening hours: Every day, from 7:30 am to 7:30 pm.
Commerce and quality of life in Ipanema
The Ipanema neighborhood is acclaimed for its excellent infrastructure, full of commercial points and establishments prepared to offer the best experience to its residents and visitors. It couldn't be any different, given that we are talking about one of the best-qualified neighborhoods in the South Zone of Rio de Janeiro.
Commercial points are responsible for offering visitors the most varied options, from restaurants to jewelry stores. The region is still known for being one of the biggest gastronomic hubs in the city. Contemplating a wide cultural diversity, Ipanema's restaurants serve a menu with national, American, French, Japanese dishes, among others.
Throughout its surroundings it is possible to find bus stops and Ipanema metro stations, which make it easier for those who use public transport to get around. For these and other reasons, the Ipanema neighborhood is considered one of the best neighborhoods in Rio, offering a higher quality of life, constantly attracting new residents to the region.