Posì Ipanema (Posì Mozza & Mare) is the Italian food restaurant for those looking for quality, sophistication and a super cozy atmosphere in Ipanema. Located between Ipanema Beach, Lagoa Rodrigo de Freitas and Praça Nossa Senhora da Paz, the space is ideal for you, your family and friends to enjoy the best of Rio's South Zone.
With typical Italian dishes and a welcoming atmosphere, the gourmet restaurant enchants with its gastronomic and decorative set. So, if you want to know more about Posì Mozza & Mare Restaurant, in Ipanema, continue reading and check it out!
Posì Mozza & Mare Restaurant in Ipanema
Posì Mozza & Mare Restaurant's address is Rua Aníbal de Mendonça, number 158, on the corner of Rua Redentor, in Ipanema. The location is close to several famous points in Rio de Janeiro, such as Ipanema Beach, Lagoa Rodrigo de Freitas and Praça Nossa Senhora da Paz.
Furthermore, Louis Vuitton, Vans Store, HStern, A. Brand, Amaro Guide Shop and several other well-known stores are close to Posì. Ipanema is recognized for its excellent addresses, full of luxury services and shops, generally close to condominiums in the region.
Access to the restaurant is easy. Thus, customers can reach the location via roads and leave their vehicles in nearby parking lots or via the subway station and bus lines that serve the region. In addition to the elaborate Italian menu, the space offers services and facilities that bring a unique experience — such as, for example, delivery service, accessibility to the location and a welcoming space for visitors.
The gourmet restaurant serves traditional individual dishes of Italian cuisine, with seafood being one of the highlights of the place. Its charming outdoor tables are a true invitation to enjoy the restaurant's preparations and, of course, the cozy atmosphere of the South Zone of Rio de Janeiro.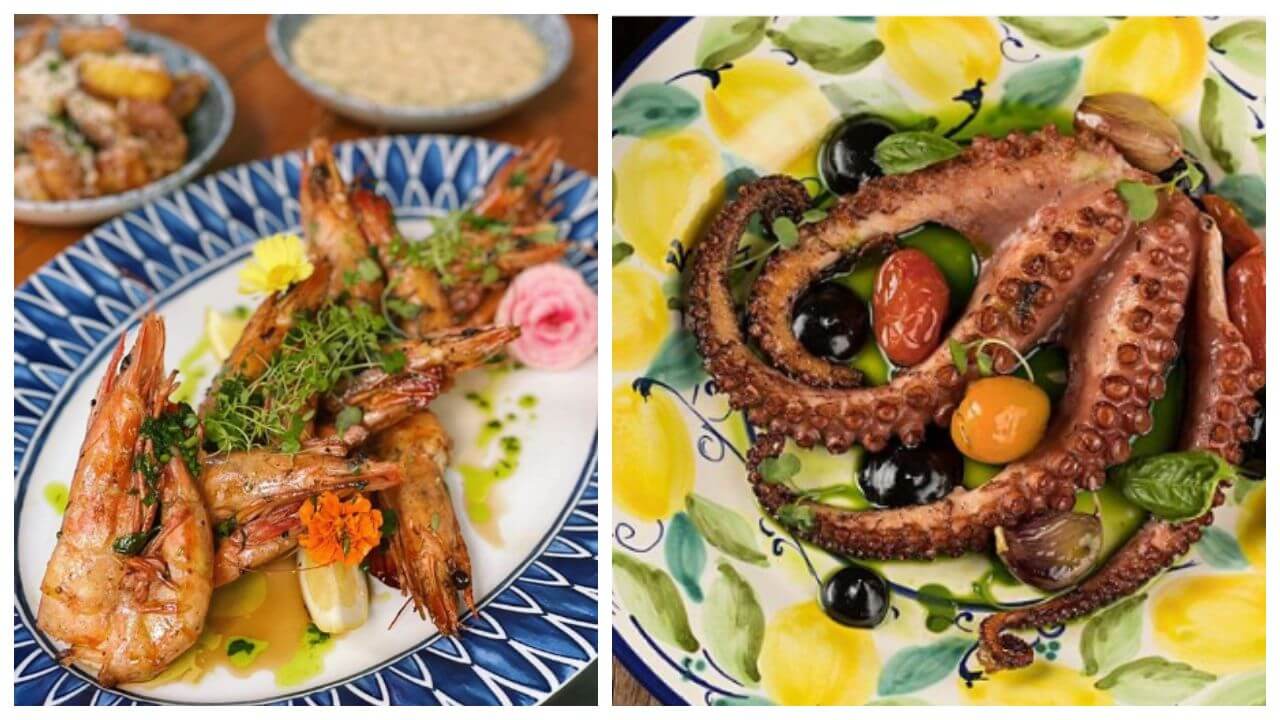 Want to know more about the tasty menu options at Posì Mozza & Mare, in Ipanema? So, see below!
Posì Ipanema – Menu
The restaurant located in Ipanema has a varied Italian menu. In addition to traditional pasta, its menu is full of excellent seafood options. With wines and other drinks that pair perfectly with your dishes, Posì Mozza & Mare has what you're looking for in sophisticated gastronomy in Rio's South Zone.
The menu options can be tasted either in the space, in a privileged location in Rio de Janeiro, or it is possible to choose the dishes, place the order and receive it at the address of your choice. To do this, simply contact the restaurant via phone or the iFood app and then order the desired items.
Below, we select the menu provided by the restaurant on the food delivery app. But, in addition to these options, the space offers several other starters, main dishes, drinks and desserts. Check out the main menu items at Posì Mozza & Mare Restaurant, in Ipanema:
Per Comminciare
Arancini — Sicilian lemon arancini with granapadano fonduta;
Crude Meat — Filet mignon on the tip of a knife, Sicilian lemon, toasted hazelnuts and truffle oil;
Crocchete — Shrimp croquette with lemon aioli;
Insalata del paese — Arugula salad with confit tomatoes, eggplant and zucchini, mozzarella and balsamic vinaigrette;
Polenta & funghi — Creamy polenta with truffled mushroom ragú, country yolk and granapadano snow;
Salmon tartare — Salmon tartare with passion fruit vinaigrette and toast.
Chef's Kitchen
Pulp carbonara — Spaghetti nero, grilled octopus, pancetta, granapadano and egg yolk;
Grigliata di mare — Grilled shrimp, octopus, squid and white fish, riso nero, kabotcha pumpkin and zafferano sauce;
Pesce — Fish of the day with cauliflower cream, sautéed spinach and peas and toasted almonds.
Traditional
Norma — Rigatoni, pomodoro sauce, eggplant, ricotta and basil;
Polpo alla griglia — Grilled octopus tentacles with olive oil, garlic and parsley;
Caprese ravioli — Light burrata ravioli with pomodoro sauce and basil pesto;
Scallopine al limone — Filet mignon escalope in Sicilian lemon sauce with sage butter tagliollini;
Vôngole — Linguini, Vôngole, white wine and parsley;
Gamberoni — Spaghetti with tomato sauce and shrimp vg.
Posì Ipanema opening hours
The restaurant is open from Monday to Monday, with extensive opening hours. Thus, you have the possibility of tasting the dishes and drinks at Posì Mozza & Mare, in Ipanema, both during lunch and dinner.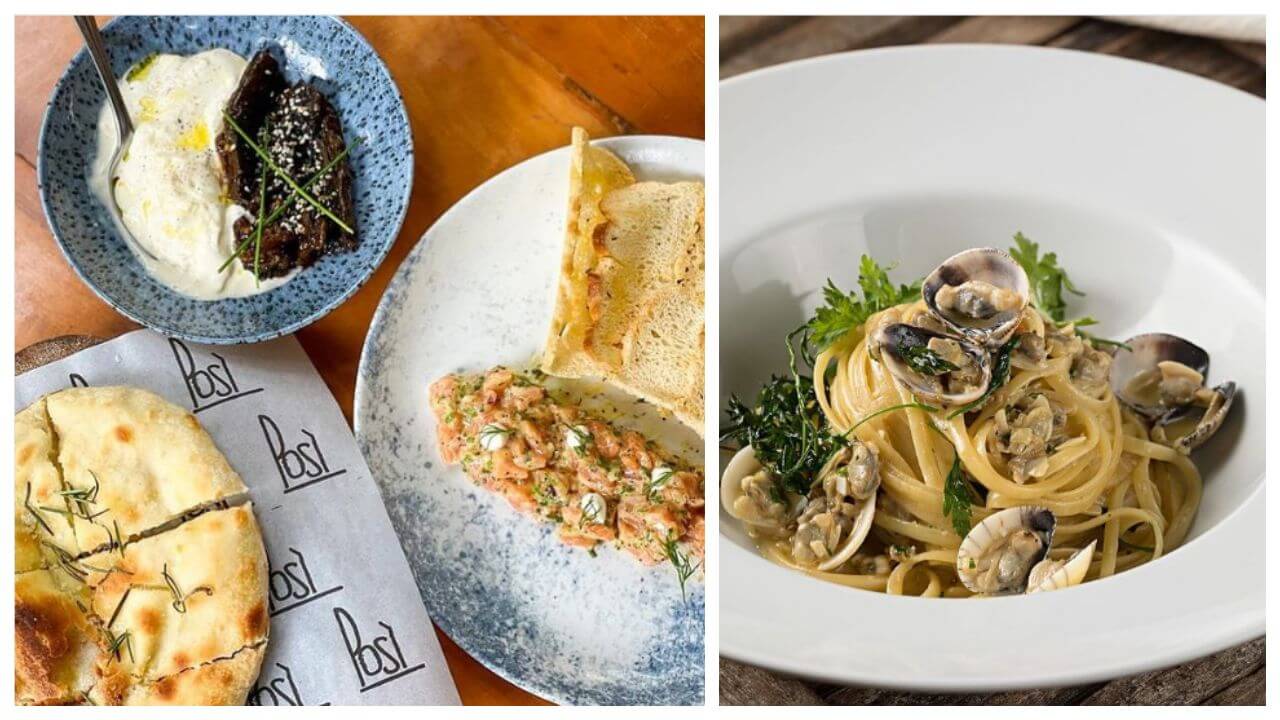 Check out the gourmet Italian restaurant's opening hours below:
Monday to Thursday: from 12pm to midnight.
Friday to Saturday: from 12pm to 1am.
Sunday: from 12pm to 11pm.
Posì Restaurante Ipanema – Address
As you can see, Posì Mozza & Mare has an excellent location in the Ipanema neighborhood, with its address being on the corner of Rua Aníbal de Mendonça, at number 158, and Rua Redentor.
Delivery from Posì Ipanema
In addition to being able to taste the restaurant's dishes and drinks in its physical space, it is possible to place orders and receive them at the desired address. To do this, simply contact Posì Mozza & Mare by phone or even ask directly through iFood. In the app, you have access to the restaurant's main dishes and can, with just a few taps, receive menu items delivered to your home.
Posì Restaurante Ipanema – Telephone
If you would like more details about the menu, address, opening hours, delivery service and other information about Posì Mozza & Mare Restaurant, in Ipanema, you should call the telephone number (21) 3215-8668.
In this service channel, you can also choose between the menu options, place your order and, therefore, receive the dishes and drinks wherever you are. In addition to Posì Mozza & Mare, there are dozens of other excellent gastronomic options in Ipanema and throughout the South Zone.
There are restaurants, bars, bistros, pastry shops, delicatessens, coffee shops and a wide variety of national and international cuisine. So, if you want to know more details about these cozy spaces in Rio de Janeiro, keep following the INVEXO blog. Here, you will see the most incredible places in the famous neighborhoods of the city of Rio de Janeiro.