You've certainly heard of Arpoador Beach in Ipanema, Rio de Janeiro, and its unparalleled beauty. It is one of the most spectacular places in the South Zone of Rio de Janeiro, whether due to the breathtaking view or the fun atmosphere that permeates the environment.
Arpoador Beach Rio de Janeiro
Located between Diabo and Ipanema beaches, Arpoador is the name of a beach and a rock formation.
Located in the Ipanema neighborhood, in the Marvelous City, Arpex, which is what the locals call Arpoador Beach in Rio de Janeiro more intimately, is a place with a certain air of exclusivity as it is smaller than usual, measuring around 500 meters in length.
A surfer's spot, the stretch of beach between the Copacabana and Ipanema neighborhoods is also a favorite place for Cariocas to watch the sunset. For many, it is a local tradition to enjoy the natural spectacle.
Historians attribute the origin of the name 'Arpoador' to the fact that, in the colonial period, the place was used by fishermen (harpoadores) to view and fish with harpoons for whales that approached the place.
However, others say that the name came from aerial observation of Pedra do Arpoador, which suggests to some the visualization of a person holding an object similar to a harpoon. We can say that Arpoador is pop. The place is a recurring theme in several artistic productions, in compositions by big names in Brazilian music, such as Cazuza and Skank in "Faz parte do meu show" and "Te ver", respectively.
In fact, one more curiosity: Arpoador was the beach chosen by the German woman living in Brazil, Miriam Etz, to wear, for the first time in Brazilian lands, a bikini, a piece that caused a series of controversies in those days. The incident occurred in 1948.
Hotel Arpoador Inn Ipanema Rio de Janeiro
The Hotel Arpoador Inn is a combination of elements that reflect Rio life, that is: elegance, sophistication, beauty and joy. The former Arpoador Inn, which operated between 1974 and 2016 and reopened in 2019 as the Arpoador hotel after a complete and very successful renovation, has 49 rooms spread over 7 floors.
It remains an independent hotel and its great asset is one of the most coveted locations in the Marvelous City. At Arp, the hotel's restaurant, there is also healthy cuisine and a menu of drinks full of infusions, designed by two great researchers of Brazilian gastronomy and mixology: Roberta Sudbrack and Néli Pereira, respectively.
The top of the building where the engine room was located was transformed into a rooftop where there is a swimming pool with bar service, a steam room and a glass railing that offers views of Arpoador and Ipanema Beach.
The hotel does not have a gym structure, but offers yoga classes and maintains a partnership with Body Tech, which guarantees a discount on the daily rate. The proximity to the sea inspired architect Thiago Bernardes to think of the building as a vessel. And, in fact, that is precisely the feeling when we cross the white corridors with windows that resemble portholes.
Just like ship cabins, the carpentry project integrates furniture that fits together, so that the space in the rooms is made the most of. It's worth mentioning that the apartments near Arpoador are also as fabulous as the accommodations we find nearby. These are luxurious units, each with that air of exclusivity that is so striking in the region.
The apartments feature bold architectural designs and feature large spaces, top-notch finishes and condominiums full of security features and leisure options.
Ipanema Arpoador
There is much more than watching the sunset at Pedra do Arpoador in this region. Thus, one of the highlights of the place is the Copacabana Fort, which is less than 500 meters from Pedra do Arpoador.
There, entry is free on Tuesdays. On this tour you can also visit the Historical Museum and Café do Forte, a branch of the famous Confeitaria Colombo. Garota de Ipanema Park is also very close to Arpoador Beach. Therefore, it is a good option for those who like to practice outdoor sports, ride a bike or just contemplate nature.
The park has a sports court, playground for children and a skating rink. Recently, the park underwent revitalization. Maintenance of street furniture and cleaning of graffiti were carried out. In addition, there was also painting of posts, restoration of the baby changing room, repairs to toys and welding on the fence.
The waves at Praia do Arpoador in Rio de Janeiro tend to attract surfers and also those who are unfamiliar with the practice. This is because there are some surf schools in the area. For those who enjoy cycling, we recommend cycling along the coast to relieve stress and have a reflective moment in the day. It's a great choice!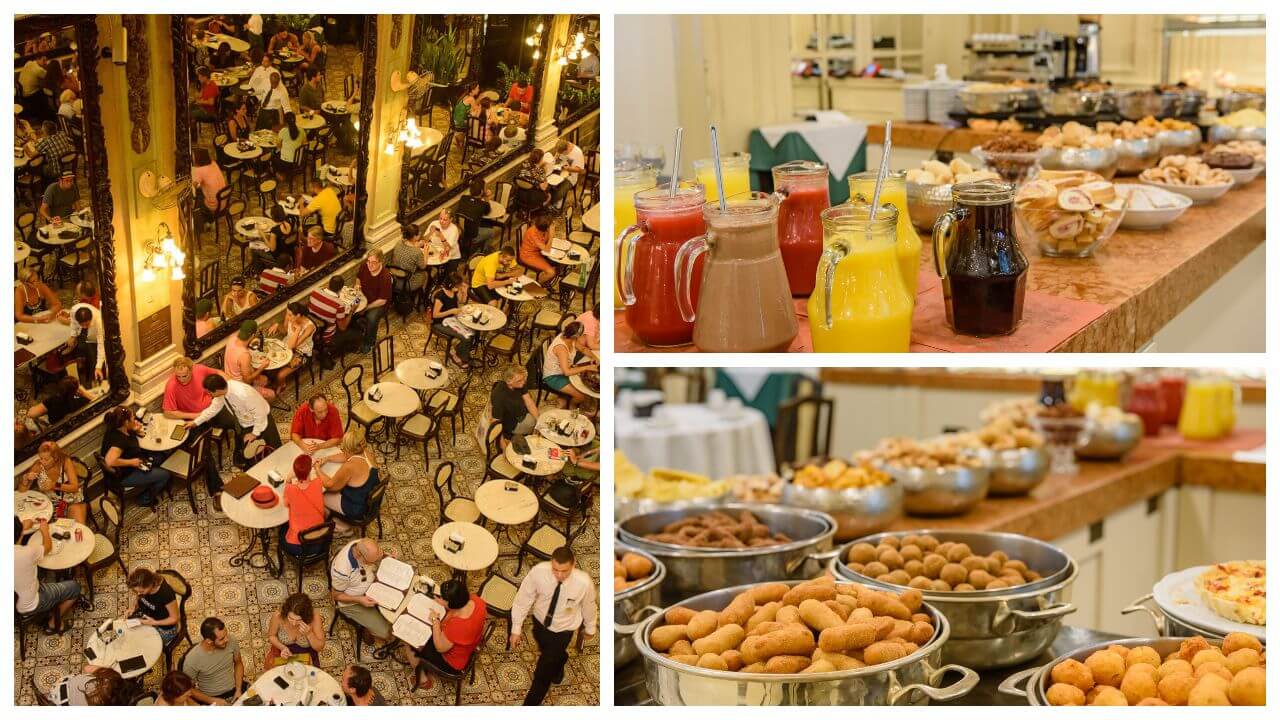 Traditionally, the Galeria River stores were very popular with surfers from Praia do Arpoador. But in addition, over the years, options have also been opened up to fans of skateboarding, climbing, rollerblading, trekking, fighting and tattooing. Today, with space for gastronomy, the place brings together young people after a great day at the beach.
The Hippie Fair, which is in fact the largest craft and arts fair in Rio de Janeiro, has been operating since 1968. Everything from paintings by artists, clothes and bikinis to souvenirs and food are sold there.
Arpoador Restaurants
As with much of the Marvelous City, the Arpoador region has great gastronomic options. Below are some of the main restaurants in the neighborhood:
Broth Restaurante — in a per-kilo buffet system, Broth, at Avenida Rainha Elisabeth, 480, has more than 120 options, including healthy, vegan dishes, meats and desserts. The service is quick, the food is always fresh and the atmosphere is very welcoming;
Vezpa Pizzas — located at Rua Farme de Amoedo, 75, the atmosphere is cool and perfect, especially for cooling off and having that post-beach refreshment. In addition to whole pizza, the restaurant also uses a slice system, including a lunch combo (two pieces and a drink);
Gero — finally, with an eclectic profile, Gero is at the acclaimed Hotel Fasano. The welcoming and sophisticated atmosphere combines very well with the refined, award-worthy gastronomic experience. It's a good choice for those who appreciate a touch of luxury.
How to go to Arpoador Ipanema
There are several ways to go to Pedra do Arpoador. For example, you can rent a bicycle, order a ride via app, take the subway or bus. But if you are in Copacabana or Ipanema, you can walk along the coast until you cross Garota de Ipanema Park. This way, it is possible to reach the beach promenade without major difficulties.
In addition, there are several bus lines that stop near Arpoador Beach. To use the L1 and L4 metro lines, just get off at General Osório station and turn left when you reach the promenade, facing the sea, until you see Pedra do Arpoador.
Living in the Arpoador region
As you can see, living in the Arpoador region is a great choice for those who don't give up on sophistication. Furthermore, as expected, Arpoador has excellent infrastructure. This means that the services available on site are diverse and complete. Transport is efficient and has everything that a noble region can have.
Finally, the region has great residential property options, each with its own style, complete in terms of finishing, security and infrastructure. You will certainly find the property of your dreams in Arpoador!
Ipanema, located in the South Zone of Rio, is one of the best and most noble neighborhoods to live in Rio de Janeiro. Discover luxury residential properties in Ipanema today with INVEXO, a real estate agency specializing in luxury properties in Rio de Janeiro.